Team USA vs. Turkey preview: Another easy win?
In the second game of the 2014 FIBA World Cup, Team USA will try to build off its dominant opener.
• 2 min read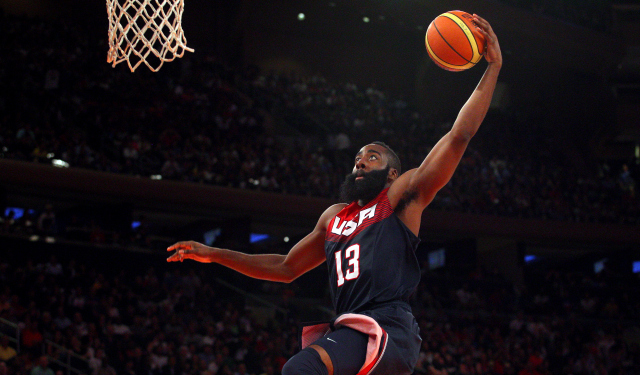 Team USA will face Turkey at the 2014 FIBA World Cup on Sunday. You might have some questions about this, and we're here to answer them.
When and how can I watch it? 3:30 p.m. ET on ESPN. You can also stream it on WatchESPN.
How's Team USA doing? Just fine. It annihilated Finland on Saturday with a 114-55 win. In the second quarter, Finland didn't make a single field goal and the US outscored them 29-2. This was an utter rout, and a lot of the group stage will probably be similar. Anthony Davis was as ridiculous as he was throughout exhibition play.
Is Derrick Rose looking OK? Yes.
Turkey's good, right? Well, they're better than Finland, but this isn't the team that reached the final game in this tournament four years ago. They struggled mightily in their warmup games, and barely eked out a win over New Zealand on Saturday. 
Who is exactly is on the team? Not Hedo Turkoglu, not Ersan Ilyasova, not Enes Kanter. Omer Asik is the biggest name here, and he'll need to be a presence on the inside. He strangely only played 10 minutes on Saturday and finished with one point and no rebounds. You have to think that's an anomaly.
Unlike some teams in the World Cup, Turkey does have solid big men. In addition to Asik, Oguz Savas — the team's leading scorer in the opening game —  is a load down low. So is veteran Kerem Gonlum. Emir Preldzic and Furkan Adelmir provide some skill at the forward spots, too. The problem is that the backcourt will be overmatched most of the time, particularly so against Team USA.
What should I pay attention to? The Davis-versus-Asik matchup is interesting, and not only because they'll share a frontcourt next season in New Orleans. Davis has been toying with people in international competition, but Asik is the best interior defender in Spain outside of the host country. 
It's also worth watching how Rudy Gay fares at backup power forward. Team USA had originally planned to use Kevin Durant and Paul George as stretch fours, and now Gay is the only one who can play that role. He might actually be battling with guys bigger than him on the inside this time, which was not the case in the Finland game.
The other key is just Team USA's intensity level. They did a commendable job of keeping the pressure on with a more-than-comfortable lead on Saturday. If the margin is huge again early, will they relax this time? 
Should I watch this? Sure. Honestly, none of the Group C teams pose much of a threat to Team USA, but Turkey should be able to compete for longer than Finland. The US was more of a second-half team in most of its pre-tournament tune-ups, so perhaps this will be somewhat close for a while. 
Word got back to Irving that the team was discussing options, and he didn't like it one bi...

An ongoing investigation continues to reveal details about the Mavericks' workplace

Larry Hartstein has his finger on the pulse of Kings basketball and just released a play for...
One reported proposal has seeds 7-10 playing for the final two spots in each conference

The longtime Maverick says he's disappointed by all the negative news surrounding his beloved...

Larry Hartstein has nailed 17 of his last 22 NBA against the spread picks and locked in a play...