Tex Winter's son: Jackson's coaching gifts will translate to front office
Will the Knicks' new top basketball executive, Phil Jackson, clean house and start over? Implement his beloved triangle offense? Trade Carmelo Anthony? The son of longtime Jackson assistant Tex Winter spoke with CBSSports.com Monday to offer his thoughts.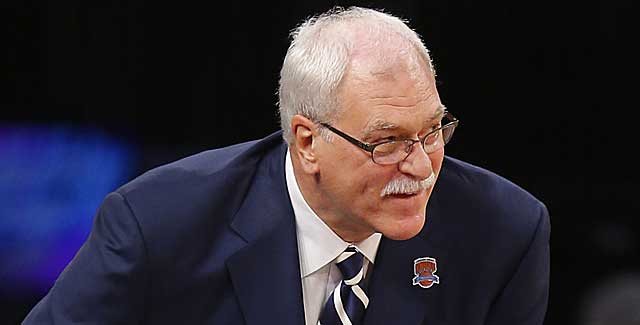 More NBA: Power Rankings | Latest news & notes
On the day before Phil Jackson is to be introduced as the Knicks' president of basketball operations, Chris Winter was visiting his father, Tex, in another Manhattan -- the one in Kansas.
The father of the triangle offense is 92 now, and still suffering from the effects of a 2009 stroke that stole his ability to speak, but not his razor-sharp basketball mind.
And as the anticipation for Jackson's introduction Tuesday at Madison Square Garden builds -- Who will be his coach? Does Carmelo Anthony have a future in Jackson's beloved triangle? -- Jackson's longtime assistant went somewhere entirely different.
"He wondered, 'What's going to happen to Jeanie?'" Chris Winter said on the phone Monday. "Which is a damn good question."
Jeanie, of course, is Jackson's fiancee, Jeanie Buss, who will remain in Southern California where she runs the business operations for the Lakers -- the franchise that let Jackson get away.
The most decorated championship coach in NBA history doesn't need my relationship advice any more than he needs my two cents about how to run the Knicks. I didn't call one of Tex Winter's three sons to get either. I called looking for insight into how the Zen Master -- a lifetime coach and organizer of men -- might perform in the executive suite instead of his famous high-chair on the bench.
"His gift is that he listens," Chris Winter said. "... He's one of these rare people who actually listens or gives you the impression that he's listening. He sits there and absorbs what you're saying and looks right at you. It's kind of inspiring to people. He kind of enlists them that way on his team. He's actually modifying his plan with the information that he gets from people. Going into management, I guess that's the way a good manager operates."
It's the way a good manager is supposed to operate -- even in Madison Square Garden, which former commissioner David Stern once famously described as "not a model of intelligent management."
"They've got some characters there," Winter said.
Do they ever. But if Jackson, 68, is able to apply his Kumbaya approach and get those characters to buy into his vision and execute it, Winter said the old coach just might have a chance.
One thing Jackson won't do: Walk into the Garden, get rid of everyone and start over.
"People probably think he's going to clean house and get players and people he wants and get the band together again, but I don't think that's what will happen," Winter said. "My impression is that he'll go in and talk to everybody -- players, people that work there -- and take all of their thoughts into consideration and see how it fits into his own schemes and modify things."
And one character who clearly fits Jackson's vision -- or at least, the offense that became the backbone of Jackson's six championships in Chicago and five with the Lakers -- is Anthony, according to Winter.
"Anthony's a beast," said Winter, a physicist who lives in the Boston area. "If he learns to be a little bit more unselfish and take better shots, in that pinch-post of the triangle he would just be amazing with his footwork and ability to make a pass. He would be so efficient in that situation that Phil would almost definitely convince any coach to run at least that part of it.
"That pinch-post area, they had [Pau] Gasol in there and they had [Michael] Jordan do a lot of that, and [Scottie] Pippen," Winter said. "Even [Dennis] Rodman was really good at it. They kind of cut into that area and get the ball and it's really hard to defend. It's just kind of a sweet spot that you can't double team. ... You do have to have some skills there -- have good footwork, know how to protect the ball and make quick decisions -- and you have to be able to shoot. It's a critical position in the offense. You also have to know when to cut into the position so you can swing the ball to the weak side. I've always thought that Carmelo was just a natural for that. Most people would have to learn it because it's different footwork with inside pivots, but Carmelo somehow has already learned those things."
Jackson, of course, is not coaching any more; that's not part of the job description that league sources say will make Jackson the highest-paid coach or executive in the NBA. Having been a coach of some longevity and repute, Jackson would respect boundaries and not impose his will on the man who lords over that realm. But suffice it to say that the triangle is not merely Xs and Os on a whiteboard to Jackson; it is a way of life. The first step in Jackson's takeover of the Knicks will be to find a coach who shares his philosophy, if not his precise playbook.
"It'll involve some kind of system that involves read-and-react and some sort of intelligence," Winter said. "It doesn't have to be the triangle, but he doesn't want to see a frenzy."
And who might Jackson appoint to be his own leader of men? Much speculation has focused on former Suns GM and TNT analyst Steve Kerr, who played for Jackson in Chicago. But Kerr has never coached before and has not given colleagues in his new field any strong signals that he's itching to leave the broadcast table -- especially for the pressure cooker of MSG. Then again, Winter said, "When you see these commentators, even Doug Collins, you think they're happy doing what they're doing. And the next thing you know, they're back in the meat grinder."
Interestingly, one coaching veteran who Jackson has always admired is Larry Brown, the current Southern Methodist coach. But the Knicks' last go-round with Brown ended in a 23-win season, a power struggle with team president Isiah Thomas (they both lost) and a lawsuit over the money Brown was owed on his contract. It was settled for $18.5 million. The Knicks later forced Mike Woodson to fire his agent -- the late Joe Glass, who also represented Brown -- before signing him to a contract extension. So let's just say Brown is not at the top of the Vegas odds to become Jackson's first coaching hire.
"He's also one of these guys who's too much of an authority," Winter said, noting that Jackson could not work with a high-profile, veteran coach with a formidable ego and his own ideas about running a team. "...  Somebody with enough authority could sort of match Phil and make the whole thing a big power struggle."
Two former Jackson assistants -- Kurt Rambis and Jim Cleamons -- are expected to get serious consideration. So would Brian Shaw, whom Jackson groomed to take over for him with the Lakers, if he weren't finishing the first year of a three-year deal as the head coach of the Nuggets.
If Jackson was so inclined to look to the college ranks, he might consider Virginia coach Tony Bennett, the son of longtime Wisconsin coach Dick Bennett. The younger Bennett has led Virginia to a No. 1 seed in the NCAA Tournament and employs some aspects of the triangle scheme.
If Jackson decides to stick with Woodson -- a scenario that most in the coaching industry view as a long shot -- it wouldn't be to babysit the Knicks' current roster until salary-cap room opens up in 2015. Whatever vision Jackson intends to impose on the Knicks, the long-term process of implementing it would have to start immediately -- even if the roster, which Jackson recently called "clumsy," is temporarily stuck.
"He's kind of a master at manipulating his environment," Winter said "... If you kind of look at the history of his career, he's had a lot of patience with a lot of people. He didn't make a lot of trades and stuck with his core players. He gave a lot of guys a lot of opportunities to succeed -- guys who had less talent than other people, but maybe were more competitive and maybe he just kind of thought, if given a chance, could really be productive. He never really fired coaches; always kind of stayed with the staff he inherited.
"Everyone will just love him," Winter said, "and will buy into the weird sort of atmosphere he sets up and they'll work for him. They'll work hard. That's really the key to successful management."
Something the Knicks have been lacking for a long time.
Tempers flare in Game 5 as both players earn a tech, while Terry Rozier ends up getting involved,...

Keep it right here for the latest updates, news, and highlights from a pivotal Game 5

The Most Outstanding Player of the NCAA Tournament is expected to stay in the NBA Draft
Injuries are starting to impact the NBA playoffs once again, as Klay Thompson suffers a knee...

The Cavaliers tied the series at 2-2 with a Game 4 win, and now face a pivotal Game 5

Both Brown and the Bucks issued statements following the video's release on Wednesday