Thabo Sefolosha on future in OKC: 'I have no clue'
Thunder swingman Thabo Sefolosha doesn't know if he'll be back next season.
• 1 min read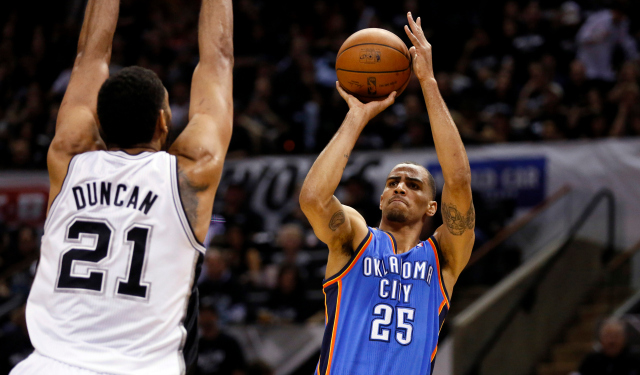 More Offseason Analysis: Coaching changes, news | Free Agency | Draft
Free-agent-to-be Thabo Sefolosha does not know whether he'll be back with the Oklahoma City Thunder next season, he told reporters at his end-of-season media availability on Sunday.
Thabo on free agency: "It's different. I don't know exactly how it's going to go."

— Royce Young (@royceyoung) June 1, 2014
Thabo on if he expects to be back next season: "I have no clue."

— Royce Young (@royceyoung) June 1, 2014
Sefolosha on free agency: "I like winning. I want to be in a good place with a chance to win something."

— Darnell Mayberry (@DarnellMayberry) June 1, 2014
Sefolosha was acquired by the Thunder in the 2008-2009 season and was immediately inserted into the starting lineup, where he remained until Game 3 of the Western Conference finals against the San Antonio Spurs a week ago. When he went to the bench, he was taken completely out of the rotation. He called this "very frustrating," via ESPN's Royce Young. 
At 30 years old, Sefolosha's future with Oklahoma City has seemed cloudy for a while. He's still an excellent defender, but his three-point percentage dropped from 42 percent to 31 percent this season, and the Thunder have young wing player Jeremy Lamb waiting for an opportunity. Reggie Jackson performed admirably when given the starting two-guard spot against the Spurs, putting pressure on the defense with his ability to create offense and run the pick-and-roll. These are things that Sefolosha has not done in Oklahoma City.
He could still have a place with the Thunder, but it would likely have to be in a reduced role. At this stage of his career, the same is probably true if Sefolosha is to sign with any other contender.
A look at the context of the schedule and who plays who when, and how far they travel during...

Durant took on rapper Lil Dicky and actually might have lost

A report that James would once again be leaving Cleveland made the rounds on Wednesday
Known for his 'take that for data' rant, the Grizzlies coach touched on a number of important...

Wade's days with the Chicago Bulls appear to be numbered

Misty Suri will reportedly keep his job with the New Orleans Pelicans