The 10 most interesting games of the 2013-14 NBA schedule
With the release of the 2013-14 NBA schedule, we take a look at the 10 most interesting games for the upcoming season.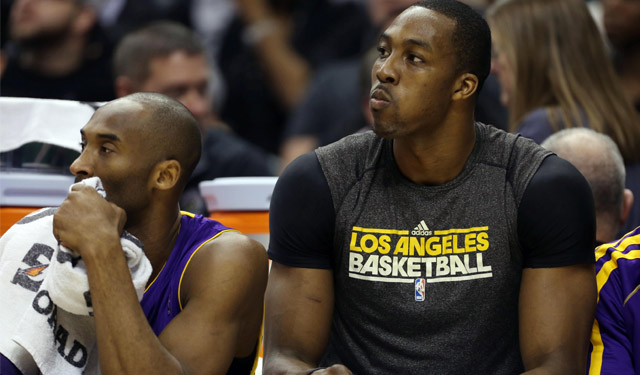 The 2013-14 NBA schedule has been unveiled and everybody is clamoring to see how many nationally televised games their favorite team has. For the casual fan, they may just be interested in knowing which games they need to tune into on national television or NBA League Pass. 
Here's a quick little guide of the 10* most interesting games, in no particular order, we found from the upcoming NBA schedule. 
(* - We may have cheated a bit on the number of games)
November 7: Los Angeles Lakers at Houston Rockets
February 19: Houston Rockets at Los Angeles Lakers 
This is the biggest return game we're going to get this season. On November 7, we'll get our first game between Dwight Howard and his new Houston Rockets against the Los Angeles Lakers. It's hard to know if Kobe Bryant will be healthy and available for this game so early into the season, but it's a lot more likely he'll be available on February 19 when Dwight returns to the Staples Center against the Lakers for the first time this coming season. There will be a lot of hype and hoopla around these games but really they might just be really bad affairs if the Lakers aren't good enough to compete with the Rockets for 48 minutes.
December 10: Miami Heat at Indiana Pacers
This will be our first big test for both the Miami Heat and the Indiana Pacers in terms of Eastern Conference supremacy. Sure, both teams will have to face the Chicago Bulls, Brooklyn Nets, and New York Knicks throughout the season as well, but these two teams took each other to a Game 7 in the Eastern Conference Finals last year and are probably still the favorites in the East this coming season. The Pacers have a better bench than Miami had to deal with last season and the Heat may have more size if Greg Oden is healthy and in the rotation a month into the season. This should be a lot of fun as an early season measuring stick. 
December 23: Golden State Warriors at Denver Nuggets
Remember the carnage that happened the last time these two teams faced off? The Warriors return to the scene of the crime from the 2013 NBA playoffs when they ended up sort of dismantling a really promising Nuggets team that looks nothing like they did in the opening round of the playoffs. Andre Iguodala left for the Warriors, Masai Ujiri left for the Raptors, George Karl was asked to go home, and the Nuggets went from darlings in the West to a team with a lot of questions in a short amount of time. 
December 11: Los Angeles Clippers at Boston Celtics
January 26: Brooklyn Nets at Boston Celtics 
Speaking of returns, former members of the Boston Celtics will return to the new GAHDEN for their first time on these respective dates. Doc Rivers will coach his first game in Boston against the Celtics for the first time since January 26, 2003. This time he'll be the coach for the Los Angeles Clippers. Paul Pierce and Kevin Garnett will also return to Boston to play against the Celtics this season. On January 26, KG returns to face the Celtics as a member of the opposite team for the first time since March 4, 2007. This will be the first time Paul Pierce has ever been a member of the visiting team against the Boston Celtics in his career.
November 20: Detroit Pistons at Atlanta Hawks
December 4: Detroit Pistons at Milwaukee Bucks
December 19: San Antonio Spurs at Golden State Warriors
March 23: Cleveland Cavaliers at New York Knicks 
Here are some of your other big free agent returns from this offseason. In November, we'll get Josh Smith facing the Atlanta Hawks for the first time in his career. He accepted a four-year, $54 million as an unrestricted free agent to join the Detroit Pistons this summer. His teammate Brandon Jennings will return to Milwaukee to face the Bucks a couple weeks later in early December after a sign-and-trade took him away from Milwaukee.
Another cool return could be Kyrie Irving to Madison Square Garden. We got a pretty fun and special performance from him last season when he donned the black protective mask and dropped 41 points in a one-point defeat. And the Spurs-Warriors game is just me guessing when Gregg Popovich might return to getting fined for sitting out his players on a nationally televised game. This contest against the Warriors is on a back-to-back at the end of a four-game West Coast road trip.
January 20: Brooklyn Nets at New York Knicks
There are probably at least 10 million people that care about this game. Maybe that's an over exaggeration of the New York TV market, but this game between the Nets and Knicks for NYC supremacy should be a fun midseason matchup. Both teams are trying to prove they're contenders and this will be a nice way to measure up against each other halfway through the season. Plus, Kevin Garnett and Metta World Peace are involved so you know anything could happen.
December 29: Houston Rockets at Oklahoma City Thunder
James Harden returns to Oklahoma City for the first time this season and this time he's bringing a pretty big teammate with him. In his first game back against the Thunder in OKC last season, he had a really rough night with 17 points on 3 of 16 shooting and a 22-point loss. The Rockets got better as the season progressed and pushed the Thunder in their opening round showdown once Russell Westbrook went down. Now, he'll be returning to OKC with Howard by his side, title aspirations in his eyes, and no Kevin Martin for the Thunder to throw his way. We should see a less lopsided game.
November 18: Memphis Grizzlies at Los Angeles Clippers
December 5: Los Angeles Clippers at Memphis Grizzlies 
These two teams are always fun to watch against each other, whether it's in the regular season or the playoffs. The two teams have played 13 games against each other in the playoffs the last two seasons with each one winning a series. The Clippers took the Grizzlies in seven games two years ago and the Grizzlies got revenge in six games this past season. Now each team will be bringing new shooters with them (J.J. Redick and Jared Dudley for the Clippers and Mike Miller for the Grizzlies) to show off some floor-spreading. 
February 5: Minnesota Timberwolves at Oklahoma City Thunder
March 31: Los Angeles Clippers at Minnesota Timberwolves 
Here's the thinking behind putting these two games in here. 1) The Minnesota Timberwolves should be able to compete for a playoff spot this year and these will be big measuring sticks for a squad that should be a League Pass darling. They've had some legendary games against the Thunder and the Clippers in the past and if they're healthy, they should be able to compete with them this season as well. 2) Even if they're not playoff contenders, getting to see Ricky Rubio against Chris Paul and Russell Westbrook while watching Kevin Love against Blake Griffin and Kevin Durant should at least be fun.
April 6: New Orleans Hornets at Portland Trail Blazers
This could end up being an incredibly important game late in the season. Both the Hornets and the Blazers have playoff aspirations after a huge offseason for both teams. The Blazers got themselves a deep bench after sporting one of the worst second units in recent basketball memory last season. The Hornets acquired Tyreke Evans and Jrue Holiday this offseason in an attempt to overwhelm opposing perimeter defenders. And even if this game doesn't end up being played between two teams fighting for the eighth seed always remember...
ROBIN LOPEZ REVENGE GAME! 
Another day, another social media beef for Embiid

We have all the latest scores, highlights and news from Wednesday's NBA games

Thomas spent a day with a 10-year-old girl whose family is also new to Cleveland
Barkley did not hold back with his opinion of the Big Baller Brand patriarch

LaVar Ball also made it clear he thinks his sons are being placed in 'a great situation'

The Thunder are just 12-14 on the season, despite the addition of Paul George and Carmelo...