The 4-Point Play: Assassin's Creed, David West
Blake Griffin faces off against David West on Thursday night when the Pacers take on the Clippers.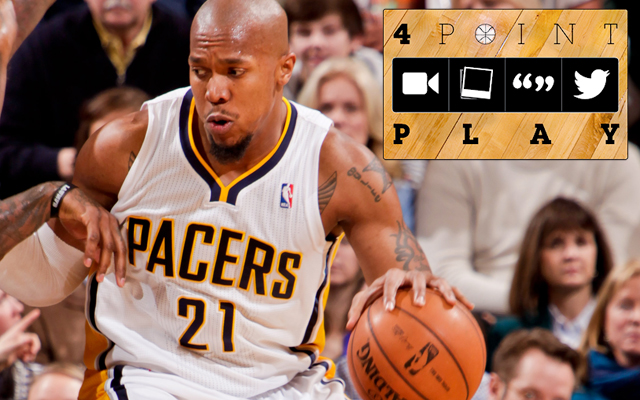 Hidden behind the nationally televised games Thursday night, which feature Bulls and Sixers in a battle only those who love The Smiths can love, and Wolves-Lakers, which should be entitled "A Series of Unfortunate Events," there's a great game hidden.
The Pacers and Clippers face off in a battle of teams just below the top tier of their conference. The Clippers have established themselves as right there with San Antonio and the Thunder, but slightly behind, while the Pacers have slowly rounded into shape as the second best team in the East, fighting with the Knicks for "biggest threat to Miami" territory.
It's a fascinating game with great matchups. George Hill's defense vs. Chris Paul's mastery. DeAndre Jordan vs. reserve Ian Mahinmi. A high-octane Clipper offense vs. a smothering Pacer defense at home.
But the most intriguing matchup pits David West vs. Blake Griffin. In some respects, the two players could not be more different. West is bull-strong, and his game doesn't feature much athleticism, especially at age 32. Griffin is an athletic freak with incredible explosiveness, still learning to polish his game.
What's most interesting, though, is how Griffin will try to defend West. Because it turns out, Griffin's a pretty good defender. Problem is, you can be a great defender, and David West can still go Assassin's Creed mode.

Let's start with Griffin's defense. You may be under the impression that Griffin's defense is terrible because of how bad it was last year. Let me catch you up. Among players with at least 500 possessions defended this season, Griffin is sixth overall in the league, according to Synergy Sports. And while DeAndre Jordan takes the toughest covers physically down low, Griffin's responsibilities are on those tricky, tough stretch fours. He allows just .755 points per possessions this season.
The fact is, Griffin's turned into a very good man defender, and a solid help defender in just his third season.
Watch what he does here on a variety of different players. Pay special attention to how he maintains position to guide them to the right spot and how he manages on hooks and fadeaways to use his strength to move them further and further from the basket.
Moving guys into a fadeaway on the drive by challenging the dribble while also pushing them out of position is a big key here, and it's a huge reason why he's successful. He also contests well in face-up situations. He isn't caught napping very often (hand down, man down), and gives good contest.
His only real weakness? He contests too much and gives up fouls. Griffin gives up the second highest percentage of plays resulting in fouls while defending the post, at 15.9 percent, for all players defending at least 100 times in the post.
You'll see here that it's a simple matter of Griffin wanting to go for not only the contest but the block, and that's going to draw the call from officials, when most post moves are purposefully designed as difficult to block.
Griffin has to keep a hand up but not too much so vs. West.
What's West good at in the post?
Everything.
Here's a short array of him destroying opponents in a variety of ways. Face-up, back to the basket, fadeaway, hook shots, you name it.
You'll notice West is able to body even bigger guys down to where he wants to get to. It's bizarre to watch guys just surrender position to him. West is a player who you honestly need to pick up and start jockeying for position with as soon as he reaches the three-point line. If it's an offensive rebound, you need to immediately engage him to try to deny the ball and position at the same time. If you let him get to his spots, you're doomed.
So why not front him? Wouldn't that work, given that West isn't exactly Blake Griffin with the lob ability?
Yeah, here's how that works out.
So Griffin has to establish position, body him physically, challenge the entry pass, not front him, contest the shot, and not foul.
Sounds pretty easy.
We'll see how Griffin does with the challenge on Thursday night.



Wade opted in to his $24 million player option earlier this summer

Barkley spoke to the NFL Today crew about the response the president received in his home...

The restricted free agent has a deal in place that will keep him with the Bulls after a st...
James' support continues his trend of social activism on social media

The newly-acquired All-Star thinks the addition of Anthony boosts the Thunder in the NBA's...

The Knicks were asking for the house in discussions for Carmelo Anthony