The 4-Point Play: Bulls face the perilous question of Russell Westbrook
The Bulls host the Thunder on Thursday, as one of the truly great defenses meets one of the elite offenses. Kevin Durant is an entirely unstoppable problem, but as usual, the game will hinge on the play of Russell Westbrook for the Thunder. Westbrook has struggled this season and needs a bounce-back game to help the Thunder get a win against a quality opponent.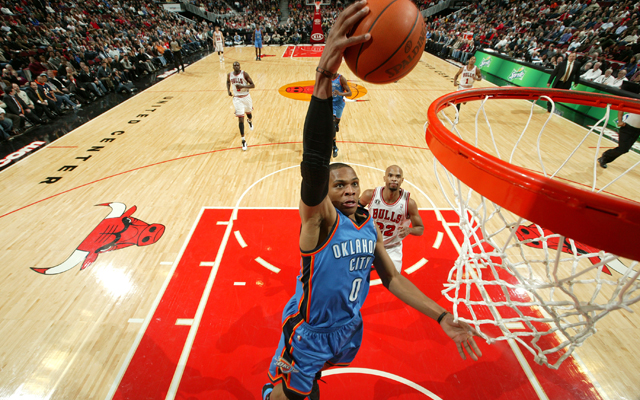 Russell Westbrook needs to get back on track, but faces a tenacious defense in Chicago.
(Getty Images)
Welcome to the 4-Point Play. Every Thursday we'll give you a look at what's happening in the league, provide some odds and ends, the best photos, and our Tweet of the Week. This week our discussion begins with the NBA's new flopping policy.
The Bulls host the Thunder on Thursday, and one of the truly great defenses meets one of the elite offenses in the league. Kevin Durant is an entirely unstoppable problem, but as usual, the game will hinge on the play of Russell Westbrook for the Thunder. Westbrook has struggled this season and needs a bounce-back game to help the Thunder get a win against a quality opponent. 
We look at how the Bulls will attack Westbrook and how he should respond in the 4-Point Play. 
Under Video Review
by Zach Harper and Matt Moore
Bulls' Defense vs. Westbrook
The Chicago Bulls ' point guard combination right now is Kirk Hinrich and Nate Robinson . As they wait for Derrick Rose to stop holding onto his knee and return to basketball, the question seems to be how do these point guards hang with the Oklahoma City Thunder 's Russell Westbrook

Even as Westbrook suffers through one of the more frustrating stretches of basketball he's played in the NBA, he's still a threat to come around the corner on a pick-and-roll and devastate the defense. So how do the Bulls' point guards possibly stop him from getting back on track against them?

They rely on Joakim Noah . Basketball is no longer a one-on-one, isolation showdown. There are intricate defensive schemes to defend the basket, which has been left highly accessible due to perimeter defensive rules. The Bulls understand this as well as anybody.

The big key for the Bulls' pick-and-roll defense is keeping the offensive initiator away from the basket. If you can force him to take a midrange jumper, you've won half of the battle. The other half is hoping he misses and you grab the rebound. Of the 63 pick-and-roll plays against the Bulls that have resulted in the ball handler taking a shot, getting fouled or committing a turnover, only nine plays have resulted with the opponent getting a shot inside.

The Bulls have turned those 63 possessions into 40 jumpers by the opponents. Their opponents have made 16 of those 40 jumpers (40 percent). The key to keeping the attacking player away from the rim and settling for a jumper is having a mobile big man who can cut off the driving lanes and defend until either a shot is taken or the defensive perimeter player can recover to his man. Noah does this as well as anybody.


Noah is so good at using his length as a wide base to keep the opponent from turning the corner on the pick-and-roll. On the first play in the video, he gets low and moves his feet quickly side-to-side. He's daring Kyrie Irving to settle for the less efficient shot, even though Irving can make that jumper. It's forcing the offense to settle for a worse shot.

On the second play in the highlight, Dion Waiters comes around the screen and Noah cuts him off from the basket until Jimmy Butler can recover and challenge the shot. Noah pops out to take away the jumper from Waiters before retreating perfectly as the Cavs' rookie tries to get around him.

This is exactly what the plan will be against Westbrook. Keep him out of the lane and make him make jumpers. He's struggled to do that this season, and forcing him to correct it will either result in him breaking out of his slump or diving deeper into it. Check out his shot chart for the season: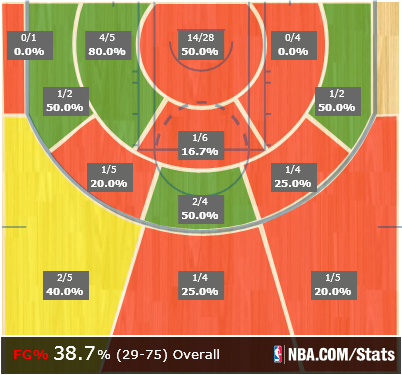 His 38.7 percent field goal percentage is really helped by him finishing half of his shots in the restricted area. It's his worst conversion rate in the restricted area in the last three years, but it's much better than the 31.9 percent he's shooting away from the restricted area.

At some point, Westbrook is going to break out of this slump and find a way to detonate the league again. If that's going to happen against Chicago, the Bulls' defensive principles are going to force him to do it with shots he's struggled to make thus far.
Westbrook vs. the Bulls' Defense
Like it is with any player, the big key for Westbrook is to get to the rim. He's one of the best finishers on drives in the league, and it eliminates what the Bulls do so well against him. One thing that helps him out big time here is his agility. Watch him slither between a Bulls defense that has specifically retreated and geared to stop him from getting to the rim.



Carlos Boozer (surprise) fails to get in front of Westbrook and once he studder steps to get space on Luol Deng and Kyle Korver moves to try to close out on a potential shooter he wouldn't reach in time anyway, Westbrook's the guy closest to the rim, after four Bulls got back in transition defense. That's how fast and agile Westbrook is.

But where he has issues is the halfcout when he decides it's time to score, and he doesn't recognize the need to find the open man. Here, you're going to see a much better job by the Bulls in cutting off the lane and Westbrook deciding to take a hurried, improvised jumper. It's not the jumper that's the issue here -- it's the rhythm in which he takes it.


Now the counter to this is what he can do in rhythm. I've written about Westbrook's penchant for that two-dribble jumper off the pick before, and how it's where he's deadly. That elbow spot isn't automatic for him, but when it falls, it falls at a really high rate. The key takeaway is that Westbrook's jumper is unreliable and spotty when he's trying to improvise, and can be killer when he gets the spacing and flow he wants specifically against the pick and roll defense described above. 



Westbrook needs to get that jumper going against Chicago to draw out the defense and get himself in rhythm. Once the defense can't commit to a specific scheme on him, things like this happen.


And then all of a sudden, all the criticism of Westbrook beings to fade.
Picture Perfect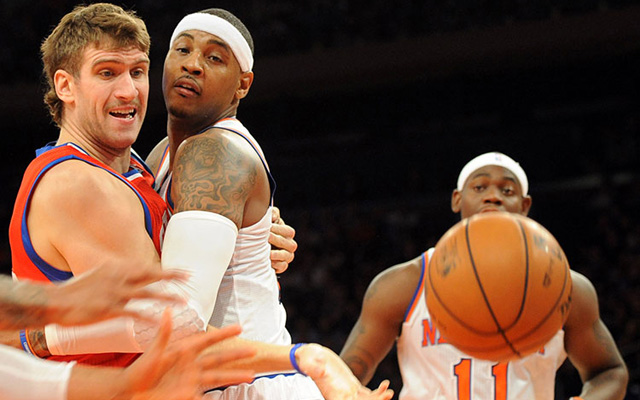 Aw. That's sweet. Care to dance? 
(US Presswire)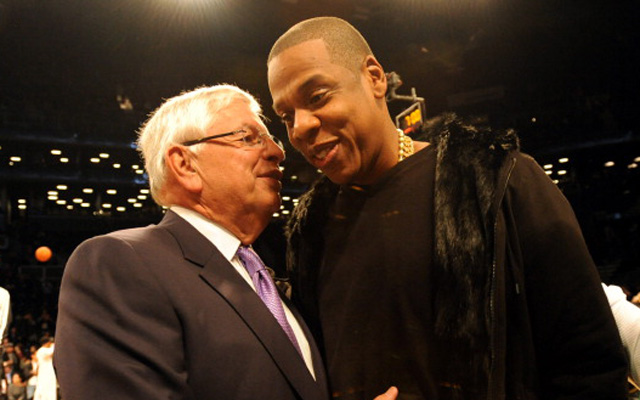 HOVA and the GCOA.
(Getty Image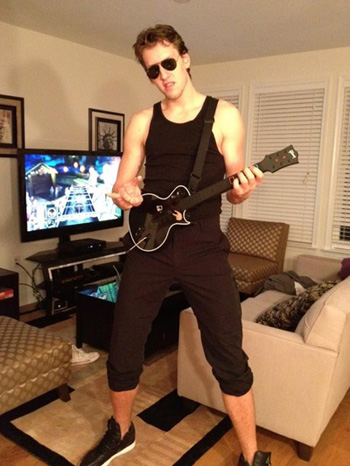 Jan Vesely: Rock and/or Roll.
(Twitter)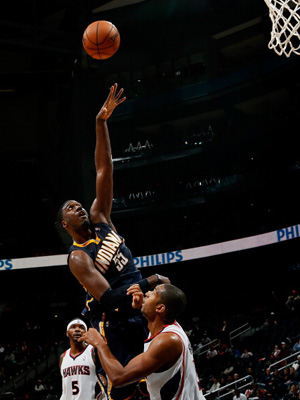 Hibbert skying.
(Getty Images)
Locker Talk
"With the development of Blake Griffin , and obviously having Chris Paul , even with guys like DeAndre Jordan , what you really have to do is catch the ball, not second-guess yourself, make quick decisions on when you need to drive, because those opportunities are going to be there with the kind of weapons we have." -- Caron Butler on the Los Angeles Clippers ' veteran shooters having better spacing this season "I think overall our group is not playing good enough." -- Detroit Pistons coach Lawrence Frank on the understatement of the year.
"I think what happens is when the focus is strictly on your shots? How about focusing on getting a stop? How about focusing on doing all the little things? I think when you focus in on my touches, my shots, that's not a winning game. I've never met a winning team when the focus is about shots. I've neer been on a winning team where a guys are complaining about not getting it quite where they need it. That's not what winning's about. Winning's about putting the team first and doing your part." -- Lawrence Fank on Rodney Stuckey 's concerns about how he's being used. 
" Andre Iguodala is so unselfish, that forcing his personality on this team is just not going to happen. He's going to be a gradual guy. That's not who he is. He's a sound, rock type of player." -- George Karl on how Iguodala is adjusting to his first new team.
"I have a very good relationship with my agent. I know he's goign to do things in the best interests. So I focus on being a player, and I do my job and let him do his job." -- Greg Monroe on communication with his agent as he's available for extension this summer.
"He's a good player but I will never surrender." -- Nikola Pekoic on DeMarcus Cousins , via Alex Conover
"His calf is as large as a grapefruit." -Doug Collins on Kwame Brown's calf injury
via Philadelphia 76ers injury update: Kwame Brown, Jason Richardson injuries thin options - NBA - Sporting News.
"Honestly, I can't stop because it's not fulfilling to me. I guess that's where work ethic comes from. I guess there's an extra incentive to push through struggles or push through disbelief simply because I can't quit because it feels worse than continuing on. I don't know if that comes from my background, my upbringing, partially due to the environment that I grew up in, but it's the truth. Honestly, I can't stop because failing or staying where I'm at just doesn't feel good. I have no choice but to get better." -- Arron Afflalo to Sportsnet's Holly MacKenzie
"Everyone is quick to try to find something about our team and say we're too short or we can't rebound, or we're too small and we need a big [man]," James said. "We heard that and won a championship." -- LeBron on questions about small ball.
via Small lineup primed for bigger challenges - Heat Index Blog - ESPN.
Our starts are so bad, you don't know if you're ever going to see daylight again. I didn't know if the damn sun was coming up tomorrow. I truly didn't. That's how bad it was to me sitting there."
via Wizards vs. Celtics postgame quotes: Randy Wittman is worried the sun won't rise - Bullets Forever.
"I don't know how to judge 'happy.'" -- Gregg Popovich to TNT's David Aldridge 
Tweet Of The Week
Ohio and Fla. My favorite states!

— LeBron James (@KingJames) November 7, 2012

LeBron James, MVPP: Most Valuable Political Pundit.
Golden State led by 17 on ring night, but they missed Draymond Green and Andre Iguodala in...

Durant's shot is too late and the champs lose; Hayward's awful injury overshadowed Cleveland's...

Chris Paul sat out the fourth quarter of the Rockets win due to an apparent knee injury
Durant couldn't quite get the shot off in time, and the Rockets prevailed

Draymond Green walked off the floor limping and rubbing his knee in the third quarter

Golden State raised its second banner in three years. Now they start their run for another