The 4-Point Play: Rubio or Westbrook, get there early
With Ricky Rubio's dazzling passes and Russell Westbrook's brutal aggression, which side will win out Thursday in Wolves vs. Thunder?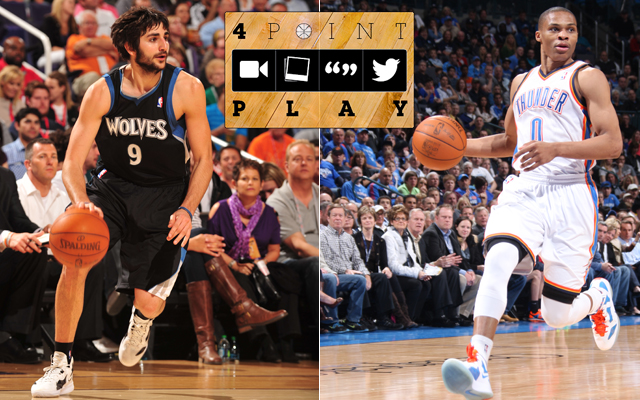 Westbrook and Rubio will face off on Thursday night.
(Getty Images)
Thursday night's Thunder-Timberwolves matchup provides a showdown between two of the most exciting point guards in the league. Russell Westbrook and Ricky Rubio are each highlight-reel performers who dazzle with their play. What's interesting is the contrast in styles. Westbrook is the high-flying, jam-hammering speed freak, and Rubio is the no-look whipping, cross-court tossing assist machine. 
In many ways, it's athleticism vs. skill, though Rubio is very athletic and Westbrook very skilled. But their styles manifest themselves differently. Likewise, Rubio is the one looking for the great, seemingly impossible play to set up a teammate while Westbrook is always hunting the rim himself, even as his assist totals and percentages climb this season. 
The matchup should provide endless entertainment between two of the league's brightest young stars. 

The one big takeaway when you watch them, however, is how great they are in transition. The fast break provides Rubio with the spacing to get defenders' heads turned, and a defense's transition state before it sets allows Westbrook to attack before help can arrive. The key for both players in trying to slow down the other's incredible offensive abilities is getting to them early. As in, half-court. 
Let's take a look at how Rubio uses the space coming across halfcourt in transition to find those dazzling assists. 
Here you'll notice the Thunder trying to play Rubio in the traditional format, waiting for him to get to the 3-point line before engaging him. But Rubio likes that extra space, and he uses it exceptionally well. What's also odd is that the only attempts made to stop the ball here are done so with the intent to try to prevent Rubio from getting into the lane. The concern with Rubio isn't him making layups. It's these exact passes that he makes. Having better rim protection from the bigs will help after the pass is made, but Rubio simply has a tremendous ability to lure the defense away from where he wants and zip the pass in, often through seemingly impossible angles.
In truth, the best approach might be to pick up Rubio earlier across the timeline and, if he gets around, to bring help on the layup at the last moment. Funneling Rubio to scoring opportunities, particularly jumpers, is much safer than letting him pick apart your team with passing. 
Westbrook, on the other hand, is a scoring machine. As you'll see here, he takes a half-second opening and exploits it to the furthest degree. 
You'll notice how quickly Westbrook goes from seeing the opening to turning on the jets. He's pretty much at Mach 5 by the time the defense realizes he's coming. It's a huge reason why Westbrook is so aggressive --  he's really good at it. These aren't bad looks, and that's something that often gets lost with Westbrook. He's not isolating to take contested jumpers. But he's not going to wait to make a pass to Kevin Durant if he has a lane to the basket. And why would he?
But don't get suckered into thinking you can just bring help on Westbrook to stop him. As you'll see here, when that happens, he glides it to his open man, usually Serge Ibaka, to find an easy assist. 
If these two teams want to prevent getting torched by the young point guards, they need to have their guys attacking the other team's guy as soon as he crosses halfcourt. That's how quick and talented they are.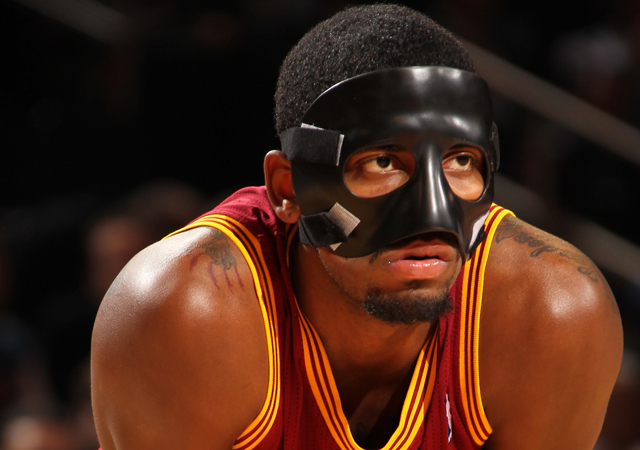 Kyrie Irving's a lot like Batman, for a lot of reasons.
(Getty Images)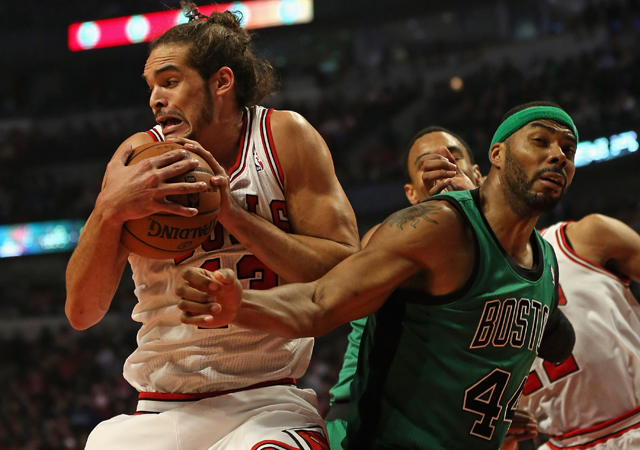 Frightening.
(Getty Images)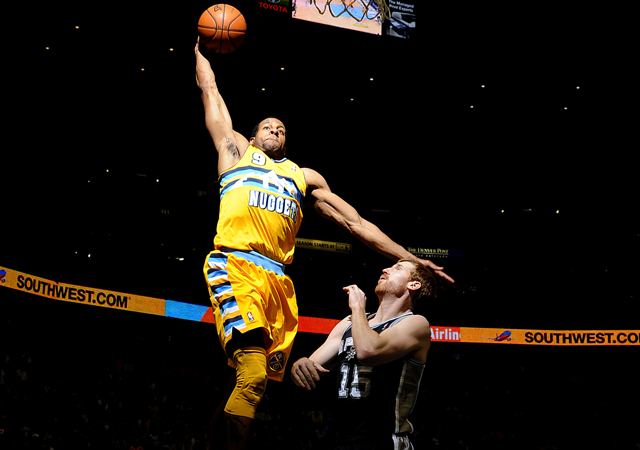 This is cool, for everyone but Matt Bonner.
(Getty Images)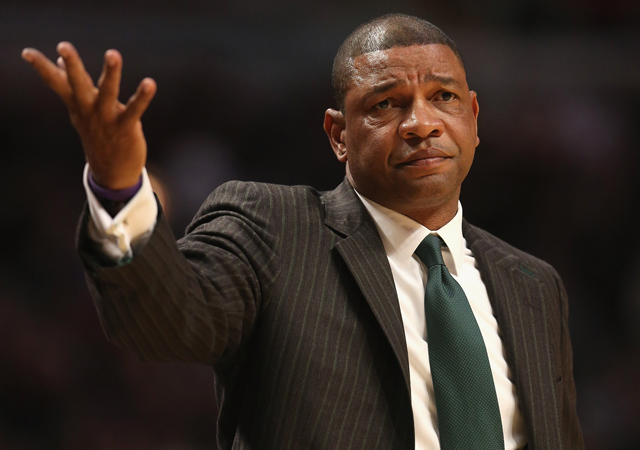 Yup. Lots of this right now in Boston.
(Getty Images)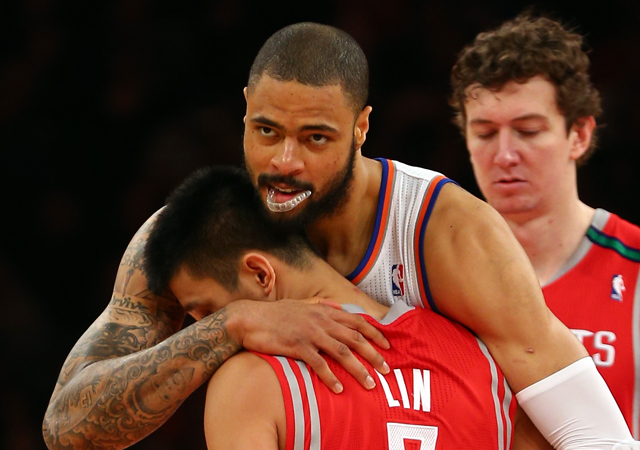 There was love for Lin going back to New York, and a win.
(Getty Images)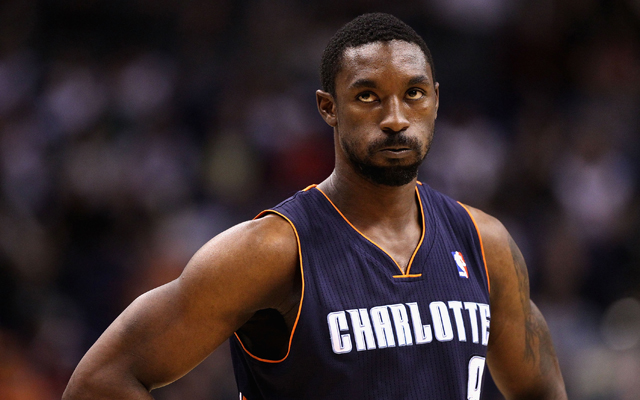 A portrait of life as a Bobcat.
(Getty Images)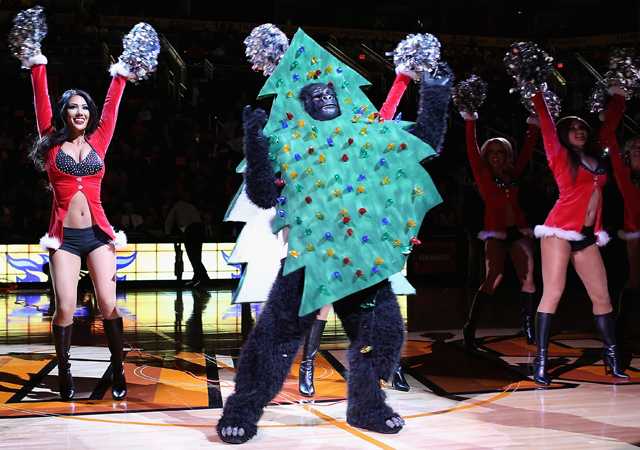 Even mascots are in the holiday spirit.
(Getty Images)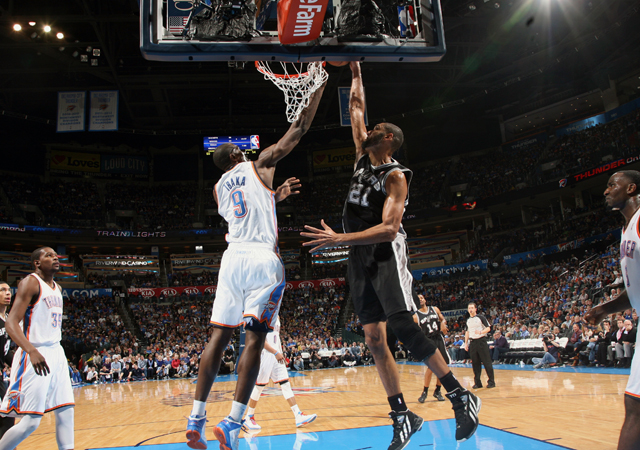 The West might come down to this this season.
(Getty Images)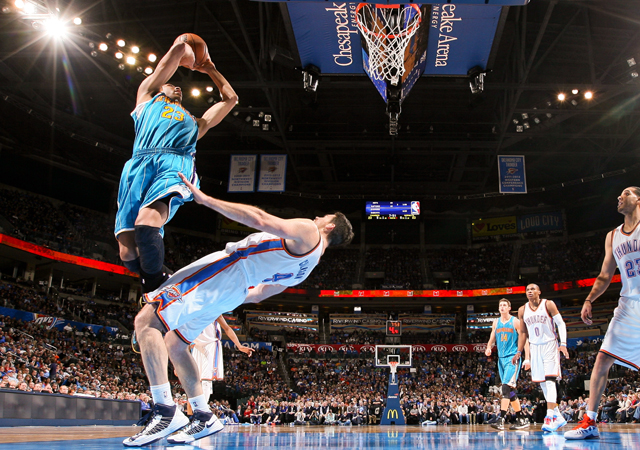 Physics!
(Getty Images)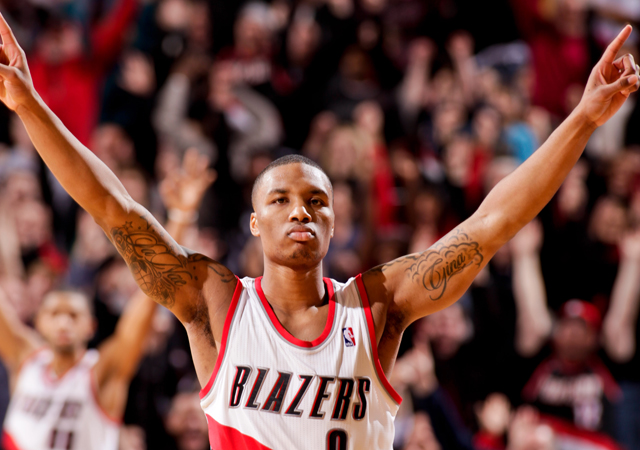 Do you believe?
(Getty Images)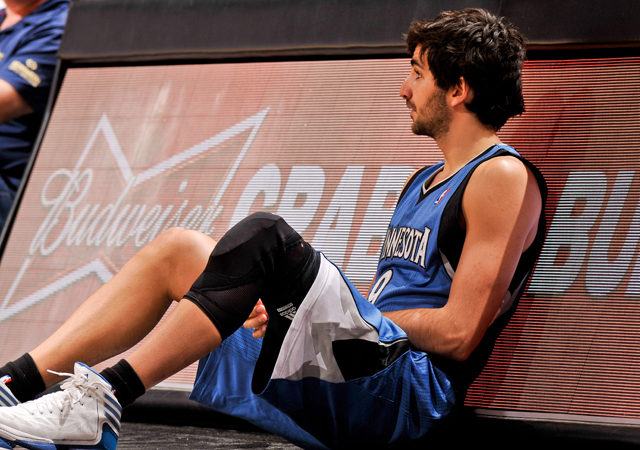 Rubio back!
(Getty Images)

"I said what I said. That's it." -- Joe Johnson to reporters on who the best team in New York is before the Nets' 100-86 loss to the Knicks on Wednesday. For the record, he said the Nets were the best team. 
via Joe Johnson: We're still better than Knicks - Brooklyn Nets Blog - ESPN New York.
"I don't find [playing with Dwight Howard] tough," [the Lakers' Pau] Gasol said as he stood at the loading dock. "It's more the system right now that makes it tough at times, because [coach Mike D'Antoni] wants four guys to be spread and one interior guy and it's a guard-oriented system, so that makes it tough.

"I think there's enough looks for both of us. But again, it's not a system that you post up a lot, so we'll see. We've just got to figure it out. But if you've got two great post-up players, you've got to utilize it."
via Why the Pau Gasol problem wasn't fixed in his return.
"That system was a great system for my style of play," [the Nets' Deron] Williams said of the "flex" offense run by Utah coach Jerry Sloan. "I'm a system player. I love coach Sloan's system. I loved the offense there."

The comments were provocative on multiple levels.

Williams was widely blamed for Sloan's sudden retirement in February 2011, just before the Jazz traded Williams to the Nets. And his openly pining for Sloan's system could be viewed as subtle criticism of [coach Avery] Johnson's offense.

Williams did nothing to discourage that interpretation when he was asked to compare the offense used by the Nets with the one he ran in Utah. "Is it as good as there? No," he said. "There's just more one-on-one and isos" in Johnson's offense.
via Misfiring Deron Williams Takes Shot at the Nets' System - NYTimes.com.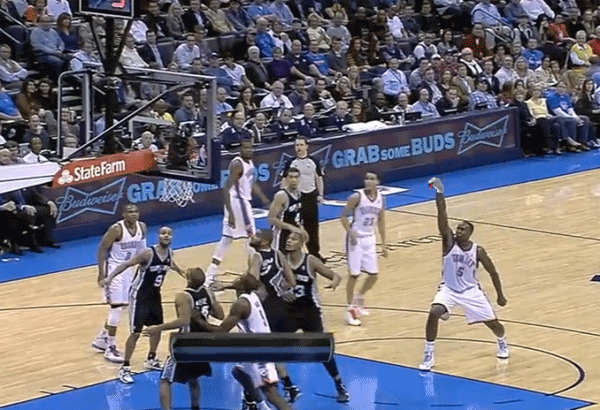 HT: SI.com
SportsLine's Mike McClure, a DFS pro with more than $1M in winnings, gives optimal lineup...

LaVar Ball's sons signed with agents last week, making it impossible for them to play college...

SportsLine simulated Monday night's Warriors-Trail Blazers game 10,000 times
The refs didn't take kindly to Pierce questioning their television setup

Smith is upping the ante on ugly Christmas sweaters this year

SportsLine simulated Monday's Clippers-Raptors game 10,000 times, with some surprising res...