The 4-Point Play: The Celtics' excellence in execution
Rajon Rondo is out for the year, but the Lakers will still have to slow down the Celtics' veteran execution.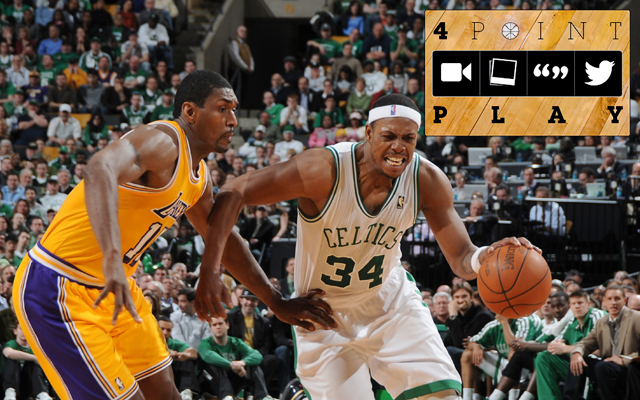 The Celtics and Lakers resume their rivalry Thursday.
(Getty Images)
The Lakers vs. Celtics is traditionally a star-studded affair. Instead, Thursday night, it will be considerably lacking in star power. Pau Gasol is out for the Lakers, Dwight Howard is a game-time decision, Rajon Rondo and Jared Sullinger are both done for the year.

We don't even get Jordan Hill.

But what we do get is the NBA's biggest and oldest rivarly on the national stage, in a game both teams desperately need as they try to keep their playoff hopes alive. Tell me, would you have expected that back in August?



The Celtics lost their primary playmaker, and yet they've managed to thrive in the games since. The lazy analysis of this is that the team is somehow better without All-Star Rajon Rondo. The truth is that the team is worse, which has forced veteran players to execute better. It's the little focus, the small adjustments in force and execution that make the difference.

Let me show you what I mean.
Earlier this week, the Celtics ran this play for an easy score, but it took a lot of work to get there. You'll see here that the Celtics use the pick-and-roll with Paul Pierce to get the Clippers moving, and then when the Clippers attempt to pressure Pierce on-ball, Jason Terry's spacing winds up getting LA's defense wobbling into an impossible position.

You'll see that Eric Bledsoe is forced to help on Kevin Garnett, then scramble to recover on Terry, which gives Pierce the room to draw DeAndre Jordan up, and once Garnett slips the screen, it's over. Blake Griffin needs to recover too far, due to how Brandon Bass spaces the floor with the threat of his mid-range jump shot. There's not enough time for him to recover and the result is a dunk.

But even before Rondo's injury, the Celtics use their awareness of how defenses react to create open looks. For years, the Celtics have been phenomenal at creating open looks. Even with mid-range jumpers, which are usually low-percentage shots, they've found personnel who can hit them, and the threat winds up forcing the defense into a frenzy. Watch the ball movement on these plays.


If the Lakers are going to find a way to win Thursday night, they're going to need a higher level of defensive fundamental play than they've shown all season. Because once the Celtics get you scrambling, they make you pay, over and over.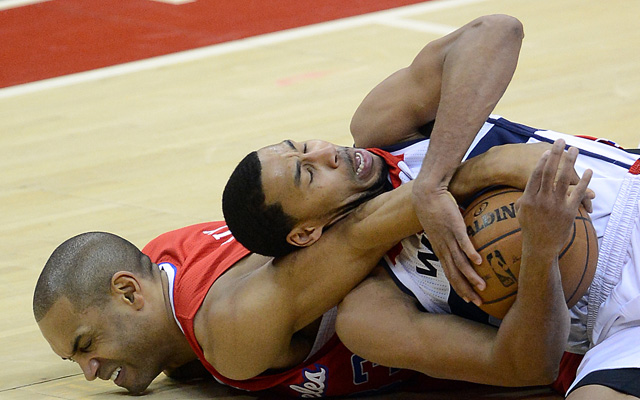 Well, that doesn't look comfortable at all.
(Getty Images)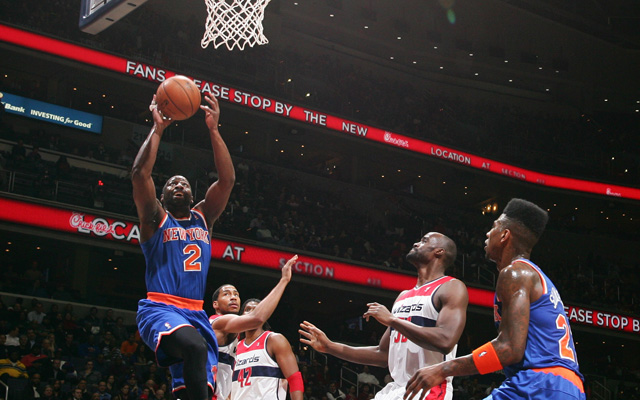 The Knicks couldn't quite rise above the Wizards.
(Getty Images)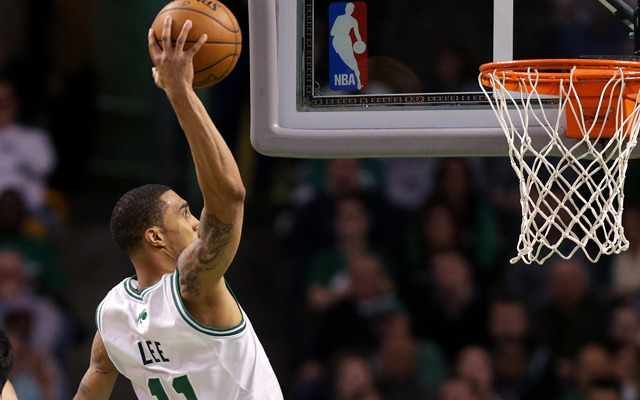 Flight engaged.
(Getty Images)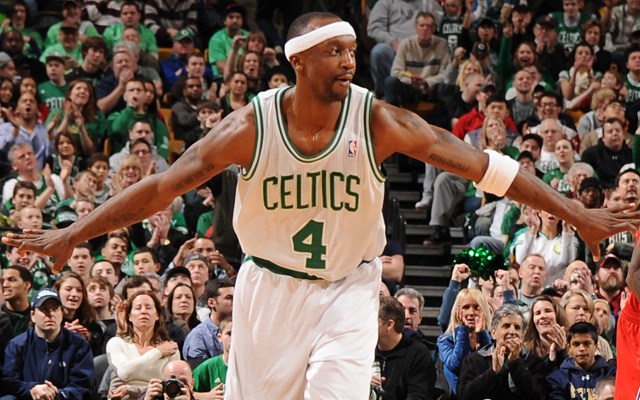 Haven't seen much of this this year.
(Getty Images)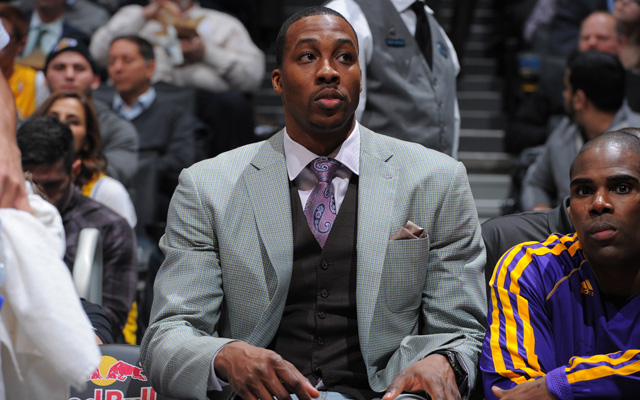 Lot of this going around.
(Getty Images)

Reporter: Have you talked to Kobe about it, just your situation?

Dwight Howard: "What situation?"

Reporter: In terms of your injury and all that?

DH: "Have I talked to Kobe?"

Reporter: Yes, just as far as outlining, like, telling him your perspective?

DH: "Of what?"

Reporter: Of you wanting to take the long view?

DH: "Why do I have to explain that to Kobe?"

Reporter: Well, because he's a teammate …

DH: "He's a doctor?"

Reporter: No, but he's a teammate.

DH: "OK. So I should explain that to all my teammates then, right?"

Reporter: I'm not insinuating that. I'm just asking, have you talked to him?

DH: "I'm asking you …"

Reporter: I don't know if you've talked to him.

DH: "I'm asking you, I'm supposed to tell all my teammates?"

Reporter: No, I'm just asking if you talked to him.

DH: "Just Kobe. Just Kobe."

Reporter: Considering the comments he made yesterday …

DH: "I don't know what he said."

Reporter No. 2: He says we don't have time for Dwight's shoulder to heal. We need urgency. We need him back on the floor. This is the Lakers. It's either a championship or a complete failure.

DH: "OK."

Reporter No. 2: What do you say to that?

DH: "That's his opinion."
via Dave McMenamin's post on LA Lakers | Latest updates on Sulia.

Is this rock bottom for the Cavaliers because it sure feels like it is

Wade, as he's done so many times in his career, threw it up to LeBron for the thunderous f...

The Warriors coach added there should be no shame in being picked last since everyone's an...
We've got all the scores, highlights and news from all of Saturday's games

The two teams have reportedly not had any substantial discussions to this point

Oladipo may be getting most of the shine, but this second-year big man has been phenomenal...