The 4-Point Play: To stop LeBron, Durant, you need an army
The Thunder and Heat face each other Thursday night in the second rematch since the 2012 Finals.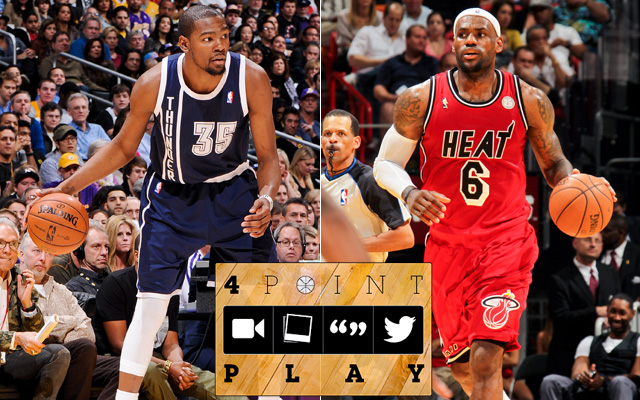 Let's do this.
(Getty Images)
| Player | Age | G | MP | FG% | 3P% | FT% | TRB | AST | STL | BLK | TOV | PTS |
| --- | --- | --- | --- | --- | --- | --- | --- | --- | --- | --- | --- | --- |
| Kevin Durant | 24 | 52 | 38.8 | .519 | .432 | .904 | 7.4 | 4.4 | 1.6 | 1.2 | 3.2 | 29.0 |
| LeBron James | 28 | 49 | 38.4 | .565 | .420 | .742 | 8.1 | 6.9 | 1.7 | 0.9 | 2.9 | 27.1 |
| Rk | Player | Age | G | PER | TS% | TRB% | AST% | STL% | BLK% | TOV% | USG% | WS |
| --- | --- | --- | --- | --- | --- | --- | --- | --- | --- | --- | --- | --- |
| 1 | Kevin Durant | 24 | 52 | 29.2 | .657 | 11.1 | 20.6 | 2.1 | 2.3 | 12.6 | 29.6 | 12.9 |
| 2 | LeBron James | 28 | 49 | 31.2 | .636 | 12.9 | 34.1 | 2.3 | 1.9 | 12.1 | 30.0 | 11.9 |
Thursday night, the two best basketball players on the planet will share the court and meet for the second time since the 2012 NBA Finals. LeBron James and Kevin Durant are not playing well. They are not playing amazingly. They are playing historic basketball. They are having seasons that should be and will be remembered forever for not only their production but for their efficiency. 
Durant leads the league in scoring and is averaging more than 50 percent from the field, 40 percent from 3, and 90 percent from the line. No player has ever led the league in scoring with a 50-40-90 mark. Ever. Oh, and he's averaging 7.4 rebounds as well. He's added a post game. He's added smaller moves to his dribble drive. He's stronger, smarter and meaner. 
He might be the best player in basketball. He is 24 years old. 
LeBron James is on a six-game streak of shooting 71.7 percent on 15 FGA per game, averaging 30.8 points, 6.7 rebounds, and 6.5 assists, while also shooting 55.6 percent from 3-point rainge. (His free-throw shooting remains pedestrian during the streak at 78.2 percent, but do you really want to nitpick there?)
And that doesn't even come close to telling the whole story of his season. He runs point, shifting into the post to play power forward or center, then driving and kicking to shooters like a small forward. He defends the best player on the opposing team routinely, creates havoc in the open court and is generally the most complete basketball player you can imagine.
You could build a player in NBA 2K13 video game, and the system might not let you have him be as good as LeBron James has been this season. 
He is the reigning MVP, part of the reigning NBA champions, and the reigning Finals MVP. He is considered to be the best basketball player on this or any other imaginary planet. He is 28 years old. 
So, how then, do these two teams hope to stop the other one's best player? Well, they can't. But if they're going to try, it's going to take a team, a village, an army. Here's a little glimpse at how. 

Let's start with Durant. 
Because LeBron winds up guarding Durant so much, especially on the perimeter, and because James is so physical, the Thunder use a lot of screens to try to not only create space for Durant but to get James or the other Heat defenders moving. 
The Heat habitually, as we've discussed here before, show on the switch on the pick and roll, trying to jump the screen. The danger is that you surrender a driving lane, but the Heat's primary concern is to keep Durant from pulling up, because, you know, he's the best shooter alive, and all. So what Durant does is he uses that space to get LeBron just a half-step behind on the pick and roll, then create some space to shoot. Watch what he does here, and all the things LeBron has to worry about when guarding Durant. Hee's going to get caught if Durant does a double or triple move, and if he simply accelerates to the spot and uses his length on his side-step.
You'll see there that as soon as the defender, be it LeBron or someone else, shows at Durant, he maneuvers to get to the corner, then bursts to get to the elbow area. From there he can either drive deeper and punish the trailing defender trying to compensate, or create at the rim. 
But a more effective strategy uses Durant as the screen man and gets him moving in space without the ball. 
Now, there's help on those plays, but not enough. They're slow to commit to Durant because of his passing ability and simple reaction time, and the result is him getting to the rim. The threat of Durant's shooting, combined with his length and athleticism, make him deadly in this set. 
The key against Durant, as it is with LeBron, is to first challenge his position and deny him the ball you'll see on the above possessions. On nearly every one, when Durant goes to set his position, LeBron bodies or blocks his path to the ball. It's Durant's lone weakness offensively.
Secondly, send someone to affect his dribble, someone to alter his drive, and someone to meet him at the point of attack. Watch how the Heat react to him here. 
You'll notice the Heat will flash a defender at him as soon as he catches the ball, then they recover, and when he drives, they commit three defenders at various angles. The key is to try to corral Durant away from his sweet spots and into more help. LeBron can contest him one-on-one on fadeaways off the dribble, and if he hits them, he hits them. (Note: He hits them.) But they do a good job of avoiding the super poster dunks and various sweet spots. 
Now onto Lebron, who's a whole other mess to cover. 
Part of the problem with guarding him this year, as opposed to year's past, is that his jumper has been ridiculous. It's honestly not really fair when he's that big, that strong, that fast, and can hit the jumper. Like here. What are you going to do? 
Absolutely nothing. Serge Ibaka is fast enough, strong enough, long enough to guard him, but there's no way he can contest the jumper. So the idea becomes, "OK, he wants to play perimeter. Let's put our best perimeter defender on him." So the Thunder give him Thabo Sefolosha, a smart, tough defender who can contest. 
Whoops. 
It's not just the size problem. Watch how quickly LeBron establishes that he's got the mismatch and how quickly he moves into position. There's no time for the smaller defender to call for help. He's stuck, stranded in the paint. You go big, he burns you outside. You go small, he beats the crap out of you inside. That combination is what makes him impossible to defend consistently. 
But if you get him on the perimeter, and you bring the right help:
This is where Nick Collison helps. (Hint: Collison should start and play most of the minutes against teams like the Heat.) He shows well, recovers, then helps again without fouling. It's superb help defense. Beating LeBron up like Kendrick Perkins can is useless. It's throwing rocks at a freight train, even big ones. 
You'll also see that they take away his driving lanes when he's on the wing. The corner defender helps over to challenge the baseline-side drive, while Durant or his primary defender overplays to the middle. There's a wedge in the middle for another defender to help at the elbow. 
The lesson in all this? You need three guys to stop these two when they're engaged, and even then, you're only hoping for a 40-50 percent success rate. That's what happens when you face the best players in the world. 
Get your popcorn.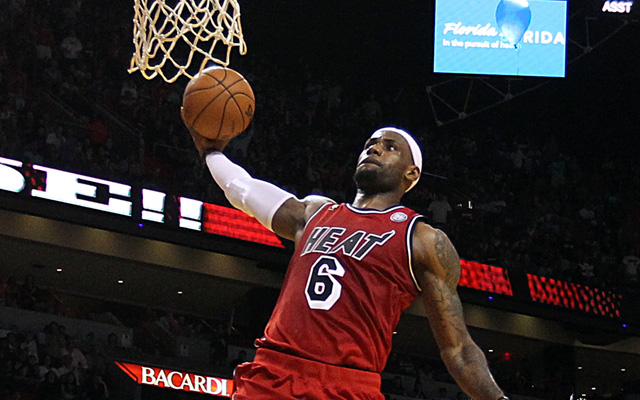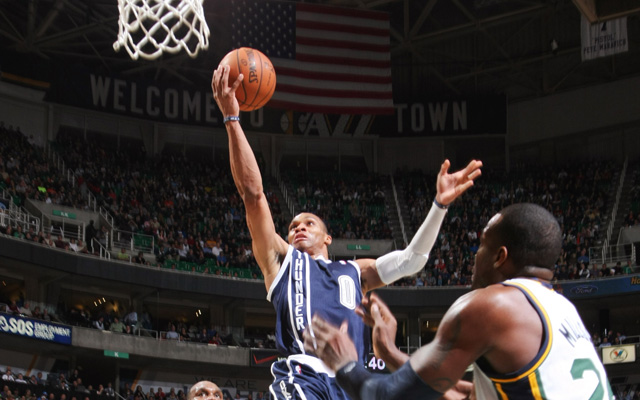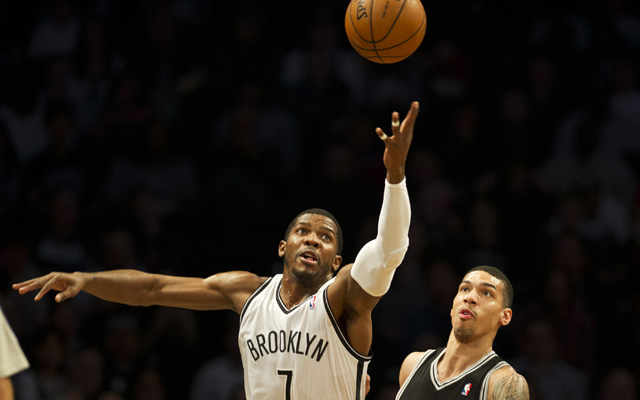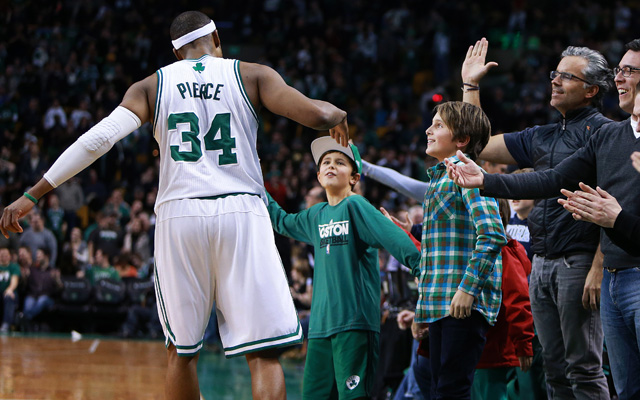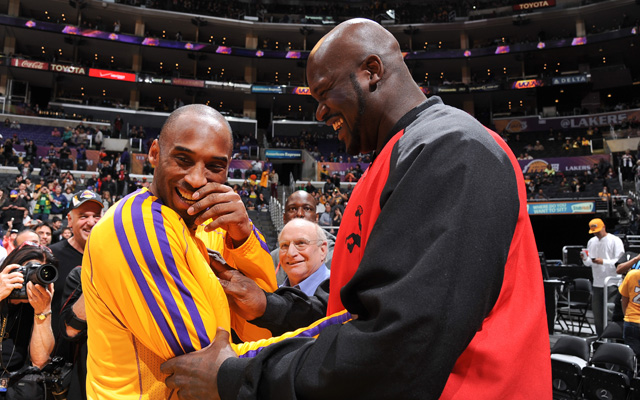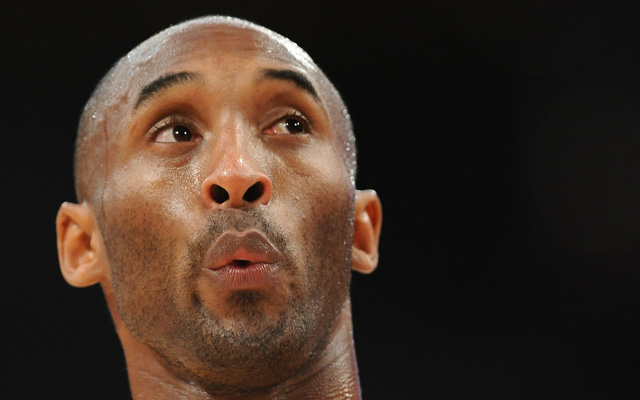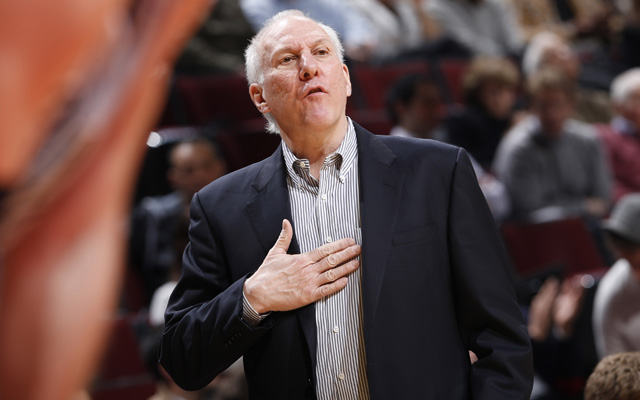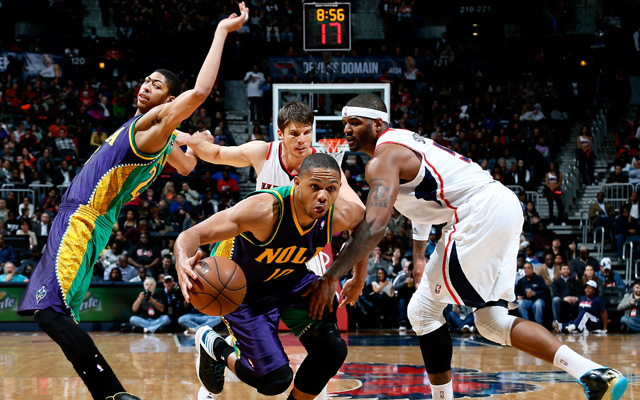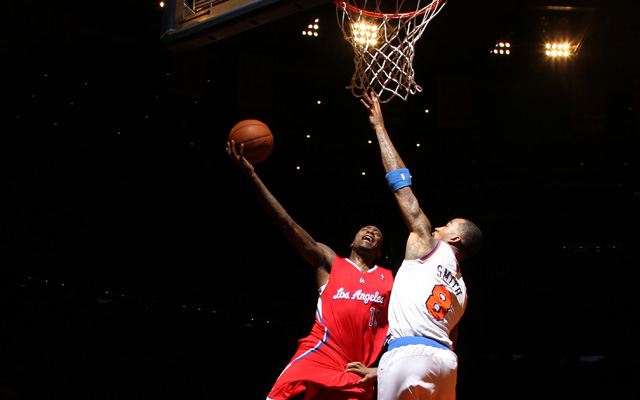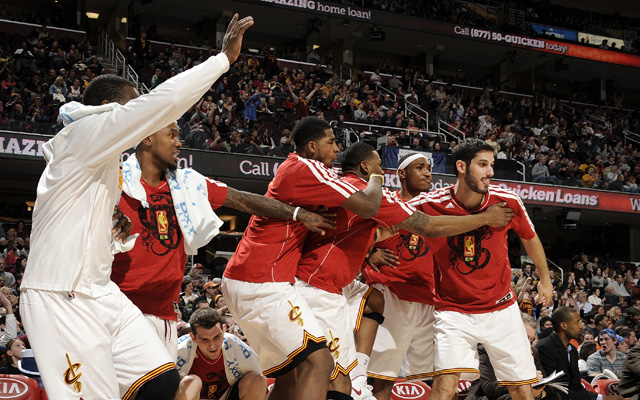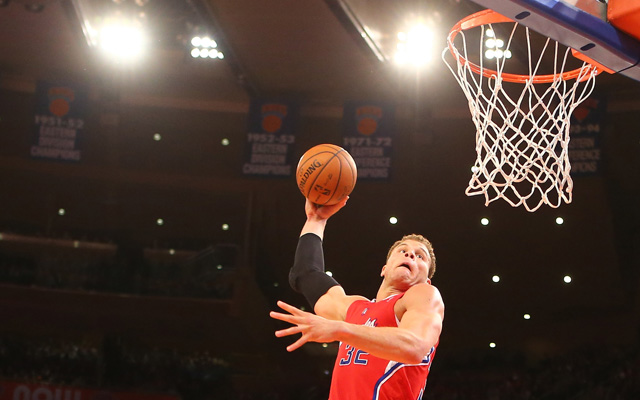 "To be honest, I don't think it really matters. It's the 50th game. I doubt whoever wins will win the MVP. I try not to worry about stuff like that. I just try to go out there and play my game and play within the team's concept and go from there." -- Durant on the MVP race implications vs. LeBron on Thursday.
"I mean, every game is a must-win for us. That's how we look at it. I'm not saying if we lose the game our season is over. Far from that. Of course you want to go out and win every single game. It's an opportunity for us to get better tonight and we're looking forward to that. Against a team that beat us in the Finals." -- Durant on if Thursday night vs. Miami is a must-win game. 

Vince Carter is destined for a Raptors reunion; he doesn't know when it'll happen

Thomas has a target date for his return, and with the Cavaliers scorching, this could be h...

LeBron James once again is using his platform to be socially active
Not many games, but still plenty of action and intrigue Sunday in the Association

Kobe Bryant had a solid piece of advice for back in 2016 when he left OKC for Golden State

An old rivalry is reignited between LeBron James and the Cavaliers and John Wall and the W...