The Answers: Is Houston good bad or bad good?
The Answer brings you five questions and five solid answers... or not so-solid answers to them. This week we talk Rockets, Warriors shooting, the Ninja Suns, and how good the Blazers are.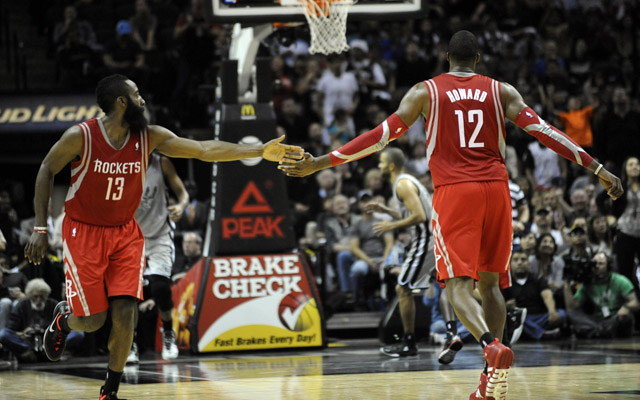 The Answer brings you five questions and five solid answers... or not so-solid answers to them. This week we talk Rockets, Warriors shooting, the Ninja Suns, and how good the Blazers are. 
1. Is Houston a good bad team or bad good team?
The Houston Rockets aren't disappointing. They're also not convincing. They exist somewhere in a limbo in-between success and mediocrity. They lost a nightmarishly ugly game to the Lakers at home. A week ago they rattled off wins against Minnesota, Memphis, Atlanta and the pitiful Nets, capped off by their best win of the season over the Spurs in San Antonio. They looked like they had it together.
Then they dropped games to Utah and Phoenix. Wah-wah.
The big takeaway that I have from the Rockets is this. They are neither as good as their record and analytics suggest they are, nor as bad as the eye tests indicate they are.
The arguments for and against:
IN FAVOR OF BLASTOFF:
1. Continuity: You know the only thing harder than dealing with a ton of new pieces? (The Rockets not only added Dwight Howard but reconfigured around rookie power forward Terrence Jones, and added Francisco Garcia and Patrick Beverley late in the year.) Injuries to a team with a ton of new pieces. Jeremy Lin, Chandler Parsons, James Harden, and Omer Asik have all missed time (Asik wasn't so much injury as it is generally tantrum throwing, but still). You can't really judge this team without knowing how it is at full strength with time to gel.
2. Harden's injury is the biggest deal. He's dealing with a foot injury and it's taken away even more of his defensive ability (and his effort is poor to begin with). Once he gets healthy, they should improve dramatically.
3. The numbers are still really good. They're 13-7. They have the best offensive efficiency (points per possession) in the league (1.085), and the 10th best defensive efficiency (points allowed per possession (1.014, tied with Boston) to give them the fourth-best net points per possession in the league (+7.1 per 100 possesions).
So what's the problem?
HOUSTON WE HAVE A... NOT USING THAT REFERENCE, NOPE NOPE NOPE
1. The Rockets have played in 11 games where they were either up or down by five points or less inside the last five minutes. In those games, the Rockets are 6-5. Most concerning, they have a negative points per posession differential (-6.5 per 100 possessions, 19th in the league). They get crushed on the board in those situations (27th in defensive rebounding percentage in clutch time), they defend poorly (26th in points per possession allowed) and don't do anything particularly well.
Those are the numbers. Those are facts. The subjective observations are much harsher. In short, Houston doesn't seem to know what the hell it's doing in late-game situations. Too often Houston goes into simple isolations for James Harden, despite his injuries and level of usage. It was fine last year, if a little predictable. But this year the Rockets have Chandler Parsons, Dwight Howard, Lin, and better pieces. They have to be more creative. Harden is 8-23 in games inside five points either way, with six assists and five turnovers across 39 minutes. Those are bad numbers.
2. The defense is a work in progress. I've been a little surprised at the blowback vs. Dwight Howard and his defensive presence. Howard has still madea huge impact inside, when the defense is set. The problem has been that Howard is having to cover for massive issues on the defensive perimeter. Guys are getting blown by, or helping off in weird ways. There's a definite "not on the same page" factor going on here. They need to improve their defensive communication and trust. This goes into that continuity issue, but not all problems are solved by time together. They have to also actually improve.
The real question about the Rockets? They've moved up the ranks slowly in three-point offense. They're currently the best team in the league in the league at percentage of shots from three-point range, and 11th in three-point percentage. What's weird is that Francisco Garcia,Patrick Beverley, Aaron Brooks, Terrence Jones and Omri Casspi are all over 35 percent from three, along with reliable shooters Chandler Parsons and Jeremy Lin. The low point?
James Harden, shooting 29 percent from three. Will Harden improve, will the other shooters keep shooting the lights out? Neither? Both? The answers to the degrees those questions are answered in could determine how reliable the Rockets' offense becomes.
For now, they're a good team, having a good year. But there's a lot of work left to do.
2. Why are you still leaving the Warriors open from three?
The Warriors shoot over 43 percent from the corner on three-pointers. They are 9th in attempts from that high-percentage look. They are seventh in percentage, and yet still getting a high volume of looks from there.
Why on earth would you continue to let them shoot threes? I get that it's not as easy as "Just don't let them." Steph Curry will take -- and make -- any three-point shot on Earth. He'll launch with a defender right in his grill. But when you watch, you still see defenders helping off Klay Thompson in the corner. Why, in God's name, would you help off of Klay Thompson?
Look, if you get beat by Jermaine O'Neal, Andrew Bogut, and Harrison Barnes inside, sure. You live with that. You gotta take something. But you give up the two-pointer in all instances vs. the three. If Curry gets to the lane and hits the floater, which he has been remarkably improved at this season? Life's tough. Letting the Warriors bomb from the outside is madness.
The No.1 story on defending the Warriors is stopping three-point attempts. Golden State shoots two fewer threes in losses than they do in wins. The typical formula for shots you'll allow goes something like this: 1.Mid-range jump shots 2. Free throws 3. Three-pointers 4. Layups. For Golden State, it's time to re-evaluate that.
1. Three-pointers 2. Three-pointers 3. Three-pointers, 4. Everything else. Stopping them is impossible but faceguarding has to be the model from here on out.
3. Is Portland as good as their record says?
We talked about Portland being a contender on Wednesday, saying they had to beat some of the West's toughest... and then they took out OKC at home. The secret is out. There have been features galore on the Trail Blazers this week, and everyone's touting them as the real deal.
Here's where I'm at on them. They are very much good enough to get a top-four seed in the Western Conference. They are very much good enough to make a run at the Wstern Conference title. They are very much legit.
Are they "best team in the league" good? Right now, absolutely. It's long-term that you wonder.
For example, let's forget about who they played for a minute (we covered that Wednesday). They've been in six games where they were tied or down five points in the last five minutes. They are 4-1 in those games. That's a crazy number! Their offensive effciency under five minutes within five points up or down? 137.6! That's insane!
They are +39 in those close games.
Then you have the fact that regardless of who they played, seven of the opponents they've toppled at home have been on the second game of a back to back. Portland's also 5-0 in back-to-back games.
Does this show that the Blazers have been unsustainably fortunate, or undeniably good? They don't choose who they play, and they've beaten nearly everyone in front of them. Portland's legit. But there is enough going on with their schedule and how it's worked out to pump the brakes a bit. It's still December, after all.
4. Can the Nets really be this bad and what can they do to fix it?
5. What's your ninja team right now?
My ninja team is one that's sneaking up on teams consistently. Right now it's the Suns. Phoenix walked into Houston, clubbed them in the back of the head, drug them outside and threw them in their trunk to take home as a trophy. They have a group of talented, passionate players who are really responding to what Jeff Hornacek is coaching.
For all the disaster Jason Kidd is this season as a first-time head coach, maybe Jeff Hornacek should get more credit for making the leap and exceeding expectations.
Stats provided by Basketball-Reference.com and NBA.com for this post.
Mirotic and Portis combined for 49 points as the Bulls won their fifth straight game, beating...

Gobert, who missed 11 games earlier this season with a knee injury, will have an MRI

Get all the latest scores, news and highlights from Friday's NBA games
Porzingis is questionable for Carmelo Anthony's return to MSG on Saturday

The Spurs and Rockets will renew their in-state rivalry on Friday night

Anthony will play at Madison Square Garden on Saturday for the first time since being trad...