The art of talking yourself into Andrea Bargnani again
Can Andrea Bargnani capitalize on some of his potential with the Knicks after a disappointing fall in Toronto?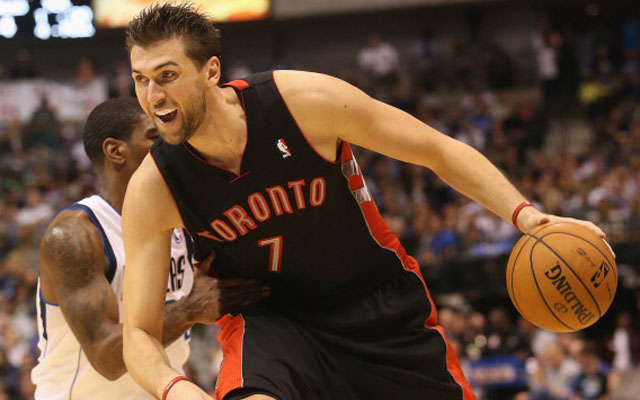 I spent three years defending Andrea Bargnani. 
(And that's about the only time the word "defending" can be used with him, am I right? Wocka-wocka-wocka!)
You looked at his Synergy numbers, and he would look good as far as his post defense goes. Same for his isolation numbers, even if he wasn't guarding the primary threat. He was a good man defender. He was just horrible when it came to help defense and systemic defense; you know, the most important elements for a big man in the modern NBA. 
I kept holding on becaue of what I saw when he was a rookie. Most especially, the dunk at 3-minute mark in this incredible YouTube video (song choice for the win!): 
I kept defending him as Raptors fans went from "annoyed" to "infuriated" to "this has gotten ugly to a point where no one person should be as hated as this." But eventually, last season, you had to give up. Bargnani was injured the past two seasons, but he also generally checked out, looking like he was just collecting a massive paycheck. There seemed to be a disconnect between him and teammates. His rehab always seemed to take longer than expected. 
And he couldn't shoot. 
The one thing that made him (potentially) special, being a 7-footer who could shoot, had gone away. He was just another bust on a big contract. Eventually, you can like a player in concept only so long. I've been down this road before. Tyrus Thomas. Anthony Randolph. (I'm holding out hope for Derrick Williams.)
Now he's gotten the magical "second chance." The Knicks traded for Bargnani in the early days of the offseason, wanting to upgrade their bench with someone who isn't eligible for Medicare. The key with second chances is that it has to be perfect. You have to happen upon the right coach, the right role, the right circumstances, the right teammates. 
It's really important to note that this isn't always evident on the surface. What happens in a locker room and in a player's mind isn't something we have access to. New York may be a transformative experience for Bargnani, and being on a bigger stage may actually bring the best out of him. Maybe Canada just never agreed with him, maybe he'll find a level of maturity he's never seen. 
These aren't wild hypotheticals. They're a reminder that second chances aren't scripted. As for his role, that's really complicated. From Zach Harper's offseason report: 
The most confusing move of the summer might be the Knicks trading Steve Novak, Marcus Camby, Quentin Richardson, two second-round picks, and a first-round pick to the Toronto Raptors for Andrea Bargnani. Let's say the Knicks were given an extra amnesty clause and use it on Stoudemire's contract this summer. I would understand the Bargnani move so much more. However, with Stoudemire still on the roster and still not fully fitting in with Anthony on the court, I'm not sure how Bargnani also squeezes into the plan.
via Eye On Basketball - CBSSports.com 2013 Offseason Report: New York Knicks.
Stoudemire is a (formerly) athletic, big power forward with range who struggles defensively and isn't an elite rebounder. And yet, if you want a big ol' red flag? 
So, that's not promising. Harper's point that Stoudemire couldn't co-exist with Carmelo Anthony, around whom the Knicks have configured their entire culture, consequences be damned, doesn't bode well for Bargs. But Bargnani is at least supposed to be a reserve, it's assumed. If Mike Woodson reverses course and goes with Bargnani at the starting 4 beside Chandler and Melo, I'll just throw my hands in the air. 
Oddly, Chandler is the perfect compliment to Bargnani in a lot of ways. Dominant defensively, able to cover for his mistakes, the big man down low Bargnani never played beside in Toronto. But Melo needs to play the four. That's pretty well established. That's when the Knicks are at their best. And if you're going to sacrifice any semblance of total team concept in favor of appeasing your star (and this is the year to do it the most with Melo a potential free agent next summer), you don't throw that out the window for Bargnani. 
So why am I still hopeful? Why does part of me still imagine Bargnani spacing the floor with Raymond Felton in a pick and pop, with Chandler down low? Why do I think "Hey, if all he has to do is cover a very small place on the floor, he can be as good as Novak, right?" 
And I'm not looking for him to be an All-Star. I keep thinking of Tim Thomas' run with the Phoenix Suns in the mid-2000's when for a brief time, he was an absolute murderer of playoff souls. Thomas was an athletic bust who never worked out, and then suddenly, erupted and ruined men's postseason lives. 
It's because we get attached to the way a player plays, his style, the way that watching him makes us respond. It's a matter of taste, not quality. If you love pizza, bad pizza (and I maintain there is bad pizza out there, though rare) is still something you want to eat. And for some reason, this Italian stretch 4 prototype who could gun or dunk, who had a post fadeaway and the trailer 3 for even a few weeks of his career, resonated with what I love about basketball. 
The Knicks gambled big on Bargnani. I'm still waiting to see if I can convince myself to reinvest in a player that went so wrong so quickly.
Kobe the rookie had no fear facing off against Michael Jordan the legend. Then he gave up a...

Once again the Jazz will be without Rudy Gobert due to injury. How will they fare?

Lorenzen Wright's ex-wife has been charged with his 2010 murder
Hayward, free of his walking boot as of Wednesday, says his mind is open to a return before...

The former Knicks star returns to New York for the first time since joining the Thunder

Former longtime Knick Carmelo Anthony makes his return to New York