The bad Pacers are back after humiliating loss to Wizards
By getting blown out by 23 and outrebounded by 39 in a closeout game at home Tuesday night, the Indiana Pacers proved once again that they're not who we thought they were.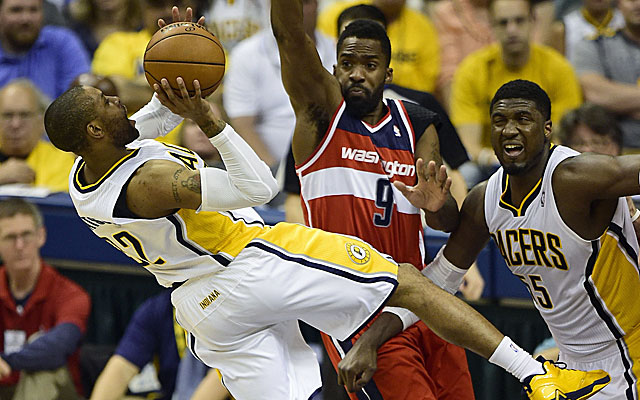 More postseason coverage: Playoff schedule, results | Latest news, notes
INDIANAPOLIS -- Shocking. Disappointing. Unacceptable. No effort, energy or grit.
No toughness. 
This isn't me saying these things about the Indiana Pacers, though if I said them, they'd all be true. This was someone more important -- Paul George. This was his assessment of what a disgraceful effort the Pacers put forth on Tuesday night with a chance to close out the Washington Wizards at home and advance to the Eastern Conference finals for the second straight year.
The conference finals? Against, presumably, LeBron James and the Miami Heat? The Pacers had better forget about that and focus on the Wizards. Or better yet, in this two-month period of bizarre introspection, inconsistency and inglorious moments, the Pacers had better turn inward and focus on themselves.
After a humiliating 102-79 loss to the Wizards that closed the gap in their conference semifinals series to 3-2 -- a game in which the No. 1 seed in the Eastern Conference got outrebounded by 39 on its own floor -- it's time for the Pacers to look in the mirror. If they see what I see, there won't be much to like.
"So much for wanting to have home-court advantage," George said. "We seem to play better on the road. Tonight was just unacceptable. Effort, energy, our will, toughness -- I mean, everything that involves winning a closeout game, we lacked."
It was the Pacers' fourth home loss in this postseason. They've bounced back before, and they've won on the road before. But this was different. Even if the Pacers summon all that they were lacking on Tuesday night and get past the Wizards, does anyone really think a team that gets blown out at home in a closeout game has any chance of competing with Miami?
Or Brooklyn, for that matter?
"We just lacked a toughness and we lacked energy tonight," George said. "We just didn't have that grit tonight. It was almost like we were assuming that there was going to be another game after tonight instead of putting this one away." 
Championship-caliber teams never do that. They don't play with fire with a 3-1 series lead and the two-time defending champions potentially looming on the other side.
"It's disappointing," David West said. "Definitely not expected."
Not expected? From the team that charged so hard for the No. 1 seed that it almost coughed it up? From the team that has lost both series openers at home in these playoffs? From a team that turned Marcin Gortat (31 points on 13-for-15 shooting with 16 rebounds) into Hakeem Olajuwon in a closeout game at home?
"We haven't allowed those type of games from people," West said. "And tonight wasn't a good time to allow one of those games to happen."
Gortat and John Wall, both bouncing back from miserable performances in Game 4, combined for 58 points -- 10 more than the Pacers' entire starting lineup. The Wizards outrebounded the Pacers 62-23. Worse yet, the Pacers had only one more defensive rebound (19) than the Wizards had offensive rebounds (18).
"We didn't have enough fight as a group to compete with that team tonight," West said. "... We blew a great opportunity."
The Pacers have been in worse situations. After losing Game 5 at home against Atlanta in the first round, they rallied and won the series in seven. This time, they're still up 3-2 with Game 6 in Washington on Thursday night.
"We gotta go get this one, by any means," George said. "We don't want to draw this out any further than we already just did. So this is a must-win. ... This is a must-win for this group."
It is, and they may well win it. But whatever happens on Thursday night in Washington -- or, perhaps, on Sunday back at home for a potential Game 7 -- I have some bad news for Paul George.
On Tuesday night, we found out who the Pacers are. Suffice it to say, they're not who we thought they'd be by now.
Milwaukee's star did not get cleared to play for his national team due to a painful knee i...

Ball, the second overall pick in the NBA Draft, is receiving even more hype

Rap mogul supports the vision the outspoken father has for his brand and sons
Deciding who to watch on League Pass can be difficult, but these rankings promise to help

Veteran forward signed a one-year deal with the Knicks in offseason

Knicks forward had his truck stolen out of his driveway