The basketball world belongs to Steph Curry, and the pleasure is all ours
The Golden State Warriors are rock stars everywhere they go these days, and Steph Curry is the frontman. Steve Kerr said the experience reminds him of his days in Chicago playing with a certain player.
NEW YORK -- They lined up all along the sidewalk, flanked on either side of a bus stop. A few piles of melting snow sat here and there and an eight-foot aluminum fence stood between the onlookers and him.
He hadn't emerged from the practice gym yet; Stephen Curry, that is. Steve Kerr was first to step outside and walk toward the team bus, chatting with a reporter on the sun-splashed steps on a 50-degree day.
Curry and the Warriors were here at St. John's University on Tuesday, at the intersection of Union Turnpike and Utopia Parkway in Jamaica, Queens. With two days off between Sunday night's easy victory over the Knicks and Wednesday's game against the Wizards in the nation's capital, it was a fortuitous break in the schedule that allowed Kerr and the Warriors to visit an old friend.
Warriors great Chris Mullin is the head basketball coach here now, and he welcomed the defending champs to come visit his practice gym and get some work in on their way to LaGuardia Airport for the quick flight to D.C.
"Being around greatness," said Mullin, his Brooklyn accent thicker than ever, "is always a thrill."
It's a thrill-a-minute these days for the Warriors, who are 44-4, have their head coach back on the sideline and are an absolute spectacle everywhere they go.
For the dozens gathered here on the sidewalk, the goal was not so much to pay homage to a championship team chasing history, but to catch a glimpse of greatness in the form of Curry.
It's like this everywhere.
Before the doors of Madison Square Garden had even opened to the public on Sunday night, dozens of media, season-ticket holders and esteemed guests flocked to the baseline to watch No. 30 put on his famous pre-game dribbling and shooting exhibition.
If NBA teams were smarter, they'd sell three kinds of tickets to Warriors games: one for the game, one for Curry's pre-game show and one for both. Oh, the money that could be made.
Kerr and Mullin, who both spent time playing and traveling with Michael Jordan, said the nation's infatuation with Curry is getting to that place where comparisons are warranted.
"I was around Michael during the summer of '92," Mullin said. "So yeah, I think it's at that level."
On Saturday night in Philadelphia, where the Warriors almost lost to the lowly Sixers, something happened that longtime inhabitants of the arena had never seen: a rope lining the court to keep fans at bay as they oohed and aahed and enjoyed Curry's pregame show.
Baseball Hall of Famer Reggie Jackson, who once got a 50,000-person standing ovation after taking batting practice during the 1977 World Series, even showed up at a Warriors game this month to experience the Steph Show for himself.
"Michael would just draw crowds everywhere he went," Kerr said. "When we'd get to a hotel in the middle of the night, there'd always be 50-100 people waiting out there at 2 a.m., hoping for an autograph. People come before games to see these guys warm up; it happened with Michael, and it happens now with Steph. There's sort of a fascination with Steph that reminds me a lot of people's infatuation with Michael."
Team officials say the biggest pre-game crowd they've seen for Curry was earlier this season in Denver; literally hundreds of people pressing up against the boundaries of the court. It's good to be the MVP, the golden boy and the object of adulation the world over.
It's good to live in Steph Curry's world.
Mullin, his NBA front office career in the rear-view mirror, got to orbit it up close on Tuesday. He'd just been forced out of the Golden State front office during one of many spasms of organizational dysfunction when the Warriors ended up drafting Curry seventh overall in 2009. Now, here was Curry -- a champion and defending MVP -- standing on Mullin's practice court and posing for pictures with his awestruck players.
"For us as a coaching staff, it's good because a lot of this stuff that they just did today, we do every day," Mullin said. "So if they thought we didn't know what we're doing, they basically saw all of the stuff we're trying to do with our guys that the best team in the world -- a historic team of all time -- is doing."
The Warriors haven't caught history yet, though they're on pace to surpass Jordan's 1995-96 Bulls for the best record in NBA history (72-10). In the last couple of weeks alone, the Warriors have experienced quite a few of the moments that made Kerr realize how much he loves his job -- and how much he missed it while sitting out the first 43 games following complications from offseason back surgery.
Two weeks ago, they destroyed the Cleveland Cavaliers by 34 points; Cavs coach David Blatt lasted two more games. A week ago Friday, Curry posted a 39-point triple-double in Kerr's return at home against the Pacers.
Three days later, they blew out the Spurs by 30.
Then came the odd scene in Philadelphia on Saturday night, when the Warriors experienced a rare instance of coasting. After blowing all of a 24-point lead -- with Draymond Green taking the blame for trying to fill the box score with a few more assists -- the Warriors held on for a 108-105 victory.
The following night, after a sluggish first quarter against the Knicks, Kerr officially announced his return by breaking and throwing a clipboard. It obviously worked, as Golden State scored 37 in the second quarter and coasted, 116-95.
"As long as I'm getting angry and yelling and throwing stuff," Kerr said, "that's a pretty good sign."
From there it was out into the mild New York City night, a day off on Monday and then a pit stop at St. John's for practice and pictures and a half-court shooting contest.
On Wednesday, the champs get to beat up on the Wizards. On Thursday, they visit the White House.
No wonder Kerr answered the way he did when I asked him what he learned from missing all those games this season.
"The only perspective I gained was how much I love my job and how much I missed it," he said. "We all know this is rare having a group like this, coming off a Finals and playing the way we are. It's an era that we should cherish, because it's not always going to be like this."
Cherish it, indeed. And if you have a friend going to the Warriors-Wizards game on Wednesday night, as I do, make sure you tell them that they only have one job.
Get there early.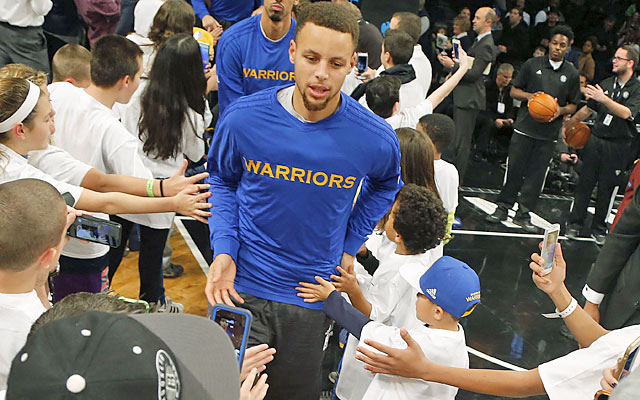 The idea was to bring Bell along slowly, but he's making it harder and harder to keep him on...

Donovan Mitchell kept the top spot in the rankings, but there was plenty of shuffling below...

Stephen Oh is 23-7 picking Rockets and Spurs games and just locked in a play for Friday
SportsLine simulated Friday's Sixers-Thunder game 10,000 times

Cavs star chose to be very secretive when talking to Lakers rookie after Thursday's game

New York announced Porzingis would not return shortly after star forward left game