The biggest question about Kobe Bryant isn't his Achilles
With a rare interruption in his maniacal offseason training routine, the biggest question facing Kobe Bryant isn't his surgically repaired Achilles. It's everything else.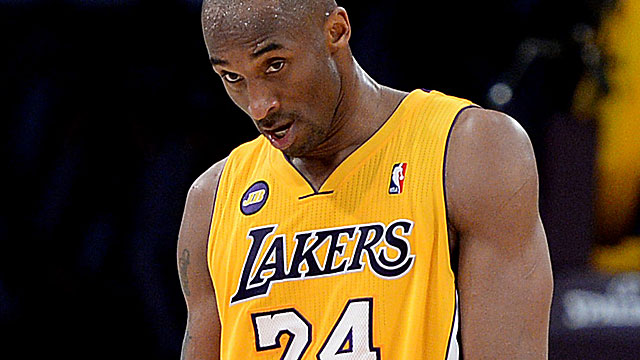 The latest on Kobe Bryant is that he may miss all of preseason as he continues to push through his rehab and recovery following surgery to repair a ruptured left Achilles' tendon. That's the latest, but it isn't really the news.
What's important about this particular dose of Kobe news -- a statement from the Lakers that he is "progressing well" but that there is no timetable for his return to the court -- has nothing to do, really, with that Achilles' tendon. 
It has to do with the rest of his body.
Let me explain.
As devastating as the injury was when Bryant's Achilles' tendon gave way in that April game against the Golden State Warriors, the repair and recovery are fairly straightforward. Plenty of athletes have ruptured their Achilles' tendons. Plenty of basketball players have done it -- Chauncey Billups, Elton Brand and Dominique Wilkins, to name a few. I know sports writers and TV people and CrossFitters who've done it. 
As with any tendon injury, the rupture is repaired surgically and the tendon needs time to heal. Bryant, being a world-class athlete and a conditioning marvel of the modern sports era, will recover from that injury. Even at 35, his tendon will heal, the surrounding tissue will repair itself, and Bryant gradually will return to full, weight-bearing athletic activity involving a basketball and a hoop, as he has been doing for his entire adult life. 
But what about the rest of him? That's where the focus should be as Bryant makes the transition from rehab and recovery to strength and conditioning, and ultimately, to on-court performance.
Read this quote that Lakers spokesman John Black gave to the Los Angeles Times, and you will get an idea of what I mean: "One of the key issues is to make sure he builds up strength and endurance not only in his Achilles but also in his legs, knees, back and core."
In my opinion, that isn't merely one of the key issues. It's the key issue.
Bear in mind that the hallmark of Bryant's longevity has been a maniacal commitment to offseason strength and conditioning work. Bryant logged more than 54,000 minutes of regular season and playoff basketball before suffering a career-altering injury for a reason.
He has spoken sparingly throughout his career about his training regimen; trainer Tim Grover has given more detail than Bryant ever has in his book, "Relentless." But in this 2012 interview with Men's Fitness, Bryant divulged some of his secrets: Olympic weightlifting, sprinting and a will to push through pain and fatigue that most humans couldn't fathom.
"Whatever your program is, the key is to push yourself to a level where you're hurting," Bryant said. "You can't gain conditioning without going through it. You're going to have to feel some pain, you're going to have to feel like your lungs are burning, and you know, you want to spit up blood, that sort of thing."
The Kobe Bryant we have witnessed for the past 17 years -- a five-time champion, two-time scoring champion and one of the most durable and reliable athletes of our time -- was not built from November to June. That Kobe Bryant was built from July to October. He was built with day after day of deadlifts, squats, snatches and cleans, and hour after hour of short-burst conditioning work -- one sprint after another, until he felt like he was going to vomit blood.
When you understand that these are all things that Bryant has not been able to do from July to October for the first time in his career, you begin to understand that the surgically repaired tendon in his lower left leg is the least of his problems.
Basketball has nothing to do with baseball, and vice versa. And Derek Jeter's shattered ankle was a very different injury than the one Bryant endured. But you don't have to be an orthopedic surgeon to draw some parallels. 
Jeter fractured his ankle in October 2012, in Game 1 of the ALCS. He spent the offseason healing and rehabbing instead of conditioning. Nobody can know for sure the cause and effect, but the reality is that Jeter, at age 39, was never himself in a season that he described as "a nightmare." He was slowed by quad and calf injuries, and eventually sidelined for good after only 17 games due to an injury to that surgically repaired ankle.
Kobe Bryant is not Derek Jeter. Their injuries are different, their sports are different, and they're not the same age. But what they have in common -- a rare interruption in their usual offseason training routine to rehabilitate an injury -- is enough to drive home the point.
The biggest question about Kobe Bryant isn't his Achilles' tendon. It's everything else.
The Warriors used a huge third quarter to come back from a 23-point deficit to get the win

Three takeaways from Golden State's 24-point rally past the Sixers

Okafor has played only 25 minutes this season
Capela's shoe slipped off, and was sitting near the free throw line

The Magic will instead play in the Las Vegas Summer League

Ball walked away from an altercation between the Lakers and Suns on Friday night