The biggest questions as training camps open
Training camp is set to open across the NBA this weekend. What are the big questions that need answering?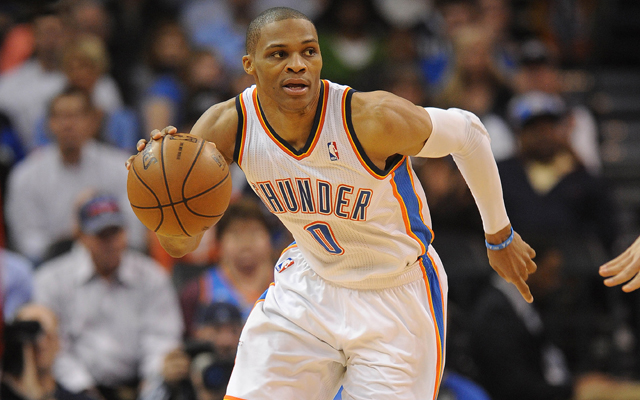 NBA training camps are set to kick off this weekend for some teams, and then in full force for the rest of the league shortly after. Officially, training camp and media day is the beginning of the NBA season for a team.
And with a month of preparation, practice and preseason games, teams have a chance to solve their biggest riddles going in to the season. Let's take a look at some of those big questions:
When will Kobe Bryant be ready?
It's Kobe Bryant, so you kind of have to throw out normal things like timetable and generally accepted medical fact. A 35-year-old coming off a devastating Achilles injury should be facing serious concern over where his career is at.
But this is Kobe so instead of that, we're all wondering if he'll be ready for opening night. 
Is Russell Westbrook, Russell Westbrook again?
Westbrook is still without an official timetable and it's actually unknown when he'll be on the court. Don't panic. That's not a bad thing. That's just the Thunder being the Thunder, trying to tamp down expectations. Announcing Westbrook would be back on a certain day or proclaiming him fit to start the season would bring with it the assumption that he's ready and back to 100 percent. He's not.
He'll be ready to play almost assuredly for opening night, but he's going to need time to work into shape, to rediscover his form, to get back to being himself and to gain confidence on a surgically repaired knee. Remember: This the first significant injury Westbrook has ever dealt with. These guys aren't robots or players on a video game. When they're cleared to play, that doesn't mean they're ready to play. Give him some time. Don't panic, don't freak out when he lays in something below the rim rather than finishing with power.
Will the new-look Nets gel?
Kevin Garnett is known as one of the best teammates ever, but this is a new place, with a new coach, with a new team. With him and Paul Pierce making a significant move to Brooklyn, the Nets have a loaded roster with high quality veterans and seem to be in a place to push in the East. 
But how do the new pieces fit? And within that, how does rookie head coach Jason Kidd make them fit? On paper, the Nets are built to contend. But on paper in September doesn't do a whole lot for anyone. 
Can Greg Oden make an impression?
Oden hasn't played in an NBA game since 2009. He's only played in 82 total for his career. But he's trying to make his comeback, and he's trying to do it with the back-to-back champions. 
The Heat have had a hole at center for a while now, patching it together with Joel Anthony and Chris Anderson, but having a real defensive dominator in the middle would make Miami even that much more terrifying. Can Oden provide that?
Or actually, the better question is, will he even step on the floor at any point? 
He says he's 100 percent. Which means he's going to play, right? Right? 
Is Andrew Bynum ever going to be ready?
His availability is still in question, which is amazing. With a full training camp and preseason games, will he return to form, or more importantly, return to the floor? 
The Cavs have built an intriguing roster, but a lot of it comes together with a healthy Bynum in the middle. His injury history is well known, but his talent and ability also are. The Cavs gambled on him and have visions of him solidifying things inside. But he's got to actually play to do any of that.
Who solves the bench in Oklahoma City? 
Is Jeremy Lamb really ready to step up and perform in a major role on a contending team? Can he really provide not just the necessary offensive support off the bench, but can he fit with Westbrook and Durant in the way Kevin Martin did, going extended stretches without a shot but then being available to knock down a big one? Will opposing defenses care at all about him so that it frees Durant and Westbrook?
The thing about Lamb is that he doesn't have to be James Harden. He doesn't even have to be Martin. He just needs to be effective at what he's asked to do. If that's spotting up, if that's being a featured offensive player for three minutes in the second quarter, if that's scoring 8.6 efficient points a game, the bottom line is that the team just needs to win. So many have already written Lamb off as the Harden trade is cornered as one of the worst trades ever, but we should all know by now: Give young Thunder players a shot. They can sometimes surprise you.
How does the rotation in New York come together?
By adding Andrea Bargnani, the Knicks brought in a stretch scorer that can provide a little added pop to their bench. But where does that leave Amar'e Stoudemire? 
The Knicks proved to be most effective last season when playing small, so that means Carmelo Anthony at the 4 anyway. Where does that leave both Bargnani and Stoudemire? 
How's Rajon Rondo looking, and will he mesh with Brad Stevens?
Rondo is officially without a timetable and will likely miss the entire preseason and some of the regular season. Still, this will be his first time interacting with his new coach. There were a lot of questions about how the two would work together and this is their first crack at it. Rondo might not be practicing or playing, but he'll get a taste of how Stevens coaches and handles his team, which might be all he needs to know. 
Will Dwight Howard and James Harden work together?
The Rockets have gone from youthful campy upstart to ready-made contender in one summer. All it took was the addition of Howard and the Rockets all of a sudden look deep, talented and tough. 
Harden exploded as an alpha scorer last season, running Houston's offense and handling most of their pick-and-roll situations. But those were with Omer Asik mostly as his center. Howard's said in the past he's not a big fan of running mostly pick-and-roll and instead seems to prefer post touches. How will those two sort that out? 
In terms of appearance, a Harden-Howard duo should be just about as lethal as combination in the league. But chemistry is real and they're going to have to gel. 
An Alabama native, Barkley campaigned for Jones leading up to Tuesday's election

Kerr knew just what to say after Jones pulled off an upset in Alabama

The future of the league was on display on Tuesday night
Check in throughout the night for the latest news and highlights from NBA games

The Lakers legend details why the NBA popularity will continue to rise

SportsLine's Mike McClure, a DFS pro with more than $1M in winnings, gives optimal lineup...