The Blame Game in Los Angeles
Who's to blame for the Lakers' Game 4 loss?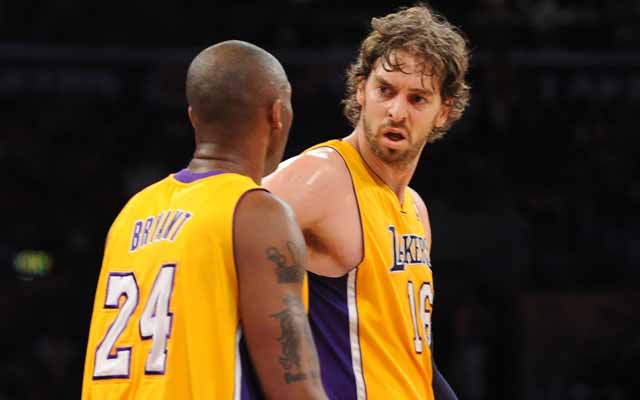 These two are not getting along.
(Getty Images)
Fans are going to look for someone to blame after a crushing loss, a huge collapse, a massive disappointment. Someone has to be responsible, because "they were just better" is never going to fly if you have high expectations that come up short by a handful of possessions. 
So Lakernation is looking today for someone to blame. As
Ken Berger of CBSSports.com reports
, the
Lakers
, by defaulting to
Kobe Bryant
, have settled on
Pau Gasol
as the reason it all went wrong Saturday night. Gasol was tentative in Game 4, as has become the norm, scoring just 10 points on 10 shots and grabbing only five rebounds. But the real crime in the eyes of his fearless leader and Lakers fans is this play, with the Lakers tied and just 40 seconds left. After the
Thunder
had grabbed momentum,
Russell Westbrook
slipped, giving the Lakers a chance at saving the debacle that unfolded. Unfortunatately...
 So that's not a great play. 
Gasol made a pretty horrible play there, but what he's being killed for is not taking the open jumper.
Serge Ibaka
coming over weakside likely froze Gasol, since he can block just about anything under the sun. But Gasol was looking for
Metta World Peace
, and just made a bad read.
So the entire nine-point collapse boils down to that play.
Yup.
Just those.
Definitely not any of these.
But the better approach is to not assign blame. Bryant took some bad shots, because that's who Kobe Bryant is. When he hits them, like here:
It's amazing. When he doesn't, it's a waste of possessions that could have been used to create open, high percentage shots, for Bryant, or elsewhere. Bryant had a brilliant game through three quarters. He was working in the offense.
Gasol is going to pass up on opportunities and have games where he facilitates. He's not going to force the game to come to him. That's who he is. That's who he has been. And still the Lakers had a chance at the win. Meanwhile, after the game, all the talk was about the Thunder fronting
Andrew Bynum
and how they couldn't get the ball to him. But on most of the possessions, an attempt was never made to get the ball to Bynum in the fourth, one-on-one or otherwise. When he was fronted, that's still
Kendrick Perkins
with a significant height disadvantage and no leaping ability vs. Bynum's enormous length and size. 
This could have been easier. This could have been better. This could have been saved.
But instead, there will be scapegoating. And it will be this list:
1. Pau Gasol
2. Mike Brown
3. Every supporting player
There were ways to have the Lakers' offense survive Game 4. Keep pushing the ball to Bynum, which Mike Brown's system has supported the whole year through. The best way to beat a team with more talent like the Thunder is to punish their weakness (a lack of size) with effort from your bigs and smart passing to create opent looks. Gasol made one bad pass. But the overall failure of the Lakers' offense was because of decision making from all its players and shot selection. 
Oh, and
Kevin Durant
stepping up and taking over. That helped, too.
But that won't be the story. The story will just be Gasol. One bad pass that may bring a close to his time in Los Angeles. From the
Orange County Register
:  
Bryant has tired to having to prop Gasol up time and again. Bryant did it often last season in pursuit of a third consecutive title on a bad knee and before Bynum was ready, offering the compelling Natalie Portman-inspired narrative that Gasol is too often the "white swan" instead of the "black swan." Like the movie, it didn't end well.

This season, Bryant has still believed that Gasol can come through when it matters most. Bryant's public request that the Lakers stop dangling Gasol in the trade market was him believing Gasol needed that support to persevere. When I was comparing the very night before the March trade deadline the emerging Bynum and Bryant to the regular one-two punch of Shaquille O'Neal and Bryant, it was Bryant who digressed to say: "We still have Pau."

Even though Gasol has been loyal and tried to stay invested in the Lakers after the aborted preseason trade for Chris Paul, it hasn't been the same. And effective or not, no matter how much unwavering respect he has for Bryant, Gasol has also developed his own pocket of resentment for all of Kobe's high horsing, fire breathing and string pulling in recent years.
via Kobe and Pau: It must be the end of their era | gasol, bryant, game - Sports - The Orange County Register.

Someone has to suffer for failing to deliver Kobe Bryant his sixth title. This isn't about reality. It's about reputation. Gasol's lost all credit earned from 2010. Mike Brown never had any to start with. This will end messy, it will end angry. Hollywood's known for smoke and mirrors. But in the Lakers' case, there's a lot of smoke.

It's looking in the mirror that seems to be missing.  
T.J. Warren gets paid big money by the Suns in a four-year deal

Melo didn't hold back on his feelings about President Donald Trump and urges for help in Puerto...

The Wizards star says the NFL won't change until important players like Brady and Rodgers speak...
Popovich spoke at length about sports, race, culture, and politics during Spurs media day on...

Carmelo Anthony finds the idea of coming off the bench very funny

Several teams spoke about Trump's recent comments about protests and the Warriors' White House...