The Brooklyn Nets are Kidd's mess to fix, even if he doesn't think so
NEW YORK -- After a 30-point loss to the Knicks at home Thursday night, Nets coach Jason Kidd said his evaluation shouldn't begin until his team is "whole." And he's wholly wrong about that.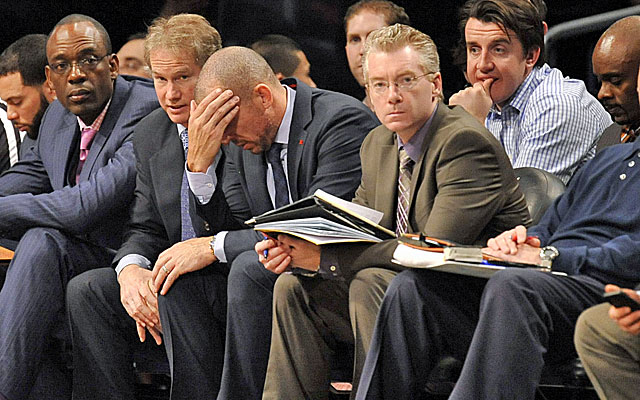 NEW YORK -- We learned a few things from the first installment of this supposed battle for New York. One of those things we already knew: The Brooklyn Nets are a mess.
And they're Jason Kidd's mess to clean up, even if he doesn't think so.
"I think you get evaluated by being whole. It starts there," Kidd said after a 30-point loss to the Knicks on Thursday night, a nationally televised embarrassment that exposed the nation to basketball dysfunction at its worst.
"And then once that occurs, then you're evaluated," Kidd said. "And that's as simple as it gets."
But it's not simple; it's complicated, as Joe Johnson was saying in the Nets' locker room moments later. Despite the raucous chants of Knicks fans that filled the Barclays Center, Johnson was thinking clearly after this 113-83 loss to the rivals from Manhattan, even though Kidd wasn't -- and hasn't been for a while.
"It's basketball," Johnson said. "It's not that hard. I think we're making it a lot more complicated than it really is."
More on what Johnson meant by that in a moment. But first, Kidd's lame attempt at answering an astute question about how he evaluates himself and his 5-14 record warrants further examination.
About a week ago, after a 19-point loss to the Rockets at home, Kidd dusted off the old "blame me" tactic from whatever coaching handbook he borrowed from someone who has coached before. It's a tried and true strategy, but one that can only be used once. After that, blame gets assigned by those in a position to assign it.
So on this night, after a second straight blowout loss at home, Kidd said, "We're not going to make any excuses," and then proceeded to hide behind the injuries to Deron Williams, Paul Pierce and Andrei Kirilenko and use them as excuses. If this is the kind of consistent messaging the Nets are getting on the practice floor and in the meeting room, no wonder they're so confused.
And so bad.
Unable to work with lead assistant Lawrence Frank, who was signed to a six-year deal averaging $1 million per season to fill the gaps on Kidd's resume, Kidd reassigned him this week to write "daily reports." The lawyers might make that much or more writing their own billing reports as they sort out the mess. All we know for now is that Kidd has lost his first two games without Frank next to him on the bench by a combined 54 points. And more than one player after the latest debacle alluded to Kidd putting in new schemes since Frank's departure.
Maybe it's time for some more new schemes.
"There's a lot of moving parts, and we're working through them," said Kevin Garnett, the only player in the NBA, to my knowledge, who makes himself available for postgame interviews before his head coach. (There are really no firm conclusions to draw from that, except that if the media-averse KG didn't get his media time out of the way when he wanted to, there would be no media time for him.)
"We're changing things on the fly," Garnett said. "Jason's putting in a lot of new stuff since Lawrence left."
Which brings us back to Johnson's conclusion that the Nets are making the game harder than it needs to be. I'm not here to put words in Johnson's mouth, but that sounds to me like an indictment of coaching.
"There was a point in time when we were giving up a lot of points in the paint," Johnson explained. "So we went over a lot of stuff as far as helping the bigs, whether it's pick-and-rolls or the weak-side guy helping in and stopping the bigs from rolling. But we've opened ourselves up to the 3-point line, and of late, we've been getting beat by the 3-point [shot]."
The Knicks made 16-of-27  (59 percent) from beyond the 3-point line on Thursday night and shot 57 percent from the field.
"It seems like to me, man, teams are coming in here and freelancing and shooting the lights out," Johnson said. "It's almost like it's no respect. .. We just don't have any chemistry at this point."
So to sum things up: Any fair evaluation of the Nets has to include the fact that they are currently without their All-Star point guard and the 36-year-old sniper who accompanied Garnett here from Boston. The Nets have lost a combined 45 games to injury spread among six rotation players: Kirilenko, Williams,
Brook Lopez
,
Jason Terry
, Pierce and Garnett.
To sum up further, as bad as the Nets and Knicks are -- even after their most complete game of the season and all the hooting and hollering they enjoyed, the Knicks are still nine games under .500, just like the Nets --  they'll both still probably make the playoffs. A three-game winning streak could potentially get either one into the eighth spot and/or into the Atlantic Division lead.
"I think we can turn it around," Johnson said. "The East is pretty bad."
But just a note for Kidd, who seems to think that none of this is his problem yet and won't be until the Nets are healthy and have their full complement of players. That's not true, and as a former player who had a hand in his share of coaching moves, Kidd should know.
When you're a player, you can blame the coach or blame other players or ask for new players or ask to be traded. When you're the coach, you have to leave the player tactics to the players. Here's the thing Kidd is learning about coaching: When you're the coach, it's always your problem.
Whether your team is whole or not.
The extent of Butler's meniscal injury isn't yet known, but there's reason for Wolves fans...

No timetable was provided for Butler's recovery

We've got all the scores, top plays and news from Saturday's NBA games
Galin Dragiev is on a 31-18 NBA run and just locked in a play for Thunder vs. Warriors on...

SportsLine's Mike McClure, a DFS pro with more than $1M in winnings, gives optimal lineup...

We've got all the scores, top plays and news from a busy NBA Friday