The Bulls will totally win Game 2 because of the Fibonacci sequence
The Bulls will definitely win Game 2 vs. Miami because of a mathematical sequence's coincidental connection to their starting lineup.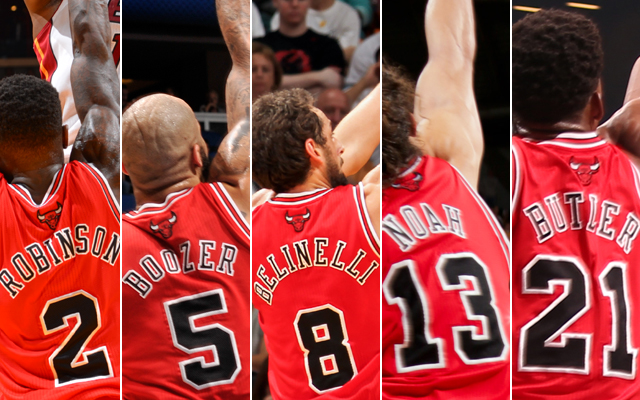 OK, I won't try and explain any of this in detail since I don't understand it, either but we'll take a broad crack at it. 
So there's this mathematical phenomenon that appears throughout theory, application, and numbers, derived from what was discovered as a function called the Fibonacci Sequence. It's related to the Golden Ratio in mathematics.
Artichokes and pineapples have structural elements built within the Fibonacci sequence. There's stuff with bees. It's everywhere. It's weird, it's inexplicable -- it just kind of is. 
And it's the reason the Chicago Bulls will beat the Miami Heat in Game 2 Wednesday night. 
See, Wednesday is Fibonacci Day in America, because the numerical series is 0, 1, 1, 2, 3, 5, 8, 13, 21, 34, 55, 89 and so on, following the formula forever. Wednesday is 5/8/13. So today in America is celebrated as Fibonacci Day. 
And the Bulls' starting lineup, as pointed out by a delightful Reddit thread, is 
No.2 Nate Robinson
No. 5 Carlos Boozer
No. 8 Marco Belinelli
No. 13 Joakim Noah
and No. 21 Jimmy Butler. 
Oh, and the Heat are favored by 12.5... or 13. 
Look, I'm just saying. It's all right there. 
This is like The Da Vinci Code, only with Nate Robinson instead. 
The Blazers guard was a guest on the Sirius XM radio show 'Sway in the Morning'

L.A. reached a three-year jersey ad patch deal with Wish, a San Francisco-based e-commerce...

John Paxson doesn't intend to buy Wade out without some sort of compromise from the 3-time...
Lonzo's signature shoes have a sleek, all-black design and will be available in November

Durant recently apologized for tweets criticizing the Thunder and Billy Donovan

Jackson says he has 'no respect' for Durant after KD created fake Twitter pages