The challenge of the Miami Heat's attempt at a three-peat
The Miami Heat are looking to become just the sixth team in NBA history to win three straight NBA titles. What does it take to come through on that?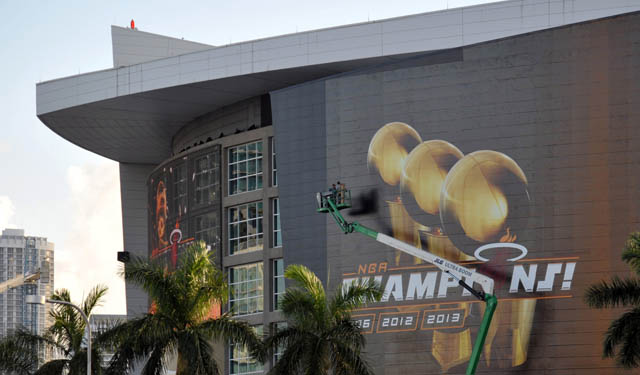 Since 1988, Pat Riley has been reaping the benefits of the three-peat concept. Heading into the 1988-89 season, Pat Riley's Los Angeles Lakers were coming off of back-to-back championships and looking to fight for their third straight title. The term "three-peat" has always been credited by Riley as something that Byron Scott coined at the time, but that didn't stop Riley from trademarking the use of it on jackets, shirts, and hats. 
The Lakers made it to the NBA Finals in 1989 and were four wins away from completing a feat that would have put those Lakers teams into a rare historic club in the NBA. But instead of winning their third straight championship trophy, the Lakers were swept in four games by the Detroit Pistons.
While the loss of a chance at history occurred for Riley's squad, he would go on to receive royalty checks from the use of "three-peat" merchandise when the Chicago Bulls won three straight titles from 1991 to 1993 and again from 1996 to 1998. When the Lakers finally won three straight championships from 2000 to 2002, Riley was there once again collecting some supplemental income from the three-peat merchandise that was sold in an official capacity.
Winning championships in the NBA means you've conquered a multitude of factors. You've figured out the offensive schemes that you excel in, the defensive schemes and roles you've convinced players to buy into and believe in, and how to check your ego at the door when coming together for a collective goal that promotes self-sacrifice and team unity. With all of these things and a little bit of good fortune, you can win an NBA title as a team if you have the proper talent.
However, winning multiple titles and consecutive titles is a whole other beast, in and of itself. 
In Phil Jackson's book Eleven Rings, the coach that helped guide three separate three-peats in his career talked about how one of the biggest hurdles of the 1992-93 season for the Chicago Bulls was boredom. The grind of 82 games that often stretched toward 100 games in a season was something that could become repetitive, forcing creative motivations to manifest in order to keep their interest.
While we often expect superhuman exploits from the best athletes and teams in the world, they're still very much human beings and human beings can be drawn to apathy if forced into the same cycle of events. Anticipation becomes expectation and expectation can bring complacency without the proper focus and stimulation. Trying to convince a basketball team that hasn't been denied their goal in the previous two years to keep their focus and fine-tune their sharpness in the regular season in order to be ready for the playoffs in six months can be difficult. 
As the Miami Heat prepare for the 2013-14 season, they'll be trying to knock down the Chicago Bulls, Indiana Pacers, Brooklyn Nets, and New York Knicks from trying to climb up the mountain in the Eastern Conference. But as much as they'll be trying to show they're still the class of the conference and the league, one of their biggest combatants in the coming season will be boredom. 
LeBron James has had a run over the last two years of helping lead his team to 144 wins (counting playoffs) in 194 games, two championships, two MVP awards, two Finals MVP awards, and a gold medal in the London Olympics. Dwyane Wade has battled injuries and father time in NBA form during that same period. Chris Bosh has accepted playing out of position in the past two years, banging with players far bigger than him to help keep the versatility of the Heat's attack.
Erik Spoelstra has pored over hundreds of hours of game footage as he scouts his own team and their opponents, looking for the slightest wrinkle or edge to help keep them on top. Mario Chalmers, Shane Battier, and Udonis Haslem have Euro-stepped away from greed and the sense of wanting to show more of their individual skill sets while maintaining the mental focus to come through when called upon in the most pressure-packed spots you can imagine.
These are all things that should weigh heavily on this team and create utter exhaustion. It's too much mental focus to sustain over the period of three years, especially when you factor in their NBA Finals appearance in 2011 (minus Battier, of course). This Miami Heat team should, in theory, be worn out and drained from the emotional focus they've been asked to keep since coming together.
These things have hit every team that hopes to win a third (or more) consecutive title. The Minneapolis Lakers from 1952 to 1954, the Boston Celtics from 1959 to 1966, the Chicago Bulls from 1991 to 1993 and again from 1996 to 1998, and the Los Angeles Lakers from 2000 to 2002 were all able to overcome the boredom and mental exhaustion that can saturate the execution of such a lofty goal.
Teams like the Celtics in 1970, the Lakers in 1989, the Pistons in 1991, the Rockets in 1996, and the Lakers in 2011 were not able to avoid the breakdown that should naturally occur from such a heightened, extended run of success.
This isn't noted to make preemptive excuses for the Heat heading into the coming season but to highlight the extra opponents they have both in front of them in opposing jerseys and tacked onto their NBA mileage. It's a fortuitous situation to be in, having to extend success that other franchises would kill to experience one time. And it's a situation the Heat will not be able to dismiss or take for granted. 
In 1993, Phil Jackson took the Bulls players on field trips, gave them books to read, and found different bonding exercises outside of the basketball court in order to find a way to break up the monotony of competing on the hardwood. It was a tactic that either worked to re-focus them or maybe they were just fortunate enough to have Michael Jordan, the ultimate taskmaster, on their side.
Perhaps gunning for 70 wins or a perfect home record or some other insane accomplishment will have to be the goal during the regular season to keep the Heat from washing away from the challenge like many back-to-back championship teams have done before. 
Come October 29 when the Heat raise their third banner and host the Bulls on opening night, we'll begin to get a glimpse into the determination and will power this Miami Heat team possesses. And if all goes well for them and they're able to keep up the run they've had the previous two years, the three-peat royalty checks won't be the only thing Pat Riley receives from such a profitable run.
It will be the first time in 25 years that Pat Riley has benefited from a three-peat run in a way that doesn't involve a clever business decision he made back in 1988.
Knicks forward had his truck stolen out of his driveway

The Celtics will send No. 34 to the rafters in Boston when they take on his old rival

It's never too early to look at June's NBA Draft
Cousins uses some colorful language to get his point across

The awards are voted on by peers in the NBA and adds to Russ' league MVP award he won this...

Minnesota is facing even bigger expectations headed into next season, and they'll be difficult...