The complicated struggle of Greg Monroe's situation in Detroit
Pistons forward wants out after team signed Josh Smith, but has no leverage in restricted free agent. What's a Moose to do?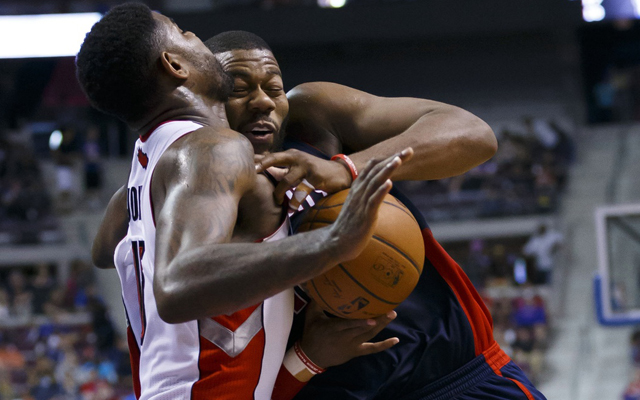 More Offseason Analysis: Updating Free Agency news | Top 40 free agents
The Greg Monroe situation in Detroit is what I would refer to as ... perilous. 
Monroe was drafted by the Detroit Pistons in 2010 and for two years, he was supposed to be the future of the franchise. The problem was that the present of the franchise was an epic freaking disaster. You can talk about the Knicks and all of their drama. You can talk about how the Lakers fell apart or the Derrick Rose injury in Chicago. 
But the Pistons were a whole other deal.
We're talking a player-mutiny, three-coaches-hired-and-fired, total-and-complete-misery, trading-for-Corey-Maggette, withering-seventh-circle-of-basketball-hell deal. There's the Knicks, who constantly fail under ridiculous expectations with a massive payroll. And then there's a team full of veterans which staged a revolt against their first-year coach. The Pistons have been bad on a transcendent level, having won 84 games in four seasons. 
Then came last season, which was supposed to change everything. A new owner opened up the wallet finally and Joe Dumars went on a spending spree. Unfortunately, it was like going to a big-box store and buying cases of the knockoff sodas. They added Josh Smith on a big-money deal and Brandon Jennings on what was actually pretty good value. 
People were worried about Smith from the get-go. Could Andre Drummond, Monroe and Smith play together? Smith was best as a power forward in recent years and took too many perimeter shots when he was at the wing. Could they survive defensively with Monroe a physical limitation and Drummond learning to play center? 
The answer was no, to all of the above. Mo Cheeks was fired halfway through his first season. As a result, there's a question of whether Monroe is part of the long-term plan because he was set to be a restricted free agent this summer and was involved in trade rumors for most of last season. 
There are warts in Monroe's game. His field goal percentage has dipped below 50 percent for a rim scorer the past few seasons and his defensive game can be sliced and diced for its inadequacies. (Note: I believe Monroe is a slow, willing defender who's been in poor defensive systems with poor defensive personnel. You can hide him effectively, but not on the train wreck the Pistons were. But the effort is there. He's not a loafer.)
But he's also an ambidextrous, talented, skilled scorer with a surprisingly underrated passing game, excellent strength, and a good attitude. 
Which leads us to this summer, and an awkward situation. Let's start with the Detroit Free Press and an excellent breakdown of the situation, but in particular this passage: 
Monroe's situation remains the same: He wants a max deal.

He preferably wants it somewhere besides with the Pistons. But as a restricted free agent and in a market in which some teams are waiting to see how the LeBron James and Carmelo Anthony melodramas play out, Monroe might not get what he wants.

Monroe can always hope -- all he needs is one suitor to make his wants a reality. But the odds heavily favor him remaining a Piston next season.

The issue

The situation started last summer when the Pistons (unwisely) tossed a four-year, $54 million deal at Atlanta Hawks free agent Josh Smith.

We know how that worked out.

Smith, a power forward like Monroe, played small forward all season with disastrous results.

Smith chucked three-pointers to the groans of fans all season. Instead of using that money to sign shooters, Monroe found a clogged paint that didn't take advantage of his ability to score inside.

As bad as things were offensively, it was worse defensively. Smith couldn't stay with opposing small forwards and Monroe was forced into long stretches of chasing outside-shooting big men.

But back to the Smith decision.

After being positioned as the face of the franchise for his first two seasons, Monroe was quickly usurped by the drafting of Andre Drummond in the 2012.

Monroe's a smart guy and he understands Drummond is special. He even suggested Drummond to the front office before the 2012 draft.

But he still expected to be rewarded with a max contract for his hard work and professionalism when his time for an extension arrived last summer.

Then they signed Smith — basically telling Monroe to chill for a bit. You can understand Monroe feeling betrayed. Smith plays the same position and took the money he feels he had been promised.
via Vince Ellis: Short-term deal may be best option for Greg Monroe, Detroit Pistons | Detroit Free Press | freep.com.
Hard to blame him. Monroe was drafted, became the Pistons' best player and put up with the horrible past few years. Then management signed someone who made his job worse, for bigger money, and now is reluctant to pay him. Would you stick around? A change of scenery could do great things for Monroe. But Detroit needs return on its investment, so they're going to either match or demand a sign-and-trade. And that means teams are going to be reluctant to put an offer forward. 
That's a big part of this. If another club makes the kind of offer necessary to get the Pistons not to match, a max, it puts a cap hold on the books -- making it impossible for Detroit to pursue someone else while it's there. Meanwhile, the Pistons can take until the deadline to match, then match, at which time, your back-up options could be off the table. When you factor in the NBA's moratorium which doesn't end for another four days, you could wind up putting a lot of money toward a guy you're not going to get which could keep you from getting other players. 
So how bad is the situation when it comes to Smith and Monroe? Grantland reported last week that someone (not Monroe's camp for obvious reason) is pushing the idea that if Smith is still around, Monroe would just sign the qualifying offer for $5.4 million, making him an unrestricted free agent next summer. That's the nuclear option that no major restricted free agent has ever opted for because of the risk. Everyone takes the RFA deal. But that's a sign of how bad things are when it comes to Monroe and Smith, even if the conflict isn't personal. Monroe would reportedly rather lose out on accelerating his pay structure by as much as $7 to $10 million next year just to get out. 
In a broader sense, the Pistons are doing interesting stuff. They've reportedly inquired about Isaiah Thomas, a bold move for a team that just locked up Brandon Jennings last summer. But Jennings was mostly bad, and creative front offices don't just shrug and give up after allotting significant money to a guy at one position — especially when that contract only runs two more seasons.

Reading between the lines, a sign-and-trade involving Thomas and Josh Smith may be in the works, and multiple sources say Monroe's camp has made it known Monroe will sign the one-year qualifying offer if Smith remains on the roster. Monroe's camp denies that, and that kind of empty threat is not atypical from top restricted free agents. It's really their only form of leverage.
via NBA Free Agency: The Crop From Day 1 «.
And yet, the most likely scenario sees Monroe returning to Detroit under a big new deal to play next to Smith and Drummond. There is that idea mentioned above of an Isaiah Thomas sign-and-trade for Josh Smith, who the Kings were reportedly interested in last month. The Kings are reportedly looking for a shot blocker, and Smith is that, if played at the four. 
The Kings don't want to pay Isaiah Thomas what he's worth on the market, the Pistons don't want to pay Greg Monroe the same. But there is a nightmare scenario that could play out for Monroe. When Josh Smith was coming off his rookie deal, the Hawks simply let him sit on the market. They made it known they wouldn't offer him a big contract, but they were also going to match any offer made to him. No team was willing to tie up their cap space for him, so he just sat there for nearly a month. Eventually, the Grizzlies pushed what little cap room they had left for him. Smith signed the offer sheet, the Hawks matched, and Atlanta got Smith back for considerably less than he was worth on the open market. 
This is the big problem with restricted free agency. If you fit with your team, it's great. They get you for seven to eight seasons, you get the money. But in situations like Monroe's, it's up to the agent to navigate the waters. 
The best thing for Monroe would be a team where he can be hid, or at least covered for more effectively defensively, that needs post scoring. There are a number of those teams, but few with the resources to make it happen. A promising star has been locked in a dungeon of sucking for the duration of his young career, and the current situation simply may not provide an escape route. 
Finally, a stats note. Monroe and Drummond were minus-6.4 per 100 possessions when on the floor together. Monroe and Smith were minus-3.9 per 100 possessions via NBA.com.
Hayward, free of his walking boot as of Wednesday, says his mind is open to a return before...

The former Knicks star returns to New York for the first time since joining the Thunder

Former longtime Knick Carmelo Anthony makes his return to New York
Mirotic and Portis combined for 49 points as the Bulls won their fifth straight game, beating...

Gobert, who missed 11 games earlier this season with a knee injury, will have an MRI

Get all the latest scores, news and highlights from Friday's NBA games