The crown is forever heavy: LeBron James and his Finals legacy
LeBron James risks falling to 2-4 in the Finals, but could also bring home his most impressive title yet. What do both outcomes mean for his legacy, and does it matter?
Would you rather have it said that you never tried to climb the mountain, or that you took the risk, put it all out there, made it farther up than just about anyone in history, but were unable to reach the summit when you were close enough to see it?
That's what LeBron James is facing in these NBA Finals. He can either win what would be his third, and probably most impressive title to date, or he can fall to the machine that is the Golden State Warriors, which would leave him with twice as many losses (four) as wins (two) in his Finals career -- a legacy that would seem incongruous with James' unequivocal greatness.
Of course, LeBron says he doesn't care about his legacy. He says this consistently and without hesitation. Last year during the Finals, he described the talk as "kind of stupid." There's certainly a fair amount of people that agree with that sentiment, that legacy is nothing more than a funhouse mirror room where everything is distorted based on where you're standing. There's no reality in that room, no perspective, no real truth. It's a fountain of opinion and narrative that has no consequence or empirical validity.
One problem: the idea that James does not care about his legacy defies everything we know about the man.
Lebron James in NBA Finals
Year
Team
Result
PPG
RPG
APG
2007
CLE
L to SA
22.0
7.0
6.8
2012
MIA
L to DAL
17.8
7.1
6.8
2013
MIA
W vs. OKC
28.6
10.2
7.4
2014
MIA
W vs. SA
25.3
10.9
7.0
2015
MIA
L vs. SA
28.2
7.8
4.0
TOTAL
 
3-2
24.3
8.8
6.4
The entire "Rushmore" conversation -- which James has happily engaged in, and even initiated, over the years -- comes from his desire to be among the all-time greats. Whether he needs that validation merely in his own mind or in the minds of everyone, that's debatable. What's not debatable is that to achieve any such reflection, to truly be considered one of the greatest players we've ever seen (if not the greatest), public perception matters. As does the perception of those who have played the game, particularly all the greats that have come before him. And the truth is, those perceptions are more often in line than the latter likes to admit.
James is an arduous student of the game. His mental approach and love of basketball is more impressive than any of his corner passes, tomahawk dunks or chase-down blocks. His eidetic memory is still shocking when he deigns to speak to the media masses; he'll rattle off situational context of a play lost in the banks of time like he's reading it off a screenshot in his mind -- who was on the floor, who wasn't, who was where, how many timeouts, time, place, score. The guy is a basketball genius.
With that genius has always come an appreciation for the game's history, and James has always understood his responsibility within that pantheon. He has never shied away from the expectations that have been placed on him since he was an eighth grader; instead he's opted to embrace the challenge of rising over a bar that he continues to raise with every accomplishment.
Best player in high school.
Best pro prospect, arguably, since Lew Alcindor.
Best player of his generation.
LeBron sought from the start to be the best, to take incremental to steps en route to his rightful throne. Make the playoffs. Make the conference finals. Make the Finals. Win not one title, not two, not three, not four ....
Perhaps six titles, to equal the greatness of Michael Jordan, is the unspoken goal of all this generation's stars. Today, LeBron is far less likely to reach that number than it once seemed. Had he had more help in 2007, or been the player he is now all along, maybe. Had he and the Heat been focused more on basketball and less on battling the villain role in 2011, if they'd had more time to gel, maybe. Had the Heat been younger, if they'd kept Mike Miller, if the air conditioning hadn't gone out in San Antonio, if the Spurs hadn't become some sort of alien species connected by telepathy -- if, if, if.
James is 30 now. The miles are catching up with him. This season, his body began seriously betraying him for first time. Back spasms. A balky knee. An ankle. Exhaustion. His dominance is no longer effortless. James still has plenty of years ahead of him; the man's in good enough condition to play, and play well, into his 40s if he so desires. The game, however, will not pause for him. Anthony Davis rises. DeMarcus Cousins won't be on a bad team forever. James Harden will learn from these playoffs. Kevin Durant is going to be mad. Russell Westbrook is already mad.
Steph Curry is here.
So those six titles can't be a realistic expectation anymore. Five might be doable, if the Cavaliers can make some strides and free agency falls right. But none of that is guaranteed. This shot at the Warriors, however, is right in front of him.
There's a lot on the line here for James, something he won't admit. As mentioned, a loss to Golden State, despite this being the second time in eight years he's dragged a Cavaliers team that has absolutely no business being here to the Finals, will put him at 2-4 for his Finals career.
You can be the biggest LeBron hater or supporter, and that record is what it is. You can't spin it well. Failing twice as much as you succeed on the biggest stage is just not something you can safely connect to all-time greatness.
And yet the greatness is undeniable.
After all, the only way you can be critiqued for losing in the Finals is by making it to the Finals, which James has now done six times. Even more impressive is the fact that he's made it to five straight. You have to go back to Bill Russell in the 1960s to find a player that made five straight.
Yet that's not the way it's viewed. Neither Chris Paul nor Carmelo Anthony has ever been to the Finals, but in a weird way, not making the Finals isn't as bad as getting there and losing. Plus, James has always been more scrutinized, and to the critics this is simply another opportunity for him to fail, especially with the general sentiment (and that of the oddsmakers) being that James' Cavaliers are simply outgunned in these Finals vs. the Warriors.
LeBron has never been more on his own than this year. No Kevin Love. No Dwyane Wade. Kyrie Irving is unproven and injured. No Pat Riley for sage advice. It's him and a cast of characters that, despite having bonded and stepped up in phenomenal ways, probably don't make the playoffs without him. Of course, this presents James with a great opportunity as well; to win a title with this team, with all the pressure that came with his homecoming on his shoulders, would be his most impressive title yet.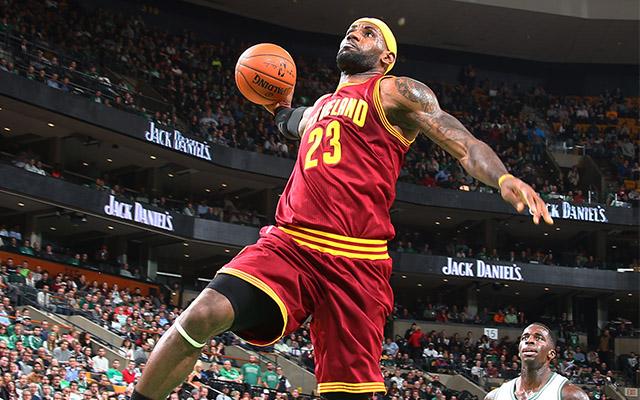 Following James' career has been fascinating. He has gone from the prodigal son to the emperor with no playoff clothes. If 2007 was to be his 1990 Jordan moment where he learned what it takes, he did not respond with the fury Jordan did. Instead, he languished through the Celtics Big-3 Era -- with the Magic's crazy lightning-in-a-bottle season thrown in for good measure. Taken in context, you understand why James struggled. Those Celtics teams were primed to beat him in scheme, personnel and personality. He had never been humbled. He still wasn't, even after the misery of his 2010 loss to the Celtics.
It wasn't until the 2011 failure, when the Heat blew a 2-1 series lead and eventually lost to the Mavericks, that James really seemed to get it. There were no more excuses or platitudes to provide. He could no longer rest of the idea that he was young and that titles would come in time, and he certainly could no longer say he didn't have the supporting cast. 2011 was on him. LeBron changed that year, and came back both more focused, free-spirited and recommitted to his love of the game and willing to do the dirty work.
He stopped settling. He embraced the post-up game. He won two titles, and it seemed like the NBA would be his kingdom for as long as he wanted. The Heat were invincible; Game 6 of the 2013 Finals proves that more than anything. The idea of the Triad's reign ending was incomprehensible. Why would you walk away from something with so much sustained success? But here we are. James sacrificed the sure thing to try and bring a title home and bring some peace to his soul. His legacy may suffer for it, but it's difficult to believe that's something he'll regret.
There was a nationally-televised game sometime in 2007, one of those meaningless regular season contests. On the final possession, James passed to an open teammate who missed. It was the first time I can remember the conversation starting about James and his willingness -- or unwillingness -- to take the clutch shot, a narrative that persists today despite his having killed it more times than the camp kids have offed Jason Voorhees. It was also very much an definitive moment for James.
LeBron will always seek out the right play, always try to take what could be a good shot and turn it into a great one. He's learned through pain and failure. That's what his return to Cleveland has been about, that's what this playoff run has been about, that's what these Finals are about for James.
The shot may go in or it may rim out, but LeBron James will always seek out greatness. He will not shy away from the pursuit. If he always succeeded, it would be fait accompli, it would be Jordan. He's not Jordan.
He's LeBron James, the hunter and hunted, the icon and the kid from Akron, the portrait of both failure and triumph, the transparency of his veneer and the mystery of his real self the sports reflection of the social media age he lives in. James says he doesn't care about his legacy, everything else tells us differently.
Maybe he'll never overcome those Finals demons that have plagued him. Maybe this run is doomed as well. That's the incredible thing about James. It's not about whether he meets all of the unbelievable expectations he carries and that he's embraced.
It's watching him try.
CBS Sports HQ Daily Newsletter
Get the best highlights and stories - yeah, just the good stuff handpicked by our team to start your day.
Please check the opt-in box to acknowledge that you would like to subscribe.
Thanks for signing up!
Keep an eye on your inbox for the latest sports news.
Sorry!
There was an error processing your subscription.
LeBron was great, but the Lakers have some things to figure out if they're going to compete...

Some rookies burst onto the scene, while others have a ways to go

LeBron started off his Lakers career with a bang
The Sixers crowd erupts following Fultz's first career three-pointer

The Miami Heat won't be pursuing a Butler trade for the time being

Rivers claims that the Oklahoma City Thunder star will play in Friday's game