The Eye on Basketball NBA Lunacy Tournament
What would happen if we had an NBA one-and-done tournament?
by

Eye on Basketball staff

• 8 min read
With March Madness starting Thursday, it's worth pointing out that everyone falls in love with college basketball mostly on account of the format of the tournament. There will be talk about how it's the purity of the game (translation: no one taunts), the more team-oriented style of play (translation: no one can hit a jump shot), and the pageantry (translation: everyone likes remembering their college days). 
But in truth, it's the tournament format: one-and-done, win-or-go-home. It's the result of a tournament in which the talent isn't developed or coached to a level of significant separation, combined with a single-elimination format, buzzer beaters and Cinderella stories. It's surprise. If Duke plays Albany in a seven-game series like the NBA uses, Duke's winning that series in no more than five. That unpredictability is what makes the NCAA tournament more fun than the NBA playoffs, even if it doesn't determine a legitimate champion under any circumstances. 
But what if the NBA had a similar tournament? What if we allowed the possibility of teams getting knocked out on a bad day? And what if instead of seeding the playoffs based on record, we took everything into account and put together a seeding based on committee like the NCAA does? 
Well, we did that. 
Here's what we came up with, and over the next few weeks we'll be putting together scenarios for the results.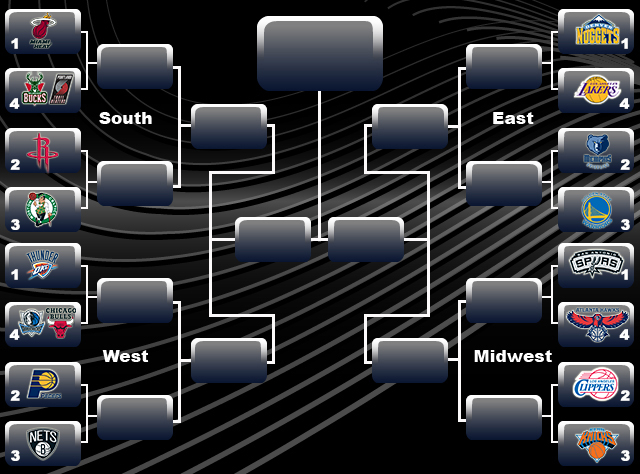 Some thoughts on the seedings from the committee members (EOB Staff).
On Miami, the No. 1 overall seed: 
This is the juggernaut No. 1 overall seed that's favored to steamroll to the Final Four. They're like the 1992 Blue Devils. Like any top seed, they're vulnerable, but it would be quite the bracket-busting upset if it they didn't cut down the nets again. -- Royce Young
 

 
They've basically been on a one-and-done run with their winning streak and have shown they're not only the best team but also capable of bringing it when people are trying to end a streak of theirs. Also,

LeBron James

exists. -- Zach Harper

 
Of the many gaps between the

Miami Heat

and any NCAA tournament team ever, perhaps the most prominent is this: When games in college get tight, the players panic due to their youth and inexperience, but the Heat have responded to deficits and shrinking leads (like the one vs. Toronto) with blistering runs. They are not only the team best adapted for the NBA playoffs, but this kind of format as well. -- Matt Moore
On the

Oklahoma City Thunder

, the second overall seed (in a shocker over San Antonio)
Last time we saw

Kevin Durant

in a one-and-done tournament, his school did nothing. That was also before he was a world-eating Gatling gun who destroys everything in his path. OKC would probably be pretty good. -- Zach Harper

 
Isn't

Russell Westbrook

the kind of guard you want in a tournament like this? Fast, strong, able to get to the rim.

Kevin Martin

is that shooter you've never heard of who just kills your team in the second round, squashing an upset hope. -- Matt Moore
On San Antonio, third overall and a No. 1 seed: 
Two of the committee members ranked the

San Antonio Spurs

No. 2 overall. So what happened? One member dropped them all the way to fourth overall, because ...

 
Isn't this the kind of team we always see upset in the tournament? A traditional powerhouse reliant on 3-point shooting that's so used to success it can get caught? Look no further than their loss to the

Memphis Grizzlies

two years ago for why I think San Antonio is an awesome NBA playoffs team but horrible for this format. -- Matt Moore

 
On the other hand ...

 
If you're thinking about a one-and-done tournament, two things should come to mind: 1) Does the team have talent? and 2) Does it have shooters? Check and check. -- Zach Harper

 
It's pretty simple: They're 2-1 against their top competition for the No. 2 spot. -- Royce Young
Denver was a unanimous No. 1 seed as well: 
The reason I don't love Denver in the playoffs is because I feel like it's easy to adjust to what the Nuggets do in a seven-game series. The reason why I love them in the regular season is they're almost impossible to deal with on random nights. They would shine in this format. -- Zach Harper

 
The committee doesn't like the fact that the

Denver Nuggets

have had issues on the road this season. Dominant at home, but extremely inconsistent away from the Rockies. --Royce Young

 
If their shooters get cold, they could get upset very easily. But rebounding, the speed, and frenetic style of play is reminiscent of the '94 Razorbacks with

Kenneth Faried

in the Corliss Williamson spot. (Corliss actually had a better post game, but let's move on.) -- Matt Moore
Memphis lands at the fifth overall spot as a No. 2 seed: 
The cliche is defense wins, and the Grizzlies are one of the toughest defensive groups in the league. And they're closing well, which is favorable in the eyes of the committee. -- Royce Young

 
I'm actually not crazy about this group's chances in this kind of format, because when things go south, they go south in a hurry, but their overall body of work is too impressive to ignore. -- Matt Moore

 
The reason they're not above Indiana (for me) is because they don't have 3-point shooters. Those kind of teams get upset all the time in these tournaments. -- Zach Harper (had the Grizzlies seventh overall)
Los Angeles Clippers

land as a No. 2 seed in a tough bracket: 
They're probably a lot like those Calipari teams from the past decade. They're capable of winning the whole thing but really you're just watching them to see the individual talents shine. -- Zach Harper

 
I like the guard play, but teams that get them outside of their comfort zone have really shelled them. That slipped them a bit here. -- Matt Moore
The

Indiana Pacers

slip quite a bit but land in a softer bracket: 
The defense is consistently good enough to slow it down and make sure they have a chance to win it, and I like their odds with

Paul George

and

George Hill

. Foul trouble would be something to watch if we made this thing five fouls like the NCAA. -- Matt Moore

 
Defensive masters who can shoot the 3 a little bit. It's a big reason why you can see them being great in this format. Also, imagine if they got seeded in a region near Indiana. They're great at home. -- Zach Harper
Houston shockingly lands as a No. 2 seed!: 
HOW FUN WOULD THIS TEAM BE IN A ONE-AND-DONE TOURNAMENT?! ANSWER: A LOT OF FUN. -- Zach Harper

 
I have them as a No. 3 seed, lower than my brethren on the committee, but there's no denying this team is set to make a Cinderella run (as a No. 2 seed, apparently). They get hot and there's no stopping them. The scariest one-and-done team in the tournament outside of Miami. -- Matt Moore
After a terrible start to the season, the perennial powerhouse 
Boston Celtics
get a generous nod from the committee as a No. 3 seed:
Honestly, the committee has no idea what to do here. The Celtics are playing really well, but are they actually legit? You could make a case for them to be the No. 3 East team, but that means you ignore their entire body of work and just weigh what's happened recently. -- Royce Young

 
This Celtics team would be good in a one-and-done tournament team and likely to upset a lot of teams before them because everybody would just assume they're going to lose. They love proving people wrong. -- Zach Harper

 

Paul Pierce

in a one-and-done tournament is a terrifying thought. -- Matt Moore
Brooklyn comes in as a No. 3 seed: 
I always feel bad for big men like

Brook Lopez

in the tournament. He should be set to dominate all game, but people just start jacking 3-pointers and forget to feed the big guys. -- Zach Harper

 
I don't like this team's style at all for a tournament -- slow, poor defense, offensively-minded. Limited possessions and reliant on hitting shots? They're going to get picked off. -- Matt Moore.
The

New York Knicks

, the mighty Knicks(!), fall all the way to a No. 3 seed with a brutal draw:
They have the shooters to shine in this format but they don't have health, a competent point guard right now, or the defense. -- Zach Harper

 
The thing that gives me pause? We've seen what

Carmelo Anthony

can do in a one-and-done tournament. -- Matt Moore
The

Golden State Warriors

are not committee favorites but land as a No. 3 seed:
Tournament teams with shooters -- it goes together like peanut butter and jelly, spaghetti and meatballs, and Russell Westbrook and anything that isn't the media or a subtly fashionable shirt. -- Zach Harper

 
Starting to think I may have put them too low.

Stephen Curry

,

Klay Thompson

 and

Jarrett Jack

are kind of made for this thing, aren't they? -- Matt Moore
Well, well, well, look who's the top No. 4 seed, the

Los Angeles Lakers

: 
They're like that super dangerous four seed that underachieved throughout the season but has three lottery picks in its starting five and you know if they get hot, they could be a real problem. -- Royce Young

 
The Selection Sunday antics of

Dwight Howard

 ... /shudders. -- Zac Harper

 
Thing is, I don't like how unbalanced their offense is. If

Antawn Jamison

and

Jodie Meeks

aren't hitting jumpers ... -- Matt Moore
The

Atlanta Hawks

are the last locked-in team as a No. 4 in a tough draw: 
I would love to see

Josh Smith

's shot selection in a one-and-done tournament. -- Zach Harper

 
I do like that we know what 

Al Horford

can do in a tournament like this, and

Jeff Teague

could be a problem. Plus

Kyle Korver

and

DeShawn Stevenson

as shooters. Hmm ... -- Matt Moore
PLAY-IN GAME 1:

Chicago Bulls

 vs.

Dallas Mavericks
Can't you see

Nate Robinson

getting hot from downtown and screwing up your bracket? -- Zach Harper

 
I don't like Dallas' chances at all, and how much could

Derrick Rose

cause mayhem at the sports books? -- Matt Moore

 
Beware the Dirk ... -- Zach Harper
PLAY-IN GAME 2:

Milwaukee Bucks

 vs.

Portland Trail Blazers
Damian Lillard

and

Wesley Matthews

with

JJ Hickson

and

LaMarcus Aldridge

terrifies me in this kind of tournament, even with that bench. -- Matt Moore

 
Re:

Milwaukee Bucks

: SWAAAAAAAAAAAAAAAAAAAAAAG. -- Zach Harper

 

Monta Ellis

have it all and

Brandon Jennings

could be a problem. Shooters are an issue, though. -- Matt Moore
We'll have what we think the results would be next week on CBSSports.com. Enjoy the madness!
The Celtics point guard wanted to clarify his stance on whether the Earth is flat

Magic vows not to step in unless the rookie's off-court antics affect his on-court perform...

Russell was awarded the Presidential Medal of Freedom in 2011 by Barack Obama
T.J. Warren gets paid big money by the Suns in a four-year deal

Melo didn't hold back on his feelings about President Donald Trump and urges for help in Puerto...

The Wizards star says the NFL won't change until important players like Brady and Rodgers speak...