The free agency madness has hit 'tracking-Dan-Gilbert's-plane' levels
Cavs fans tracking plane headed to Fort Lauderdale is definitely a sign that the Cavaliers are signing LeBron James except if it isn't, which it's not.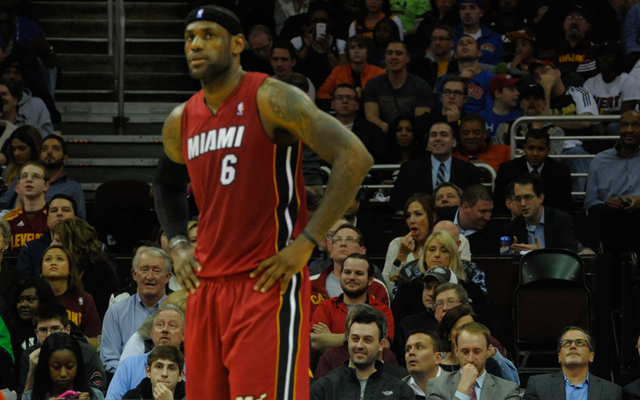 More Offseason Analysis: Updating Free Agency news | Top 40 free agents
We've hit a new low point, or (depending on your perspective) high point, in the ridiculousness of NBA online free agency discussion. Fans of the Cleveland Cavaliers are now tracking a plane owned by a partner company of Cavs owner Dan Gilbert headed to Fort Lauderdale, Fla., which they believe Gilbert is on, en route to a meeting with LeBron James that Gilbert himself says he's not on. 
Let's go down the rabbit hole! 
First, a radio personality in Cleveland kicked it off Sunday morning: 
Cavaliers owner Dan Gilbert is currently en route to south Florida.

— Joe Lull (@LullOnSports) July 6, 2014
Then Gilbert responded:
". @LullOnSports:Cavs owner Dan Gilbert is currently en route to south Florida." I am? Sorry folks but enjoying weather in my backyard today

— Dan Gilbert (@cavsdan) July 6, 2014
But not so fast! Cleveland fans are on the case!
@FearTheSword pic.twitter.com/DRBwNDqiRt

— Ryan M. Salty (@Ryebread8D) July 6, 2014
@HPbasketball plane is owned by gilbert.

— Ryan M. Salty (@Ryebread8D) July 6, 2014
Lull kind of side-stepped a bit.
Should've clarified earlier. Dan's plane was scheduled to take off for South Florida at 2pm. Could be sending it down for someone.

— Joe Lull (@LullOnSports) July 6, 2014
Then the conspiracy deepened!
Can't argue w/ flight history. Indy on same day Hayward met with #Cavs & NJ around time Irving signed his extension. http://t.co/n5Qi5lKm5X

— Brendan Leister (@BrendanLeister) July 6, 2014
So this is the theory: Gilbert is not being truthful and is on the plane, or Gilbert has sent the plane to Fort Lauderdale, an hour or so north of Miami, to pick up a someone (or someones) who may be connected to LeBron James, to bring them to Cleveland. Why Fort Lauderdale and not Miami? Because that's just what you would expect them to do! It's all spycraft here at Wacky Dan's House of Free Agency.
That'll wrap it up for "Why We Should Just Go Ahead and Kill the Internet," this Sunday morning. I'm your host, Matt Moore. Good luck, and good night. 
The former NBA player plans on making more money in retirement than he did while playing

SportsLine's advanced computer model simulated Monday night's Lakers-Warriors game 10,000...

Galin Dragiev has his finger on the pulse of the Nuggets and locked in a strong pick for Monday's...
The NBA TV analyst and ex-Raptors coach doesn't look back in anger

Jackson is reportedly unable to make the trip from Montana

The Rockets are on fire, and my money is on Durant to join LeBron and Harden in the MVP ra...