The Heat shooters wish they weren't so open. Rough life.
The shooters on the Miami Heat have concerns about being too open.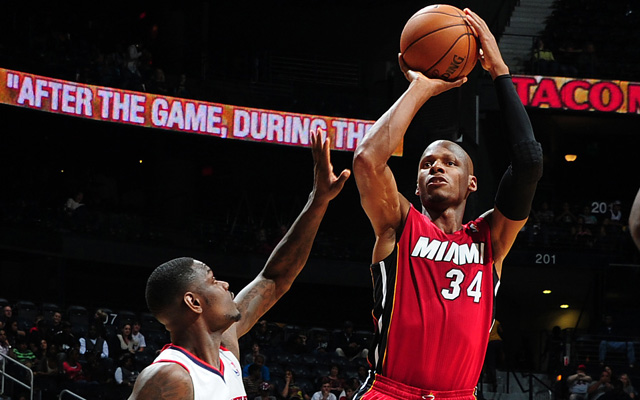 Ray Allen will make it open or not.
(Getty Images)
The Miami Heat have a pretty simple formula for something that at times seems so difficult. Have their super-duper-stars draw defenders by having Dwyane Wade drive, LeBron James post, and Chris Bosh face-up, then spread the floor to punish any doubles that come with crack shooting from the outside. 
They managed to pull off some strong shooting in the Finals last year, thanks to Shane Battier suddenly inexplicably catching fire and Mike Miller jumping out of the casket. But they wanted to upgrade, so they brought in Ray Allen and, to a lesser extent, Rashard Lewis. So those guys must be loving how open they are, right? 
Well, it's complicated. From the South Florida Sun-Sentinel: 
"Got to get used to it," the veteran forward (Lewis) said as the Miami Heat continued training camp, "because that's the hardest shot in basketball. I may have to hold it for a couple of seconds, so I can get somebody closing out to me."

..."You're so used to playing instinctively," Heat forward Shane Battier said, as he snapped his fingers to mimic the typical split-second timing of NBA decisions. "When you get a wide-, wide-open three, you're naked. You have time to think and rationalize, and that's counterintuitive to how we normally play. We normally play instinctively -- time to think and time to react only. But when you have time to think in basketball, calculation often leads to miscalculation."

...

  Allen, in fact, said the toughest part of being left open might be the waiting game.

   "I think if you're waiting on the 3-point line, that's probably the toughest shot," he said. "You're waiting, you're waiting, you're waiting, and then you have to kind of reposition your feet. That to me is probably the toughest shot, because there's not really a rhythm shot.

   "When you catch in a rhythm, you're learning forward. So if you don't get it, you got to make sure you kind of get your momentum going back into that shot."
via Miami Heat's Ray Allen, Rashard Lewis, Shane Battier, Norris Cole talk about open shots for NBA champions. - Sun Sentinel.
From a conceptual standpoint, the objective of an offensive possession is to create a high-percentage look. A high-percentage look has the feature of being unguarded. Theoretically, creating open looks should make for a much higher percentage, even from range. 
But the rhythm argument is valid. Players go through the same motion, and they train constantly specifically to be able to shoot with a defender closing, with a razor-sharp precision and lightning-fast timing. Messing with that messes up the rhythm. 
For what it's worth, Synergy Sports reports the Heat shooters shot this way last season in guarded vs. unguarded situations. 
| | | |
| --- | --- | --- |
| Player | Unguarded | Guarded |
| Ray Allen | 52% | 37% |
| Shane Battier | 36% | 32% |
| Rashard Lewis | 32% | 29% |
| Mike Miller | 45% | 44% |

So Lewis and Miller had the least differential. But Allen, who will take the most threes on the Heat by far, shot 15 percent better unguarded. That's a terrifying prospect for something that's pretty scary on the surface. 
Either way, even if there's an adjustment, the Heat are going to get their guys open looks. This one doesn't need overthinking, though we've just overthought it by a mile. Open is better. 
HT: Ball Don't Lie
An Alabama native, Barkley campaigned for Jones leading up to Tuesday's election

Kerr knew just what to say after Jones pulled off an upset in Alabama

The future of the league was on display on Tuesday night
Check in throughout the night for the latest news and highlights from NBA games

The Lakers legend details why the NBA popularity will continue to rise

SportsLine's Mike McClure, a DFS pro with more than $1M in winnings, gives optimal lineup...