The Inbounds: A digital history of the Lakers' autumn of chaos
From Dwight Howard to Mike Brown to Phil Jackson to Mike D'Antoni, it's been a rollercoaster ride the past three months for the Lakers. For a franchise that is always in perpetual drama, this is a bit much even for them. How did this happen, how did we get here, with the franchise at 3-5, with a coach fired, a legend spurned, and Mike D'Antoni left to pick up the pieces?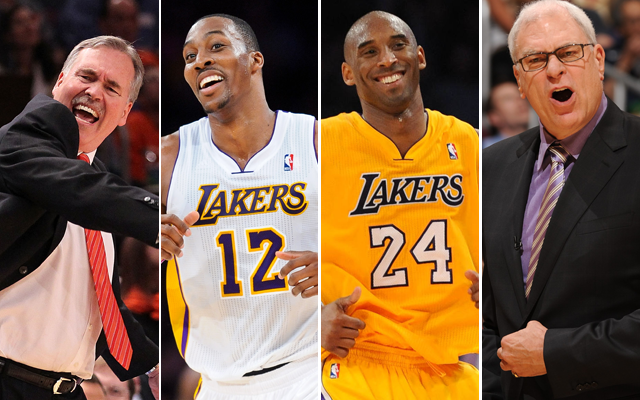 As the world turns in Lakerland. 

(Getty Images)
From Dwight Howard to Mike Brown to Phil Jackson to Mike D'Antoni, it's been a rollercoaster ride the past three months for the Lakers . For a franchise that is always in perpetual drama, this is a bit much even for them. How did this happen, how did we get here with the franchise at 3-5, with a coach fired, a legend spurned, and Mike D'Antoni left to pick up the pieces?
We present the digital history of the Lakers' autumn of chaos.
There was, of course, the Dwightmare. 
And then, finally, there was a conclusion, and the start of something everyone felt would be great. 
Aug. 10:
Howard is off to play alongside Kobe Bryant in Los Angeles, after a megadeal involving the Lakers, Magic, Philadelphia and Denver was worked out Thursday and completed Friday after the NBA reviewed and approved the particulars.

"It was just a very tough situation for everybody to let go," Howard said. "I'm finally glad that it's over with. Myself and the Magic organization, we can all start over and begin a new career. Today is a fresh new start for all of us."
via Howard introduced as newest Lakers, excited for 'fresh start' in L.A. -- NBA -- CBSSports.com News, Scores, Stats, Fantasy Advice.


There was talk of how great they would be. Even from the Lakers themselves including Metta World Peace.
Sept. 17: 
What he thinks about the team possibly not having Dwight Howard at the start of training camp:

"We definitely want to beat the Bulls record and go 73-9, that's definitely something that I want to do. Whoever is out there at the beginning of the season then we gotta get it. It's as simple as that. We just have to go get it. (Host: So that Bulls record is something you're thinking about?) No question. You try to snatch records before you leave this earth. You gotta try to do a lot of great things so it's definitely a goal. With Dwight Howard, (Steve) Nash, Kobe (Bryant), myself, Pau (Gasol) and then (Antawn) Jamison and a lot of great additions it's something that's possible."
via Sports Radio Interviews -- Blog Archive -- Metta World Peace: "The way the Lakers look initially I can't see nobody getting past us".
So while it isn't surprising for Bryant to have Howard's back in these early days of their improbable pairing, it's nonetheless an important piece of the fabric that was quilted so stunningly in July. Just when the Lakers seemed poised to go oh-for-free agency and leave Bryant unflanked in perhaps his last, best chance to chase his sixth championship, GM Mitch Kupchak pulled Steve Nash and then Howard out of some mystical, purple-and-gold wizard's cap. Poof, just like that, Bryant was back in business -- and the Lakers had what appeared to be, on paper, an unbeatable combination of talent and star power.

"We'll be ready when it counts," coach Mike Brown said. "We'll be in the playoffs, and we'll be ready for that."

Of course, the Lakers' biggest and boldest acquisition also happens to be their biggest unknown. Yet so far, in the infancy of this experiment in talent, ego and maturity, reports of the Lakers' demise appear to have been greatly exaggerated.

"The things that you have to understand are that the expectations are high, all eyes are on you, and there's going to be pressure to deliver," said Pau Gasol, who even more so than Bryant will have to develop a comfort level with Howard in the Lakers' new offensive scheme. "It's obviously a big responsibility. You're wearing a shirt that you have to carry yourself with class, elegance and responsibility and respect."
via Dwightmare seems very far away as Howard reboots with Lakers -- NBA -- CBSSports.com News, Scores, Stats, Fantasy Advice.
The stage was set. Great things would be accomplished. Howard made his debut in the preseason:
Oct. 21:
The Lakers ... lost? 
But those were preseason games. The regular season is what matters. And on opening night, against a team without their star, it would be an easy way to start the new dynasty. 
There will be a lot of panic and finger pointing when people talk about the Los Angeles Lakers tomorrow because that's what we do now.

In reality, the Lakers lost one game, looked pretty frustrated in the process, and lost to a Mavericks team without their starting frontcourt. And they did all of this at home. The problem for the Lakers isn't that they lost; it's the way they looked as they lost.

The Lakers played a very measured game. They took high percentage shots, they got to the free throw line and they moved the ball very well. If I told you before the game the Lakers would make 49.4 percent of their shots, get to the free throw line 31 times, and record 24 assists on 38 made field goals, you'd probably feel pretty good about their chances.

However, the Lakers' measured game seemed to take away from the strengths of their best players. Steve Nash looked like a rookie point guard playing under Larry Brown. Kobe Bryant was a lot more Ray Allen and Richard Hamilton most of the night than he was himself. And the big man combo of Dwight Howard and Pau Gasol wasn't running up and down the court against Eddy Curry.
via Lakers fail to show an identity as they fall to the Mavericks -- CBSSports.com.
OK, but that was just one game. some bugs to work out. But the lottery-bound Trail Blazers, surely they won't ... .
Oct. 31: 
As often happens in these games, the Blazers jumped the Lakers early, capitalizing on the home crowd adrenaline rush to take an early lead. For a young team, Portland's ability to maintain a stranglehold on the game was noteworthy. It came about mostly through ball pressure on defense and in-rhythm shooting on offense. Also, the Lakers are clearly working through early season chemistry issues, complicated by the loss of point guard Steve Nash to a lower leg contusion. They simply couldn't dig out of the hole in the second half. At least three times, Portland kept L.A. at bay, fending off short runs and pushing its lead back to double-digits

"We had to [jump them]," Matthews said. "It's their second game on a back-to-back early in the season. They're older than us. Dwight [Howard] is still not healthy. That was our edge. Our edge is going to be the fact that we can run on almost everybody. ... There were parts in the first quarter where we were controlling the game but we were only up one, ... We just stayed with what we were doing, believed in ourselves and didn't let up. ... We didn't panic [when the Lakers tried to come back]. We stayed poised, we stayed together. We kept doing what we've been doing."

Doing what they've been doing, in this case, also means beating the Lakers in the Rose Garden. Portland is now 17-4 against L.A. in the last 21 games between the two teams in Portland.

"Everybody wants to say the Blazers have a rivalry with the Lakers," Mike Brown said before the game. "Shoot, I think the Lakers have a rivalry with everybody."

The game was probably over as soon as he said those words, but Lillard and the Blazers didn't leave anything to chance. Even with a few late turnovers and miscues, the Blazers defeated one of the favorites to win the Western Conference by double-digits
via Media Row Report: Blazers 116, Lakers 106 -- Blazer's Edge.
Oh-and-two and uh-and-oh. But the Clippers, surely this, this would be where the team would get back on track. 
Whoops. 
Nov. 3:
So, Kobe Bryant, when is it time to push the panic button on this grand experiment?

"Now," he said.

Chris Paul had 18 points and 15 assists, Jamal Crawford scored 21 points and the Clippers beat the Lakers 105-95 Friday night to keep their Staples Center co-tenants winless.

Bryant later said he was only joking about that panic button, but it's tough not to worry about a team that still hasn't walked off any court together with a victory.
via NBA Recap -- Los Angeles Clippers at Los Angeles Lakers -- Nov. 2, 2012 - CBSSports.com.
The Lakers had fallen to 0-3, the worst mark for the franchise to start a season since 1993. The last time the Lakers were this bad, Ace of Base was relevant and John Wall was three. 
A win over Detroit was supposed to fix everything. 
It didn't. 
They faced Utah in what would wind up being the apex of the first act in this little opera the Lakeshow has going. And in that game, things got bad. How bad? 
Very bad. 
But Kobe laughed off the talk of him being angry at coach Mike Brown: 
"I'm too old to deal with that stuff.  I really am," Bryant said.  "I've been his biggest supporter.  I'm really too old to be dealing with childish things."

The Lakers' 1-4 start has led some fans to blame Brown for the team's poor performance (even with point guard Steve Nash sitting out three games because of a nondisplaced leg fracture).

In that context, the clip could certainly be interpreted to read that Bryant similarly holds Brown in contempt.  According to the Lakers All-Star guard, that's just not the case.

"Everybody here would be frustrated, losing a game. You're angry. It has nothing to with one particular person," he said.  "God, people are bored."

Bryant later viewed the clip on a reporter's phone, calling it ridiculous.

Naturally the Lakers as a group are frustrated and disappointed with their performance.  Perhaps the upcoming schedule of six-straight home games will help.

At this time, it doesn't appear management is looking to make a coaching change.
via Kobe Bryant says he's Mike Brown's biggest supporter -- latimes.com.
We heard constantly that the Lakers' brass wasn't going to make a move. They were going to be patient. They were going to wait it out. They were going to see how it would go. It was still early, not even two weeks into the season. Plenty of time to figure thing out. ...
And then. ...
The Panic Button. 
Nov. 9: 
The Lakers announced Friday that Mike Brown has been fired as head coach in the wake of the mega-team's 1-4 start.

"This was a difficult and painful decision to make," said general manager Mitch Kupchak in a statement. "Mike was very hard-working and dedicated, but we felt it was in the best interest of the team to make a change at this time. We appreciate Mike's efforts and contributions and wish him and his family the best of luck."

The Lakers have installed long-time assistant Bernie Bickerstaff as interim coach while they "immediately" search for a replacement. Bickerstaff will coach the team Friday against the Warriors. Ken Berger reports that a further search is underway for a permanent head coach, with Mike D'Antoni prominently in the talks.
via Lakers fire Mike Brown; Bernie Bickerstaff named interim coach -- CBSSports.com.
It was chaos, it was unthinkable, it was a disaster. Firing a coach after just five games into the regular season? Going 1-4 to start the year? How could this have happened to the superteam? How could the flagship that won back-to-back titles just two years ago be in this much trouble? And who could save them?
Of course. 
The Zen Master. 
Phil Jackson has emerged as the clear leading candidate to be the Lakers' next coach, and two people connected to the 11-time champion coach told CBSSports.com on Saturday that all indications point to Jackson wanting the job.

"Phil wants it," one of the people with ties to Jackson said.

League sources told CBSSports.com on Friday that key figures in the Lakers organization had concluded Jackson was the best -- and perhaps only -- choice to take over the star-laden roster with the hope it will fulfill its championship potential. It would mark Jackson's third stint with the Lakers, where he won five of his NBA titles before stepping down after the 2010-11 season.

The Los Angeles Times reported that Jackson met with Lakers officials Saturday, citing sources who believed there was a "95 percent chance" Jackson would succeed Mike Brown, who was fired Friday after a 1-4 start. Two key Jackson assistants, Kurt Rambis and Jim Cleamons, are available and ready to join Jackson, 67, if he decides to reunite with the Lakers yet again, sources said.
via Sources: Phil Jackson leading candidate, wants Lakers job -- CBSSports.com.
Momentum grew and grew over the weekend. By Saturday night, most everyone had assumed that the man of a dozen rings would be back in his higher and holier-than-thou chair come Monday. He would finish what he started, help Kobe Bryant match Jordan, and leave with a perfect dozen of coaching championships ... maybe more. 
The players were on board: 
Dwight Howard has told the Los Angeles Lakers he wants them to bring back Phil Jackson as coach,' a source close to the team tells SheridanHoops.com.

(Jerry) Buss' son, Jim, is expected to be the person who makes the ultimate decision on who the next coach will be, and the source who spoke to SheridanHoops made it clear that Buss is aware of Howard's wishes. It remains unclear if Jackson would be interested, but he retains a close relationship with Kobe Bryant and Pau Gasol — two of the players he coached in Los Angeles before leaving the team after the 2010-11 season.
via Report: Dwight Howard wants Phil Jackson as Lakers coach -- ProBasketballTalk.
Well, we're glad that's settled -- oh, wait. 
The Lakers have their new coach and it's not Phil Jackson.

The Lakers announced late Sunday night that they have come to terms with Mike D'Antoni on a four-year deal.

With all signs pointing toward a Jackson return, reportedly the 11-time NBA champion coach was just asking for too much. Jackson's health issues have been well documented and according to numerous reports, Jackson was hoping to arrange a special travel schedule to accomodate him. He also was said to be wanting control over the team and a hand in basketball decisions.

According to the report, Jackson was "asking for the moon."

By that account, it sounds like it's not Jackson who turned the Lakers down, but the Lakers who turned Jackson down. Which is a very interesting twist.
via Mike D'Antoni hired as coach of the Lakers -- CBSSports.com.
In a week full of shock and awe, this was just as stunning. The Lakers turned down Phil Jackson.
Normally, this would result in polite comments all around and everyone would be hunky-dorey. But Jackson had no intention of going into that good night quietly. 
Phil Jackson got that fantastically awkward midnight wake-up call from Mitch Kupchak -- and got the news that the job Jackson absolutely thought was his to lose had already been won by Mike D'Antoni.

So stunned and groggy was Jackson that he didn't even really ask why. He did manage to straighten up enough to land a typical Jackson straight jab when Kupchak said Jerry Buss, Jim Buss and he all believed D'Antoni was the best coach for the Lakers now.

"I don't," Jackson said. "But OK."
via Ding: Lakers left Phil Jackson feeling misled | jackson, lakers, buss -- Sports -- The Orange County Register.
"Saturday morning, [Lakers executive] Jim Buss called to ask if he could come and visit. I didn't solicit or ask for the opportunity but I welcomed both him and [team executive] Mitch Kupchak into my home to discuss the possibility of my return to the Lakers as head coach. We talked for over an hour and a half. No contractual terms were discussed and we concluded with a handshake and an understanding that I would have until Monday (today) to come back to them with my decision."
via Phil Jackson's agent lashes out at Lakers -- Silver Screen and Roll.
"I did convey to them that I did have the confidence that I could do the job. I was awakened at midnight on Sunday by a phone call from Mitch Kupchak. He told me that the Lakers had signed Mike D'Antoni to a 3-year agreement and that they felt he was the best coach for the team.

"The decision is of course theirs to make.

"I am gratified by the groundswell of support from the Laker Fans who endorsed my return and it is the principal reason why I considered the possibility."

My take: The fact that there was an agreement in place to meet with Jackson on Monday and then the Lakers went ahead and signed D'Antoni in a flurry Sunday night just does not sit well. That's bad business. 
via Dave McMenamin's post on LA Lakers -- Latest updates on Sulia.
So to recap, the Lakers traded for Dwight Howard after he ruined the Magic for over a year, resulting in wholesale destruction in their management and coaching staff. They thought they could win 73 games (they would currently have to go 70-4). They had everyone on board. Then they went winless in the preseason, and started the season 0-3 before getting a gift in a visit from the Pistons. But a loss to the Jazz put in motion a crazy 72 hours that saw Mike Brown fired after just five games, Mike D'Antoni become the leading candidate only to be replaced within a few hours by Phil Jackson, Jackson meeting with the Lakers, leaving with the assumption he would have the job, and then being awakened by a phone call to say the Lakers were hiring D'Antoni.
This could only happen in L.A. That's the only place all of this could take place, and the only place that this could happen and the team still have a shot at the title. 
The Lakers lost to the Spurs on Tuesday night, and there remains nothing but questions about their future. 
So what do they do now? As Kobe says, there's only one thing to do: Go on. 
"Probably, but people really need to get over it," Bryant said. "What the hell are you going to do? Cry me a river, build a bridge and get over it. What are you going to do, sit here and pout all [expletive] day? D'Antoni is a great coach. He probably would've made it to a bunch of Finals had he not run into us and had that melee in San Antonio. And here we are. We want to make the most of it, and we'll be fine."
via Kobe happy with D'Antoni coaching Lakers, but would have preferred Jackson -- NBA -- CBSSports.com News, Scores, Stats, Fantasy Advice.
And we'll all be waiting to see what happens next as this insane circus moves to its next act.
Stephen Curry, who grew up in North Carolina, wants to be part of the next Panthers ownership...

Vince Carter is destined for a Raptors reunion; he doesn't know when it'll happen

Thomas has a target date for his return, and with the Cavaliers scorching, this could be h...
LeBron James once again is using his platform to be socially active

Not many games, but still plenty of action and intrigue Sunday in the Association

Kobe Bryant had a solid piece of advice for back in 2016 when he left OKC for Golden State