The Inbounds: Andre Iguodala and the NBA transition game
Why the adjustment to a new team in the NBA doesn't stop when training camp ends.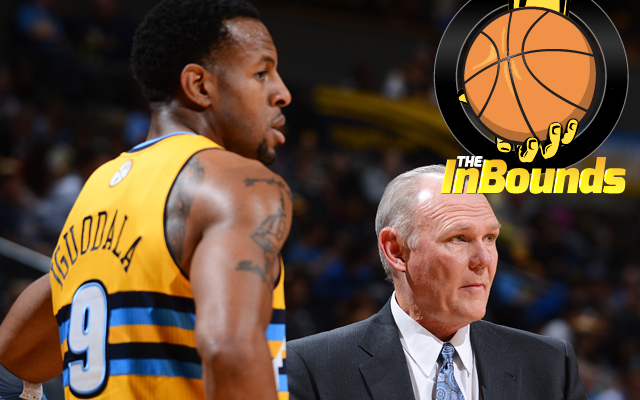 Andre Iguodala and George Karl are getting on the same page in Denver.
(Getty Images)
The Inbounds focuses on one element, thought, question, or joke in the league. It appears daily Monday through Friday on CBSSports.com.
When a player gets traded or added to a team in free agency, we tend to approach it from the perspective of simple math.

Team before = X+Y+Z

Team after: X+Z-Y+A

But of course the combinations and how they fit in are more important. And that goes into the second level of evaluation. But the thought is always that from the get-go, these things will make sense. Even with some adjustment period to new teammates, training camp should cover all of it. But in reality, the adjustment to a new team, particularly after a player has played for one team for a long time, can take much longer.

Andre Iguodala has found his stride in the past week (19 points, 5 rebounds, 3 assists in the past four games), and while much of it has been dependent offensively on his streaky shooting finding a spark from the outside, watching him a month in with the Denver Nuggets is like watching a completely different player from the opening three games (all of which were losses, by the way). He's more assertive, moving quicker, finding teammates easier, and it's allowing him to bring his full focus defensively.

After the Nuggets' stampdown on the Hornets on Sunday night, I asked Iguodala at what percentage he feels comfortable with where he's at. Not only does he not think he's all the way there, his percentage was a bit of a shock.

"What's funny is that I'm not even all the way there yet," Iguodala said. "I'd say about 70 percent. I'm starting to get a better sense of what [coach George Karl] wants, of where teammates are going to be at. We're not even 15 games into it. I didn't think I was going to hit my stride until January. Hopefully I can stay consistent for the rest of the filling out stage and then just 'boom' when January comes."

George Karl said that one thing that's helped with Iguodala's progression is that they've begun giving him "different responsibilities." For instance, they've started running Iguodala at point forward on a few possessions so that he gets to "understand the reads" of what Denver does. Not only does it help him understand where to pass to, but to recognize how the entire offense runs, included when he's on the wing.

Additionally, Karl said that it's a transition for Iguodala to recognize one of their core concepts, which is go-and-catch. Essentially, Karl wants his players moving to create penetration before the ball arrives. It's constant motion and it's an integral part of the dribble-drive offense. Compare that with the plodding, catch-and-wait-and-wait-and-wait-and-wait-and-then-shoot of the Philadelphia offense, and you have a pretty sharp curve to master.

Sometimes players never get those concepts. Karl noted that point guard Ty Lawson, who has never left Karl's system, still struggles with it.

These are the kinds of things that even a full training camp doesn't provide the time for. There's too much to process, and it has to be done in-games, and over time. While Iguodala's offense is likely to stabilize (he's neither as bad a shooter as he was the first two weeks of the season nor as incredible as he's been the past week -- unless the Nuggets' system really does put that kind of confidence in him), his overall play could continue to thrive.

We're seeing the same in Boston as the Celtics slowly start to understand how their new pieces fit, and across the league too. Jason Terry has gotten more and more comfortable in their offense. Joe Johnson is still trying to find where he fits in Brooklyn. The early returns on these players may have more to do with the transition than their production or fit with their respective teams.

Changes in NBA rosters aren't simple math, and they don't resolve themselves in a week. It's a constantly evolving, constantly changing process, and the Nuggets should serve as a reminder that even when things click the process isn't through.
We've got all the scores, highlights and news for Thursday night

The Sixers big man got his first All-Star selection -- and maybe some revenge -- on Thursd...

It appears some players are not entirely taking the All-Star voting process seriously
There were some weird discrepancies between the fan, media and player votes

LeBron and Steph will be the captains for the 2018 NBA All-Star Game

Arron Afflalo was involved in an altercation with Timberwolves big man Nemanja Bjelica on...