The InBounds: DeMar DeRozan's progress measured in mental miles
DeMar DeRozan is 23 years old. But if you ask him what he has learned from his time in the NBA, he sounds more like a seasoned veteran: "Mental toughness. You gotta be a man in this league. On the court, off the court: you gotta be a man. Because otherwise, it'll break you down."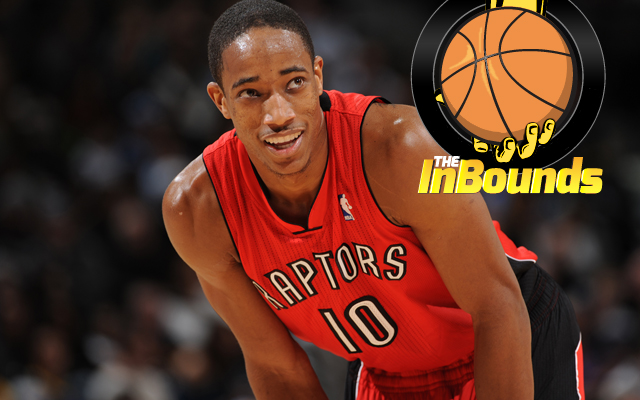 DeRozan's off to a career-best start this season.
(Getty Images)
DeMar DeRozan is 23 years old. But if you ask him what he has learned from his time in the NBA, he sounds more like a seasoned veteran.

"Mental toughness. You gotta be a man in this league. On the court, off the court: you gotta be a man. Because otherwise, it'll break you down."

When CBSSports.com sat down with the Raptors' high-flying forward this week, the one thing to take away is that it's his mental approach to his athletic ability that has DeRozan on pace for a career season. And those words "mental toughness" come up again and again.

He talks about it when asked what coach Dwane Casey has brought to the team. He talks about it when asked how the Raptors, who are 4-14 but have suffered a wide variety of heartbreaking losses, have to get through this rough spot.

"It's frustrating," DeRozan says, "because our record would be totally different than what it is now [if we won a few more of the close games]. I don't think our record defines who we are, because we're a much better team than what our record says we are. We just try and come in and stay positive. We know we can play with any team."

The Raptors suffered the usual fate at Denver on Monday, inventing yet another bizarre and heartbreaking way to lose. After being down 16 in the second half, the Raptors scratched and clawed their way back in a remarkable late game run.

Down three with just a few seconds remaining, DeRozan took just his third 3 of the night from long range in a desperation shot. Off. The Raptors lose again.

But wrapped inside the puzzling mystery of the Raptors' struggles is DeRozan, who signed a four-year, $38 million extension this fall, much to the chagrin of fans and critics, who had yet to see the promising wing player develop.

This season, there has been no explosion. DeRozan is averaging just .7 more points per 36 minutes. He has a PER of 15.3, right around the average for a player. He's not rebounding significantly more than he has at any point in his career or dishing more assists. (Advanced stats courtesy of Basketball-Reference.com.)

But watching DeRozan play, you notice a lot of differences. And when you take that information and then look closely inside the data, you start to understand what has happened with DeRozan this year.

He has become more confident, more disciplined, more settled. He plays more within himself and in more versatile ways. He's a more complete player, and that has helped his minutes increase to 37 minutes a game. He's playing like he did when he was a 20-year-old rookie playing limited minutes, but now he's the player whom Casey counts on for long stretches.

Against Denver, DeRozan finished with the kind of efficiency that's becoming the norm for him. Eighteen points on 13 shots, with seven rebounds and two assists. He had a late steal which, had the Raptors not inexplicably (sensing a theme?) bumbled it, might have been the difference. The work is there.

I've never been a believer in DeRozan. But this year, you can see the difference. He's not breaking out. But he's moving his way slowly towards taking that leap, and that starts with what's going on upstairs.

DeRozan talks about his goal coming into the season and how he wanted to become the kind of all-around player that his talents lend him to be.

"I've been through different situations since I've been in the league," he says. "I've had to be a scorer, had to be in different situations. It's my fourth year. This summer, I just wanted to put everything together on both ends, come out and be the best player I can be this year."

There's little cockiness in the fourth-year man, but instead a quiet focus. And, more than anything, an understanding that if he's going to succeed, he's going to have to use those physical tools that he's gifted with to do more things than most two-guards do, rather than using them to be a better version of a traditional two-guard, something he has done in the past.

For one thing, DeRozan has figured out he has to use his size. He used just 6.7 percent of his possessions last season in the post, where he was lethally efficient according to Synergy Sports. DeRozan has increased his time in the block this season to 14.9 percent, where he's the 10th-best player in the league at points per possession. DeRozan says it's something that he came to on his own this year.

"That was just me. I feel like I'm bigger than a lot of two-guards, and I think it's just effective. I look at guys like Kobe and, as they started to get older, they got better in the post. I just looked at it as, 'If I get better at it now, that's going to benefit me later.' It's something I think helps make me better than a lot of two-guards."

Ah, Kobe. That name comes up a lot with DeRozan.

Growing up in Compton, Calif., DeRozan has long said that he grew up idolizing Kobe Bryant. No surprise there. But it wasn't Bryant's scoring acumen that impressed DeRozan; it was his mental approach, which continues to amaze the younger player.

"He was a killer," DeRozan says. "You think of the most ruthless killer in the horror movie -- that's Kobe when he's on the court. It's just amazing for him to be in this league this long, and he still looks like he's getting younger. The mindset -- the work ethic that he takes in every night is just incredible."

So DeRozan tries to emulate that, to take a different mental approach, to be more consistent, the word that coaches repeat day after day after day and which so few players can master. He does it in the shadow of the contract that garnered him extensive criticism (and we weren't exactly lauding the deal), which DeRozan has been open with his frustration over. So what is it the critics don't get?

"The hours and the days I put in the gym. The frustration. Everything that people don't get to see. It's more than just basketball for a guy. It's basketball, but it's everyday-life things, too. People don't see that.

"They just see dollar signs and say, 'Oh, he doesn't deserve that.' They don't see what a player goes through to try and improve himself."

Fair or not, the criticism will continue until DeRozan reaches the levels of stardom that Raptors fans have been hoping he'll hit for years. But if you're looking for positive signs, DeRozan has provided them early this season in the midst of a rough environment.

When asked what he wants for his career outside of wins and titles, DeRozan's aspirations seem out of reach.

"[I want to be a] guy to brought up years after his career is over. If you're a basketball player, you always know who Scottie Pippen is, or Charles Barkley. Barkley never won a ring, but everyone knows him. To be one of those guys people mentions 10 years down the line, 20 years down the line."

It's not that he's at that point or that it's likely he'll ever reach that hallowed ground. It's that the desire is there, the work ethic is there. And maybe, finally, DeRozan is mentally ready to make the leap.
After the Buzzer:
DeRozan's fiancee is also a baller, and DeRozan says she's always trying to topple him in shooting contests. As to whether she has ever beaten him one-on-one? "Never. I'd never let that happen." I'm sure she'll love to read that. Every married guy reading this just shook his head.
DeRozan lists He Got Game as the movie that he mostly closely identifies with. "Growing up, those are the sort of things you went through, with people close to you. With colleges, agents -- all of that is fact. And, growing up, you don't realize it until you go through it."
On what he wishes NBA players realized more about Toronto, which constantly struggles with attracting free agents: "Great city. It's better than a lot of cities that you can think of. It's really diverse. The culture's great. The fan base is great."
On if he wants to be feared in the league: "Yeah. To be feared in this league is a tough thing. Not many guys are feared."
DeRozan says the Toronto coaches are the ones trying to get the players through this rough stretch of games: "It's a long season. We get caught up in the moment because we want to win, especially those tough games. We have to remember it's a marathon, not a sprint."
DeRozan is taking the same number of threes this season, but picking his spots better, and as a result, hitting at a higher percentage. "You have to realize when you take them. Don't just take threes not to take them. I take them when I think they're needed. I need to play within my game. I know if I get a shot in rhythm, I can knock it down. But for me, I'm an aggressive player. We've got a lot of 3-point shooters on this team. If I'm being aggressive, that can open up a 3-point shot for them."
DeRozan notes that just having size doesn't always give you an advantage in the post over two-guards. "Some are smaller. Some have quick hands and reach and get steals. You have to know your personnel, know who you're going against. Couple of nights ago, I'm going against Shannon Brown and he's tough. That's a guard you can't really back down, so you have to find other ways to post and score on them."
In his first season with the Cavs, Rose has not played since Nov. 7

Keep it right here for all your Friday NBA scores, updates and highlights

Russell has not played since injuring his knee against the Jazz on Nov. 11
Isaiah Thomas loves revenge games and he wants one against the Celtics in the playoffs

SportsLine's advanced computer model simulated Pelicans-Nuggets 10,000 times, with surprising...

SportsLine's Mike McClure, a DFS pro with more than $1M in winnings, gives optimal lineup...