The InBounds: Get Deron Williams out from behind the GM's desk
Deron Williams should not be making decisions for the Nets as a franchise.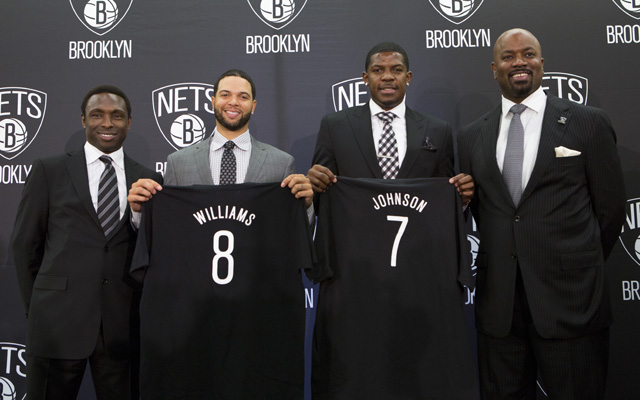 The power structure in Brooklyn is all kinds of messed up.
(Getty Images)
Last April, before Deron Williams decided to re-sign with the Brooklyn Nets, Nets GM Billy King was quoted, on record, as saying:
"He's been involved in the process since December," King said. "We talked about, 'This is Plan A and this is Plan B and C.'

"In training camp he was in my office after practice every day just sitting there. He calls himself, 'the assistant GM.'
via Nets let Deron Williams play 'assistant GM,' but it isn't enough to keep him from free agency - NBA - Yahoo! Sports.

Flash forward eight months later. That "Assistant GM" seems more like the "Actual GM," and King seems more like a guy trying to keep himself out of the fire raining down from high atop the thing. Reports surfaced widely on Thursday night that Avery Johnson was fired because he had completely lost Williams.

Naturally, Williams and company are out in front of the story, trying to establish a narrative that Williams was "shocked" and "wasn't consulted" about the firing. Here's a quick rundown of people who actually believe this: Williams' beat writers for his own website. That's it. Deron's wife knows what went on here. It's not hard to figure out that, after Williams questioned the system a week ago, Johnson, the architect of that system, was severed from the Netly coil.
This isn't to say that Williams was wrong. There were systemic problems with the Nets' offense, and Johnson was underequipped to deal with them. Williams wants to win; he expressed dissatisfaction with losing. There's nothing wrong with that. 

But now the Nets are trying to go forward, having fallen into the modern NBA trap: giving a player entirely too much power.

Giving a player input on management decisions is nothing new. Michael Jordan, Magic Johnson, all the way back to Bill Russell, superstars have had influence on what a team does. But in recent times, the new era of superstar have taken it to an entirely new level and, honestly, have been torpedoing franchises over the past five years like a typhoon-class.

Dwight Howard wanted Gilbert Arenas. LeBron James had massive influence on the Cavaliers. The list goes on and on, and the results are not good.

This is not to say that you should not consult with your star players. The Lakers failing to clear the Mike Brown hiring with Kobe Bryant was a critical mistake that doomed the adventure from the start. You need to get your biggest and best to buy in. It's just part of it.

But it seems more and more like the Nets are so desperate for validation and to be able to market their team effectively that they cowtow to Williams. Had it not been Williams, it could have been Melo or Howard or whoever else they wound up.

Regardless of what player was featured in the intro video and on t-shirts, the fact remains, this is a terrible way to run any organization, not just a basketball team.

You have to establish what your program wants to do, what the elements you want to incorporate are, an ethos, of sorts. The Spurs are about trusting the process and a zero tolerance policy to drama. The Lakers are about excellence and never settling.

The Nets? "Look at us! Marketing! Hello, Brooklyn! Stars [kind-of]!" That's about it.

You can't trust players who are under the age of 35 to have the same kind of vision and wisdom for what works in basketball as someone with experience. And while Billy King's track record doesn't exactly leave you swimming in confidence, you still have to maintain some structure of organization. Otherwise, you have the situation the Nets are currently encountering:

An impatient owner has fired his coach after a bad month following a month he won Coach of the Month for, in large part because his star point guard who is playing terrible and who calls himself the assistant GM decided that the system wasn't good enough for him. If we look at ways to screw up an organization, that's a pretty good list.

Making stars happy so that you can pull in future ones and keep the ones you have is a good thing. Creating Kings out of Knights is not. Players play, coaches coach, managers manage, the whole system works together, everyone wins, and the owner makes money. That's how it should work.

But instead, the Nets are centered around skipping steps.

I have a friend who consistently thinks he's smarter than everyone else. And he is. He's a genuinely brilliant guy. But instead of entering into careers low on the totem pole and working his way up with that brilliance put to good use and consistent effort, he wants to snake in higher up the chain. He believes that his efforts are wasted by going through the process. And, as a result, he never makes the strides he wants.

This is the Nets. Trying to buy their way into a title by overpaying for good not great, trying to bill themselves as contenders by coming up with catchy marketing schemes, and trying to build an empire by letting their Achilles set the value of their currency and manage their livestock trade.

You can't cut corners. The Lakers weren't built in a day. And all the cool apparel won't make up for your organization failing to do things the right way. The Nets need to trust Deron Williams with the ball in key situations. They need to trust someone else to lead the organization.


James' support continues his trend of social activism on social media

The newly-acquired All-Star thinks the addition of Anthony boosts the Thunder in the NBA's...

The Knicks were asking for the house in discussions for Carmelo Anthony
Steve Kerr has given his response to Donald Trump in writing

Trump rescinded Curry's invitation to the White House after Curry said he wasn't interested...

Silver said he was hoping Warriors would get chance to share their views directly with the...