The InBounds: Michael Beasley and his levels of toxicity
Michael Beasley is being labeled as toxic, but what exactly does that mean?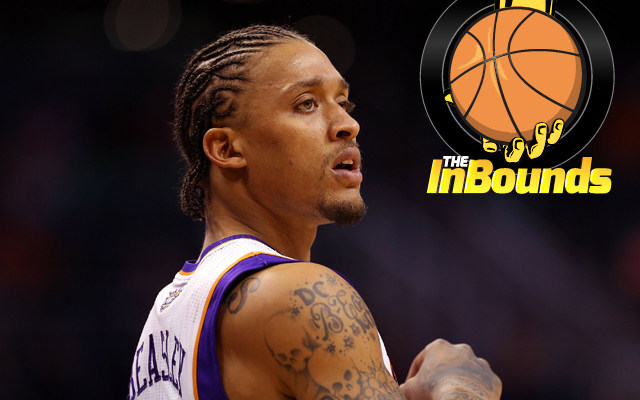 Can this guy put it all together?
(Getty Images)
The InBounds focuses on one element, thought, question, or joke in the league. It appears daily Monday through Friday on CBSSports.com.
Shooting is contagious. Passing is contagious. Defensive effort is contagious.
If all of these things can be contagious then it is highly likely that malaise, poor decision-making and lethargy are all contagious, too. When you're not part of a veteran team with a lot of focus and success, it's easy to let those bad things permeate a locker room.
Last season when the Minnesota Timberwolves were falling apart (both physically and with chemistry), we saw a locker room become divided. Kevin Love and J.J. Barea were indirectly calling out guys for not caring and not fighting for victories once the season was lost. When the season was over and it was time to evaluate the roster, Rick Adelman had a list of players who had to be gone from the team.
Michael Beasley and Darko Milicic were at the top of that list.
With the recent news that the Phoenix Suns reportedly consider Beasley "toxic" to the team, it's made me wonder what it is about Beasley that is supposedly so toxic. Talking to him, he's an incredibly engaging personality. He's quick-witted when he needs to be and hilariously aloof at all other times. Michael Beasley is incredibly likeable, and that's kind of where the reality of him is confusing for many people.
I don't think Beasley is the type of guy to come out and raise a stink in the locker room unless there is a serious problem with his role on the team. He's getting the most shots out of anyone out there and not doing much with them. If he's frustrated with anybody, it's most likely with himself. He's a guy who seems to know the right decision in retrospect; he's amazingly unstubborn about his decisions in that way.
The problem is in the moment, on the court, he seems incapable of making the best decision for himself and the team within the construct of the offense. His supporters will often inform you he can get 25 points on any given night -- that he's a matchup problem for any forward in the league. In theory, that scouting report is true about Beasley. In application, it couldn't be further from the truth.
He's a matchup problem if he's driving to the basket and attempting to either get a shot inside or a trip to the free-throw line. However, he's averaging only 2.3 attempts at the rim and 2.1 free-throw attempts over the last two seasons. Compare that to the 5.2 shots per game he's taking from 16 feet or more and it's easy to see why he struggles so much to put the ball in the basket, despite being a "matchup nightmare."
Beasley just hasn't found the right system. He hasn't found a coach who will help him. He doesn't get a chance to consistently show what he can do.
Do those sentences look familiar? They're the excuses that get thrown out there in Beasley's defense every time you tweet about how much he's struggling with his career. The Miami Heat gave up on him because they had a chance to team LeBron James and Chris Bosh up with Dwyane Wade, while still adding role players to the bunch. The Minnesota Timberwolves tried two different coaches with Beasley. Kurt Rambis let him cook as he attempted more than 1,200 shots in 73 games. None of that led to a winning situation, and it largely exposed Rambis for a lack of coaching creativity.
When Rick Adelman took over, he gave Beasley a little bit of rope but ultimately pulled him back because he was a detriment to the on-court goal. There's talent and then there's talent within the team concept. Beasley seems to only have the former, and that's what Phoenix is finding out with him.
Alvin Gentry tried letting Beasley freelance on the court, and none of it worked. He's taken more shots than he's scored points this season. That's a recipe for disaster. The Suns are in a precarious situation. They tried rebuilding by making Eric Gordon the center of their project. When the future Pelicans didn't allow him to set up residency in Arizona, they moved on to the Dallas Mavericks' current plan.
You sign players for lesser deals and lower money, try to maintain flexibility and competitiveness, and hope to pounce when the next guy becomes available. The difference is the Mavericks signed guys who can fit in with what they do. The Suns signed Beasley and fooled themselves into thinking he could be a focus right away for them.
When they realized he wasn't a focus over the past week, he immediately became toxic because they pulled him away from the expectations they bestowed upon him. I'm not sure if that makes him a toxic player or if it means their hackneyed contingency plan was toxic from the get-go.
What I do know is that until Beasley is capable of turning his hindsight understanding of what he should have done better into his foresight before he makes a decision on how to attack the defense, it's going to be really hard for him to shed this label. It will mean he's a toxic component for any team trying to rebuild.
Whether that means the toxicity comes from poor decision-making or being combustible in the locker room probably doesn't even really matter.
Howard considered calling it quits after his second season with the Houston Rockets

Bogut, coming off a broken leg he suffered with the Cavs last season, reunites with Luke Walton...

The incident occurred in Phoenix when the twins were both playing for the Suns
Fredette's shoe is with the Chinese brand 361

There's been some weird things happening with Durant's social media accounts

Minnesota's first practice is set for this weekend