The Inbounds: The dangers of the Heat's winning streak
The Heat should be careful with messing with the Gods during this long winning streak at the expense of their playoff goals.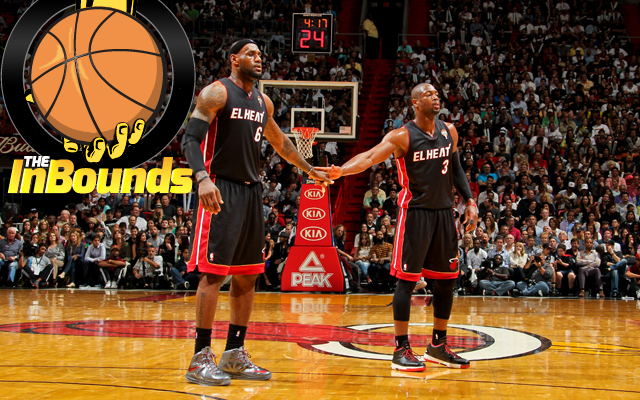 So the Heat have rattled off 20 in a row, tying the third-longest winning streak in NBA history. Two more wins, and they're tied for second-longest with the improbable streak the 2007-08 Rockets went on.
And while winning is always good, I do think the question has to be asked if there's a concern that the Heat might be peaking too early.
You want to be playing your best basketball in May and June, not March. And while the Heat's best basketball isn't necessarily what they've been playing during this streak (see close wins over Orlando and Philadelphia), bounces are going their way.
There's a certain feeling of invulnerability that develops when teams go on winning streaks. They feel like everything is going their way. And there's a comedown when that ends. The Heat don't want to find themselves sliding into a hangover from the streak too close to the playoffs.
What happens if Miami is so close to the edge that they fail to recover? I mean, we're not talking a first-round loss here; we're not madmen.
But you don't want to stumble in the first round and take longer than necessary, wasting precious rest time, which you'll need for either Boston, Chicago or New York, their likely second-round opponents. There's no upside in the win streak extending so far that it risks their chances of maximizing their playoff potential.
The problem is, they're inching toward history. This winning streak gets up to 27, and those guys are going to start looking at that 33 mark of the Lakers. The lure of history is a strong one, and it's going to reel them right in. You can't pull your starters with 29 wins, four away from tying the longest winning streak in NBA history. You just can't.
Is it bad luck to mess with a streak? Maybe. But in these situations, I always think about what Gregg Popovich would do. If his guys needed a rest, as players need once late March comes and we head toward the April stretch run before the playoffs with the top seed secure, he'd give them a rest and say to hell with luck and streaks. The title's what matters.
The best situation for Miami might honestly be to pass the Rockets, nab win 23 (if they can), and then maybe have Wade out with a "sore calf" or something. Don't get caught up in the win streak, as fun as it is. It won't prove anything to anyone; only the rings will. That's the society that we live in.
It's the NBA. Any team can knock off anyone in this league. (The Wizards have beaten the Heat, Thunder and Nuggets this season.) So this is all extraneous analysis given the circumstances. Winning five in a row is difficult, let alone 20, and it's a sign of Miami's strength. But they've already shown it by landing in the top three.
You just have to be careful of the line between pride and hubris. It can come back to bite you.
T.J. Warren gets paid big money by the Suns in a four-year deal

Melo didn't hold back on his feelings about President Donald Trump and urges for help in Puerto...

The Wizards star says the NFL won't change until important players like Brady and Rodgers speak...
Popovich spoke at length about sports, race, culture, and politics during Spurs media day on...

Carmelo Anthony finds the idea of coming off the bench very funny

Several teams spoke about Trump's recent comments about protests and the Warriors' White House...