The Inbounds: The Pau Gasol Dilemma
The Lakers are struggling, again, with the latest embarrassment at the hands of the Orlando Magic on Sunday night, who they cleaned out in the Dwight Howard deal. The Lakers are now 3-4 in the Mike D'Antoni era, and since things have not gotten better, the Laker fan hordes are once again at the gates demanding answers and change.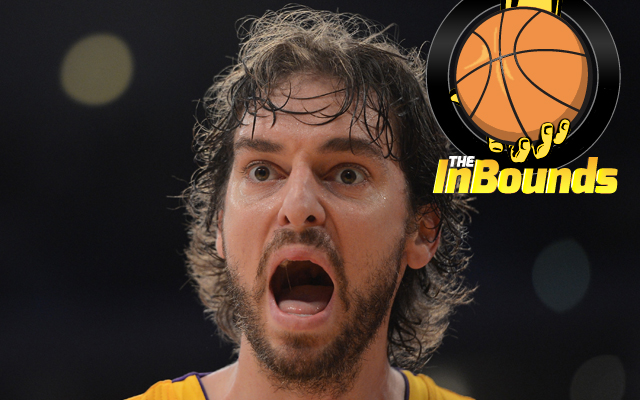 Pau Gasol can't believe how this season has gone for the Lakers.
(Getty Images)
The Inbounds focuses on one element, thought, question, or joke in the league. It appears daily Monday through Friday on CBSSports.com.
The Lakers are struggling, again, with the latest embarrassment Sunday night at the hands of the Orlando Magic, who they cleaned out in the Dwight Howard deal. The Lakers are now 3-4 in the Mike D'Antoni era, and since things have not gotten better, the Lakers fan hordes are once again at the gates demanding answers and change.

(They're kind of like one of those protest movements we've seen over the past few years. They don't actually have a plan, they just like being angry when things aren't going well. This makes them like all fans, and any group of people in the history of civilization.)

And of course, the most logical option to "fix" the Lakers is to trade the former All-Star seven-foot skilled big man Pau Gasol. That's the thinking, anyway.

When you pay attention to the league on a micro level for long enough, you start to pick up on patterns. One report on a guy being on the trade block from various sources? Someone's probably trying to test his market or another team wants to see if he's available. But when so many people reference the idea of a player being traded over a long period of time, there's fire to the smoke.

You don't see any references to trading Kobe Bryant, because anyone who covers the team knows that's Looney Tunes.

And Lakers fans, being used to being able to upgrade to the toppermost of the toppermost whenever they want, are clamoring for an upgrade, after Gasol was their first real upgrade to get back into title contention.

But Gasol has struggled, physically and mentally, since 2011. It was during the playoffs that season that he completely evaporated against the Mavericks. Against the backdrop of some personal problems which may or may not have had anything to do with it -- and I'm serious, there's zero way of knowing -- Gasol was a no-show against Dallas in a sweep and has never really recovered.

The struggles continued after the lockout, when he was nearly traded in the vetoed/denied/whatever Chris Paul deal. He was clearly thankful not to lose his comfy spot in such a wonderful, warm city with so much culture, but he was also shaken by the experience. As his body aged, his game never fully returned, though he of course had his fair share of moments.

And now, battling through tendinitis, and showing serious reservations and disappointment about the decision of Mike D'Antoni over Phil Jackson, who swaddled him and hugged him in the warm embrace of the Triangle, Gasol is having one of his worst seasons in years.

So can the Lakers trade Pau Gasol?

Absolutely. He'll have tremendous value on the open market. He's a seven-foot big man who can pass, shoot, and rebound. Can't teach size, you know, and you definitely can't just luck into that kind of skill, even at his age.

But the issue is if the Lakers can get anything in return that will make them better. They have holes, to be certain. On the perimeter, particularly. But in trading Gasol, you can't get a platter of good talent back, you have to get a legitimate star upgrade.

For example, a good trade for the Lakers would be Gasol for Kevin Love. One problem: the Minnesota Timberwolves would never, ever, ever, ever trade Love for Gasol, no matter how much their GM and Love have clashed over the years. But that's the kind of deal the Lakers would need, and the one they cannot get.

Gasol seems out of sorts, but you can think that will improve with time as he gets better physically. He'll get used to more of what D'Antoni wants. And most especially, as the Lakers reportedly are concerned with, he'll eventually get to play with Steve Nash in this system, which could open quite a few doors for him.

The biggest concern though, is that Gasol has repeatedly indicated he's unhappy with how he's being coached. He's not buying in. And the Lakers have no choice but to go forward with D'Antoni. On some level, Gasol seems to want everything like he wants it, as he had it in 2009 and 2010 when the Lakers won the title. He had the Triangle which played to Gasol's strengths, a roster where he was the second best player, a stronger body and more peaceful mind.

But those times are gone, and while the return of Nash is certain to help the Lakers on multiple levels, it won't solve everything, and it's on Gasol to buy in and make this work.

Otherwise, he's going to find himself somewhere else, possibly languishing away the end of his career on a lottery team, wondering how it could all go wrong so quickly. The Lakers can't trade Gasol now because they can't get good value back. If Gasol's value keeps dropping, however, that can change.

Anything can change. The Lakers, more than anyone, should know that.
The investigation detailed a hostile workplace environment

Cousins suffered a torn Achilles tendon on Jan. 26, and will miss the rest of the season

Ingram has become one of the team's go-to players with Lonzo Ball sidelined with an injury
Giannis skipped EuroBasket last summer, and has missed four games this season with knee so...

Some of the best and worst from the league as we head into the home stretch of the season

Cuban acknowledged that tanking is 'brutal' and that he will no longer do that after this...