The Inbounds: Why the Nuggets kind of suck
Why the Nuggets have struggled so much to start what was considered a very promising season for them.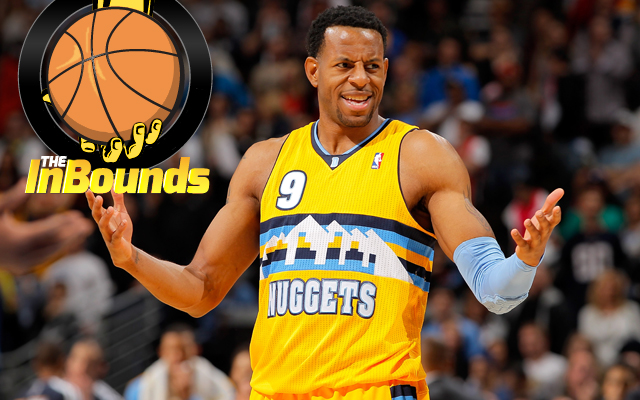 Andre Iguodala and Co. can't figure out what's wrong in Denver.
(Getty Images)
So, the Denver Nuggets kind of suck so far.

OK, that's not fair. Saying kind of is not really accurate.

They suck pretty badly.

This, of course, is a shock to the system in several ways. Since advanced metrics had predicted the Nuggets to be an elite team, people who dislike the use of those metrics are using this massive 10-game sample as a referendum on the entire concept of statistics. Which is pretty stupid, but also not the point. Non-metric analysts figured them for a 50-win team.

They added defense and an All-Star in Andre Iguodala. They brought back a team that was in contention for home-court advantage late last season. They featured an offense that consistently has ranked in the top five by either points per game or offensive efficiency. They have athletes, they have defenders, they have good coaching, they have depth.

So why do they suck? (If you consider 4-6 sucking.)

Well, a couple of reasons.

1. The Dribble-Drive Offense Is Missing the "Shoot" Part

I'm starting with a factor that's not in their defense, because I want you to respect me when I start telling you later how this is all going to work out, OK? See, it's like reverse psychology.

Anyway, the offense, it is horrible. The Nuggets have the 13th-worst offensive efficiency in the league (points per 100 possessions -- they play at a faster pace, so using per-game numbers isn't going to be accurate). The Nuggets decided to implement more of the dribble-drive offense that they used in pieces last season, capitalizing on their wealth of athletic wings who can handle, drive, finish at the rim and pass. That would open the floor for their shooters who need the space since there's not a crack shooter left with Arron Afflalo gone in the Iguodala deal.

But the problem is that, for this offense to work, you have to "keep the defense" honest by hitting threes. And in order to do that, you have to actually shoot them. And if you shoot them, you need to hit them. Science!

Part of how the offense is designed is with the wing players above the break to catch and drive. It gives them more room. The corner is used for shooters. But the Nuggets have the 17th-fewest attempts above the break from three this season. Ty Lawson and Danilo Gallinari are catching the ball and, instead of recognizing the space, they're hesitating, allowing the defender to catch up, and then driving, re-starting the offense entirely.

Meanwhile, the Nuggets are top 10 in corner three attempts but have the worst percentage of any team from the most efficient three-spot on the floor.

Neither of these things make much sense.

The decisions have to be quicker on the wing and, I can't believe I'm saying this, the Nuggets have to be more willing to shoot. That's right. A George Karl team needs to shoot more.

They're not going to magically find a shooter. They knew that was a concern going in. Corey Brewer has been inconsistent but has had some good games hitting from the corner. Jordan Hamilton might need more time there.

But most importantly, the Nuggets have multiple players who can drive and run the offense. Gallinari, Iguodala, Andre Miller. When Lawson, arguably the team's best three-point shooter, gets the ball, he has to shoot.

The result otherwise is a team that constantly packs the paint.

2. Block Party Every Night

That leads us to the second part of their offensive conundrum. Due to the way that teams are packing the paint, the Nuggets are getting blocked an insane amount. Kenneth Faried, Lawson, Iguodala, Miller, JaVale McGee, Kosta Koufos: everyone is finding the area beneath the basket clogged and winding up under or behind the basket trying to score.

The league average for percentage of attempts blocked is 6.5 percent. Miller is at 15.2 percent. McGee at 6.9 percent. Faried at 7.5 percent. Koufos at 11.3 percent. Lawson at 13.3 percent. Think about that. The Nuggets' best player is getting his shot blocked over 10 percent of the time. That's a nightmare stat. Lawson is shooting 38.3 percent from the field this season.  (Blocked figures courtesy of HoopData.com.)

Blocks are not always an indication of good defense. But in this case, they're a great indication of bad offense.

3. Free Throw Shooting

The Nuggets are last in free throw shooting, at an "Oh, My God. Don't let the children see it, they're too young" 65.3 percent clip. The Nuggets have been outscored by 26 points at the free throw line. They have given up the same number of attempts as they have taken. This is not rocket science.

4. The Schedule

Now we come to that part that I mentioned earlier, where I explain why this is OK. The Nuggets knew they had a rough schedule coming in. Seventeen of their first 23 games are on the road. That's tough for a team that has played together, much less one that's integrating several new parts and new roles as well.

They've only had the 15th-toughest strength of schedule according to Basketball-Reference.com. But consider that they wound up in the Sixers' home opener (an emotional game vs. Iguodala), then in the Magic's home opener (an emotional game for the "nobody believes in us!" team) and have played Miami twice and the Spurs once. Their only unforgiveable loss (if you don't consider the blowout loss to the Magic unforgiveable due to the home opener factor) was against Phoenix. That's five out of six "OK, that makes sense" losses. The second Miami loss was at home against a Heat team that had gotten in at 4:30 a.m. for the second night of a back-to-back, but it's still LeBron and company.

The pain continues through the first of the year, but the Nuggets have another month to sort things out before a January and February stretch gives them a metric ton of games at home.

If they're going to struggle, the time is now, to be honest.

There's a lot the Nuggets are going to struggle to fix. Shooting is a problem, something critics mentioned before the season. But there are shooters on Denver. They're just not shooting. The defense has been good, and it has kept them in games. They'll get better at running the offense and create more open looks. They'll finish on the insane percentage of offensive rebounds they collect better. (Denver is fantastic at getting rebounds, not good at finishing off of them.)

There's reason to believe Denver is going to get it together. But for a team that seemed like a lock to most sane people for a top-five seed in the West, the Nuggets all of a sudden need a lot to go their way if they want to reach contender status.

Either that, or for this just to be a bad 10-game stretch. You know. Either way.
(Most stats coutesy of Basketball-Reference.com.)
Vince Carter is destined for a Raptors reunion; he doesn't know when it'll happen

Thomas has a target date for his return, and with the Cavaliers scorching, this could be h...

LeBron James once again is using his platform to be socially active
Not many games, but still plenty of action and intrigue Sunday in the Association

Kobe Bryant had a solid piece of advice for back in 2016 when he left OKC for Golden State

An old rivalry is reignited between LeBron James and the Cavaliers and John Wall and the W...