The infuriating, yet encouraging development of Brandon Jennings
Brandon Jennings does a lot of stupid stuff. He's also ... getting better? A look at the Piston who hurt Detroit last year, but not as much as every single other Piston.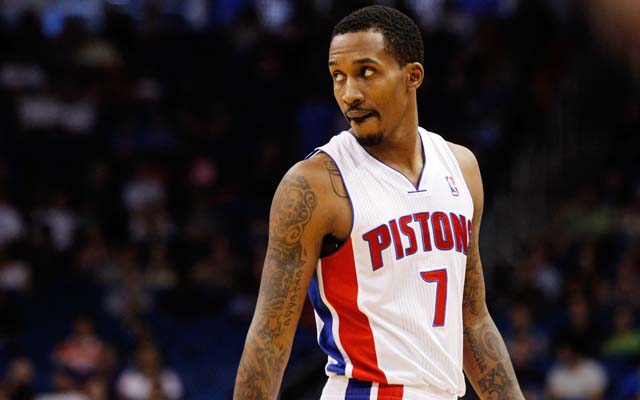 Offseason: Pistons offseason report| Latest from Ken Berger | Rumors 
I just watched over 700 clips of Brandon Jennings on offense from the 2013-14 season. This is not a humblebrag. It is the opposite of that. It's like a shamebrag. I have a hangover from watching Brandon Jennings play basketball. This is the writing equivalent of my walk of shame.
I set out to answer this question: Was Detroit Pistons guard Brandon Jennings better or worse last season than he was in his final season (2012-13) with the Milwaukee Bucks?
The answer is not unlike the Facebook relationship status you had after that person who clearly was going to eventually just stop calling you back feigned that they wanted to go out and you jumped on it like a mountain lion upon wounded prey. "It's complicated."
First, some background. Jennings was highly touted out of high school but after some recruiting drama, spent a season in Europe before declaring for the draft and being snatched up by Milwaukee with the No. 10 pick in 2009. The Bucks gave Jennings free reign at point guard and after a 55-point explosion his rookie season and an unlikely playoff berth behind the "Fear the Deer" team, everything seemed primed for Jennings to become Milwaukee's franchise point guard of the next decade.
Except all the things Milwaukee had come to think of as "things Brandon will grow out of," he never really, you know, grew out of them. Bad shot selection, poor management of screens, too much isolation, turnover issues, and let me say bad shot selection again because yes, it was that big of a deal.
This all culminated in the summer of 2013 when Jennings, a restricted free agent, sat on the market for months. The Bucks didn't really want him back after he had effectively expressed a desire to leave for months and the fact that again, he takes horrible shots. Meanwhile, the market for Jennings vanished in the same way the market for Eric Bledsoe and Greg Monroe has vanished this summer -- except those guys actually don't take many bad shots.
Jennings eventually wound up in a sign-and-trade with Detroit for just $8 million per season, far below some estimates that clocked him in the low eight figures.
It's important at this juncture to note that last year's Pistons had a pretty wide range in terms of expectations. Our preseason win total predictions pegged them for 41, 36 and 35 wins; some statistical models projected as high as 49. The Pistons were effectively the Melissa McCarthy movie of preseason expectations last year; they had a tremendously high ceiling and an especially low floor.
Spoiler alert: They smacked against the floor so hard they turned to a splat like a paintball shot straight down. Mo Cheeks was fired as coach after 50 games, and the season would eventually cost GM Joe Dumars his job. Seasons can go bad for all sorts of reasons. Injury, off-court trouble, rebuilding projects. But the Pistons were the worst kind of failure. A team that had talent, and money invested in that talent, that failed because no one played well.
Which leads us back to Jennings.
Jennings wasn't the worst Pistons player last season. That's the amazing thing. He shot 37 percent from the field and was definitively one of the better Pistons, not only in terms of results, but his decision-making on the floor. Jennings took a lot of flak for the way he played, but there were subtle differences between what you watched and the numbers, which actually give you a brief glimpse of optimism.
(If you're wondering, the worst Piston was Josh Smith, who took 3.4 3-pointers per game, shooting 26 percent, followed by Greg Monroe who was sucked in by the vortex of how Smith messed with spacing. In truth not many of the Pistons played badly individually. It was a collective failure, but Jennings was on the positive side.)
The big takeaway from Jennings' 2013-14 season is that his good decisions were better, his bad decisions worse. When he passed and managed the offense, he was effective and efficient, when he tried to take over himself, he struggled more than he had in the past.
First, the bad news. Jennings still takes a lot of terrible shots. Jennings was 27th overall in the league in total number of shots from isolation possessions. But isolation possessions aren't bad in their own right. For example, Kevin Durant is fourth in total isolation possessions, and he's first among all players that had 100 ISO possessions last year.
Brandon Jennings is not Kevin Durant. Jennings was 47th out of 69 players on that list. (Who was second-to-last? Say hi to fellow Piston Josh Smith!)
Jennings routinely would seek to probe the defense, trying to get to the rim, which is a good idea. This is key. Jennings has legitimate intentions to try and create a good shot. It's just that when the secondary defender floats to the strong side to cut him off, typically the answer is to pass or reset the offense. Jennings instead loops the corner (habitually on the right side) and waits while the defense closes in on him. By that point enough time has elapsed to "force" him into a step-back jumper, which, let's just say he's pretty fond of shooting. You don't exactly have to cajole him into taking that shot. He runs into the sweet bosom of the step-back jumper like he's embracing a beloved family member.
Jennings does things like this:
And again, you can justify those decisions if you're able to make those shots. So is Jennings able to make those shots? Did he improve in his shot making or shot selection, at least, last season?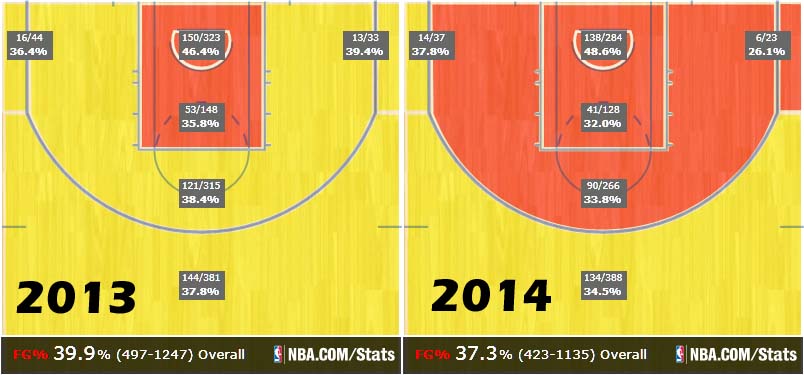 Yeah, not so much. He actually got worse, and took more shots from worse places year over year. Which all leads to this: Jennings should not shoot nearly as much as he does.
But here's the thing. Last season? He actually started to shoot ... less? From Synergy Sports (click to enlarge):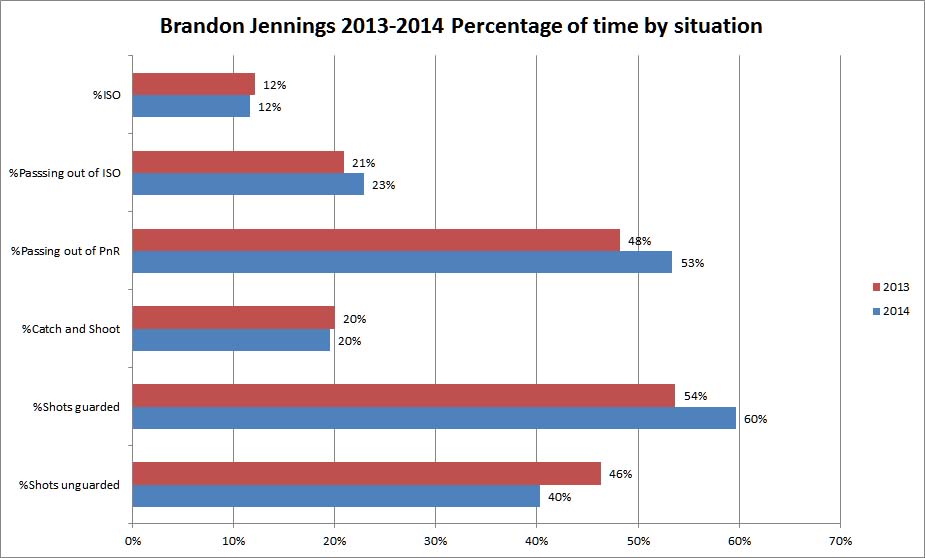 That's right, Jennings spent less time in ISO, and passed more often than he did the season before when he was in those sets. He passed nearly 5 percent more out of the pick-and-roll. All of this led to the highest rate of assists (8.0 assists per 36 minutes and 34.4 percent of all possessions) of Jennings' career.
And when he made those passes, man, was he good. Jennings is a gifted passer to moving teammates. That takes unique vision. He hits cutting players in stride, finds gaps in the defense when he loops underneath to give his bigs easy dunks, and looks for the corner shooter, especially in transition.
Which is why it's so maddening when you look at how often he shoots, and, as noted in the chart above, that when he does shoot, he actually managed to take more shots while defended than open than in years past. This, more than anything, is what caused my brain to ooze out of my skull and drip onto the floor like Gogurt after watching so many possessions. When Brandon Jennings is making good decisions, which he's capable of, he's actually a productive, efficient and talented weapon that makes you want to invest in him.
When he's diving into the bad-decisions pool like Scrooge McDuck with his gold coins, he makes you want to slam your head against the wall until things go dark.
With a new coach in Stan Van Gundy, Jennings is going to have to improve. Van Gundy won't just object to bad decision-making, he's empowered as president of basketball operations to actually act on it on the personnel front. He doesn't have to worry about benching Jennings and then dealing with his boss. He is the boss. At the same time, with a more wide-open system and some shooters that can actually, oh, say, put the little round object in the orange thing with the net, Jennings could thrive.
Was Brandon Jennings better last season? His best was better and his worst was worse. Adjusting that equilibrium will determine if the 24-year-old can capitalize on all that potential and become more than just "that guy that scored 55 his rookie season."
Statistical support provided by NBA.com, Synergy Sports, and Basketball-Reference.
A report last week indicated Charlotte is looking to move Walker, along with one of its hefty...

Barea responds by claiming that none of Wall's teammates like him; the Wizards continue to...

Cousins finished with 44 points, 24 rebounds, and 10 assists
Love left Saturday's game, which the Cavs lost 148-124, due to illness

Kidd was fired by the Bucks on Monday afternoon

We've got all the scores, highlights and news from an NBA Monday