The Kevin Durant-Russell Westbrook duo leaves you in pain
After another strong effort in their 122-105 win over the Los Angeles Lakers, the Kevin Durant-Russell Westbrook duo is leading the best offense in the NBA.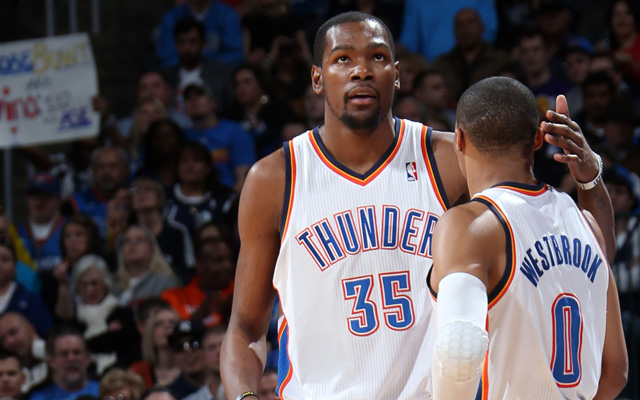 Kevin Durant and Russell Westbrook aren't guys you want to step in the ring against.
(Getty Images)
I'm not breaking any ground here when I say the duo of Kevin Durant and Russell Westbrook might be the best two-man combination in the NBA today. But the dynamic duo for the Oklahoma City Thunder has helped catapult this thunderous offense into the league's best offense after a 122-105 victory over the Los Angeles Lakers.
As you look at the challengers in the Western Conference, some of the teams have wing players who can attempt to slow down Durant's versatile attack and some teams have the perimeter defenders to try to slow down the bullet train that is Westbrook moving his way toward the basket ahead of any defensive rotation schedule. But finding a team with both capabilities could be a very tall task.
We all know about the importance of defense in the NBA and that it wins championships. The clichés are clichés because there is truth to them. And the Thunder currently sport the sixth-best defensive team in the NBA right now. Even with as important as defense is, it's the league-best 110.7 points per 100 possessions the Thunder are putting up that really fuels their title talk. And all of that starts with the Westbrook-Durant combination.
Earlier Tuesday, I went down the YouTube rabbit hole of watching full boxing matches of a young Mike Tyson. I watched his fifth professional fight, when he pulverized John Alderson in two rounds. I watched him obliterate the existence of Michael Johnson 39 seconds into Tyson's eighth professional fight. I relived Mark Young and Reggie Gross show the same fear and abandonment of their game plans as soon as Tyson came after them that we saw with Michael Spinks when Tyson defeated all three of them, unifying the heavyweight titles after the 91-second destruction of Spinks.
Watching Durant and Westbrook operate against the Lakers on Tuesday night, I couldn't help but feel like I was reliving the same boxing clips that I had watched with Tyson earlier in the day. The combination of Durant and Westbrook is the perfect balance of exquisite technique and unstoppable power. The footwork of both players looks flawless, keeping them stabilized while they leave their defenders sliding out of position. 
With Durant, we see a beautiful side-to-side game that pulls defensive players out of position and into an uneasy deep end of the pool, in which they keep searching for the bottom with their toes. He plays with your recovery before seemingly growing bored with dance and finishing the play with a deadly jumper or a surgical drive. 
The Westbrook side of it is the onslaught of haymakers that you would see from Tyson as an early boxer. Everything looks wild and out of control. His spontaneous movements lull you into a false sense that you're capable of a counterpunch. But really, you just have to hope he continues to miss his intended target. Westbrook attacked the Lakers' interior for 13 shot attempts in the restricted area, almost disrespecting the idea that a three-time Defensive Player of the Year winner was protecting the rim. He made nine of them. 
And he never stopped attacking with his dribble. It was like watching Tyson duck in against an opponent, pop up on the other side and land a three-punch combination before the defense knew what it was trying to stop. It's the reason that Westbrook is third in the NBA in restricted area shot attempts, behind only Greg Monroe and David Lee.
This technical and yet seemingly reckless attack is all part of the destruction the Thunder's offense is throwing against the league. They know they're going to defend and force turnovers to get easy transition points. They know when you get back in transition, you're probably sacrificing halfcourt matchups in order to stop the fast break. That means you're at a disadvantage in man defense, which means your rotations have to be crisp. When they're not crisp, cutters and spot-up shooters are waiting to find your weaknesses. And even when they are crisp rotations, you still don't have a good chance at winning the little battles that make up the war.
It's why the Thunder have a league-best net differential of +11.0 after their 44th win in 60 games.
The Thunder are fueled by the Durant-Westbrook combo, leaving a probability of destruction in their wake. It's not that you can't stop them; it's that they probably won't allow you a moment to catch your breath before you realize the next haymaker is about to land on your chin. 
Good luck with that.
Eric Bledsoe will not be playing against the Kings. Could there be more to come?

J.R. Smith back in the starting lineup after Dwyane Wade's early struggles to start the se...

Travis Schlenk, a former Warriors exec, told CBS Sports' Bill Reiter that Golden State tanked...
The ex-Warriors assistant GM shares his philosophy on scouting and why Golden State had so...

The Suns have been doomed for awhile now it just finally came to a head this season

Andre Drummond is making his free throws now, and Pistons coach Stan Van Gundy says this is...