The Klay Thompson decision delivers pressure on both sides
The Golden State Warriors wouldn't trade Klay Thompson for Kevin Love. Now there's immense pressure on Thompson and the Warriors moving forward.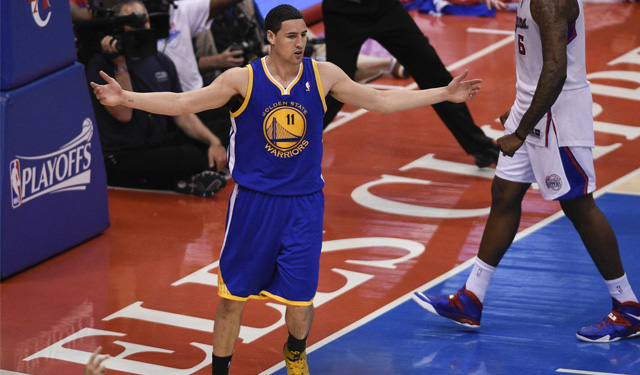 More Offseason Analysis: Coaching changes, news | Free Agency | Draft
The Golden State Warriors could have had Kevin Love but chose to not give up shooting guard Klay Thompson in the deal. Love is arguably the best rebounder in the NBA and has also been in the top 4 in scoring in two of the last three seasons. He's one of the best offensive weapons in the NBA, and though he doesn't exactly scream two-way player, he could have formed a devastating two-man game with Stephen Curry.
Both players have been known to treat a defense like this.
Thompson has been the most prolific 3-point shooter in NBA history through the first three years of a career, and has become a valuable shooting guard on both ends of the floor -- though shooting guard, at the moment, is probably the weakest position in the NBA. The Warriors weren't willing to give all that up and now they're stuck with what they've got. Fortunately, what they've got is really good. 
This is a team that won 51 games last year, and after improving its bench and possibly its coaching during the offseason, the Warriors could finish anywhere from third to seventh in the Western Conference this season. Their seeding and possible home-court advantage could push them into the second round and if everything goes right, they could be in the Western Conference finals for the first time since 1976.
"Everything going right" likely involves a season of improvement from Thompson and the supporting cast around Curry. While Thompson looks to be one of the most promising shooting guards in the NBA, he's still not much of a playmaker for himself or others. He's a catch-and-shoot master. He's a good post player for a guard. But he's not a guy that will regularly break a player down off the dribble, which limits just how deadly he can be long-term on offense. Unless he becomes the new version of Peja Stojakovic, Thompson's ceiling is lower than what the return on a Love trade would be.
The defense certainly helps. While Thompson regularly seems to get lost in help defense, he's proven he can be a pest on the ball. He hounded Chris Paul at times during the playoffs. He can defend three positions pretty well. Get him comfortable in help schemes as a defender and he'll be the total package on that end of the floor. That gets him closer to maximizing his potential, but it's still arguable whether that would match what Love would've brought to this team.
This puts immense pressure on Thompson heading into this season, but that pressure doesn't just reside with him. The pressure will also be on the Warriors as soon as training camp hits. Heading into his fourth season, Thompson is eligible for a contract extension that would begin in 2015-16. The Warriors and Thompson have until October 31 to come to an agreement on a contract extension. If they don't, he'll become a restricted free agent in the summer of 2015.
Considering the Warriors just passed up on Love, they can't risk Thompson getting away and that may mean giving him a max contract off his rookie deal. Whether that comes in negotiations before the extension deadline at the end of October or in restricted free agency if a team tries to pry him away from the Warriors, this organization is committed to Thompson both because they believe in his ability, and because they don't really have a choice.
Thompson's agent Bill Duffy can and should use this to his advantage in negotiations. It will also mean that Thompson's game will be under a magnifying glass like he's never experienced. Both sides are now married to the same pressure over a decision made this summer that will have huge ramifications on the present and future of this franchise. Whether that means All-Star selections for Thompson or conference finals appearances for the Warriors remains unclear.
How they respond to the pressure will determine how we ultimately view that decision.
Miami is on Irving's list, but this package still wouldn't be enough to get a deal done

Some teams want to fight the Warriors, others want to 'fight' for the right to draft Michael...

Oklahoma City has reportedly offered the MVP a five-year extension worth over $200 million
The big man was a big part of the Warriors' championship run last season

The Cavs jokes were out in full force after Golden State reportedly agreed to sign Antonius...

New York seems to be at the top of Irving's list of preferred destinations