The Lakers' offense under Mike D'Antoni
The Lakers offense under Mike D'Antoni will be more dynamic and different from what it has been running. We look at how it will be different and similar to the 2005 Phoenix Suns.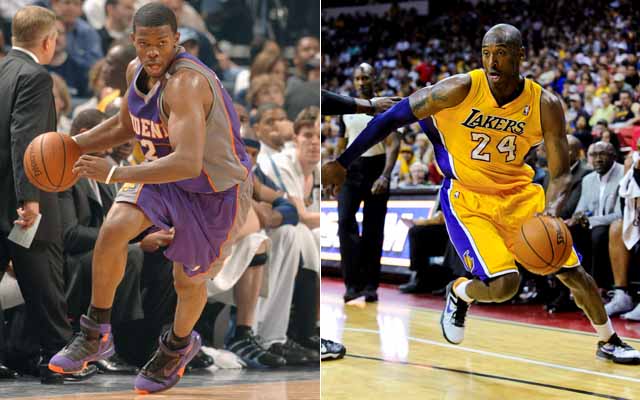 How the future could mirror the past.
(Getty Images)
As Mike D'Antoni prepares for his first game as Lakers coach, whenever that occurs, everyone in the basketball world is trying to establish what we're going to see. Most fans know of D'Antoni from his time in New York and Phoenix, where he created one of the most prolific offenses in NBA history.

What's interesting is that very few people know or remember exactly what that offense looked like. They just know it was fast, Amar'e Stoudemire and Steve Nash were good, and the Suns scored a lot of points. The memory resembles something much more akin to Don Nelson's Nellie ball, a free-firing system with no regard for what shot goes up.

The motto "Seven Seconds or Less" implies a sort of carelessness, a recklessness about exactly how the team functioned. But in truth, the objective was to simply run their sets faster than teams could get into their defensive positions. If you get the ball across halfcourt in three seconds, you have four seconds to run the pick and roll. If you know what you're doing, you can run your sets fast and execute, constantly. That's the central concept, not to disregard decision-making offensively.

But even then, this Lakers team, D'Antoni has made clear, won't be running that up-tempo. There's a happy medium between seven seconds of less and the plodding, "getting-into-initial-sets-with-15-left-on-the-clock" offense Mike Brown was running. Faster, not fast. Efficient, not reckless. Effective, not effortless.

But if we're trying to understand how this team fits, and specifically the most important member of this team, Kobe Bryant, with Nash out, we should look at the 2004-05 team that featured Nash, Stoudemire, Joe Johnson, and Quentin Richardson, in a surprisingly efficient role.

Johnson is known for his ISOJoe time in Atlanta, but in Phoenix, the set he ran most was the pick and roll. He was in that set 22 percent of the time. He was used as a spot-up shooter less than that, and played in transition actually less than that, at 18 percent.

And he was effective in all of them.

What may surprise people is how often the Suns used isolation. For a team known for its ball-movement, they had possessions end in isolations 12 percent of the time, a higher figure than it sounds. And they were extremely effective in it, finishing third in points per possession from that set, according to Synergy Sports.

The secret there is spacing. If you have the right set of dangerous weapons and you space them well, you allow good players to use their talents. Isolation isn't inherently bad; it's bad if the defense is expecting it, if it's set and geared to stop it, if it's one-on-three not one-on-one.

And in truth, this set looks like it could be phenomenal for Bryant, who's already having a career season in efficiency. Bryant's a premier post-up player, with a dizzying array and great instincts in the high and low post. Using the pick and roll with Dwight Howard will force the defense into bad decisions.

The Lakers will still need someone to space the foor. There's a reason D'Antoni mentioned Jodie Meeks almost immediately. He's going to have to step up because Metta World Peace is not that guy.

Bryant, though, will have a field day, particularly when Nash gets back. The offense will push the tempo, not enough to compromise their defense, but enough to force the defense to focus on what's coming at them and not Bryant slipping to the corner or wing for a three. It will allow him to handle the ball a considerable amount without simply bailing on any play set and just hoping he delivers, as it so often did under the magical triangle offense.

Don't expect "Seven Seconds or Less." But expect a stronger, more effective, more urgent offense that allows the team to play effective defense. The questions about D'Antoni's effectiveness in New York can be answered by looking at the decision of players to buy in or not (not to name names). There's little concern here.

Everything should work for the Lakers.

Then again, we said that before the season.
Golden State led by 17 on ring night, but they missed Draymond Green and Andre Iguodala in...

Durant's shot is too late and the champs lose; Hayward's awful injury overshadowed Cleveland's...

Chris Paul sat out the fourth quarter of the Rockets win due to an apparent knee injury
Durant couldn't quite get the shot off in time, and the Rockets prevailed

Draymond Green walked off the floor limping and rubbing his knee in the third quarter

Golden State raised its second banner in three years. Now they start their run for another