The Lakers put up a fight for their city, if only for a night
The Los Angeles Lakers were supposed to get destroyed by the Los Angeles Clippers, but used good coaching and determination to reverse their destiny.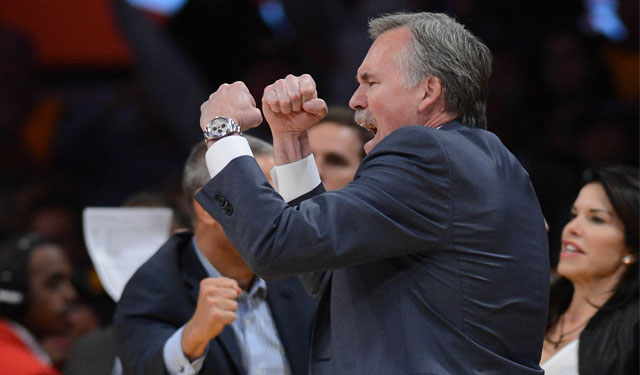 One thing seemed to get forgotten in the chaos of the Dwightmare with Dwight Howard and the Kobe Bryant Achilles tear after having to push his body to the limits to help the Los Angeles Lakers make the playoffs and avoid a historic failure: Mike D'Antoni is a pretty good coach.
Probably half of the people reading this article just laughed out loud because judging a basketball coach is really hard to do and somehow we've turned Mike D'Antoni into a joke. Basketball is the one sport in which individual play can dominate an entire season. When that individual talent isn't enough to quench our desire for re-writing history, we start looking for someone to blame. 
In the case of the Lakers last season, D'Antoni was that scapegoat, even more than Dwight was. There were injuries and there were bench issues, but ultimately Mike D'Antoni couldn't get a team we assumed would march toward a championship to play together. It left a lot of people with confirmation that the Lakers chose the wrong guy for the job when they spurned Phil Jackson for the position. But the important thing to remember is D'Antoni didn't inherit a roster built for him; he inherited a roster built for Mike Brown.
There's a big difference in those two concepts.
That doesn't absolve D'Antoni for the failure in his duties last season. He catered to Dwight in order to hope he would stay long-term. He didn't develop the role players on the fly and he didn't adjust well when Pau Gasol and Steve Nash were hit with injuries. He did a bad job, but does that make him a bad coach?
In a transition year for the Lakers, as they wait for Bryant to return to save this cast of one-year vagabonds, D'Antoni has a chance to do what we've seen him do so many times in the past: he gets to build up fringe players into contributing members of his scheme. When the Lakers rolled over the Clippers on opening night, we saw a product of role players yearning for the chance to make a name for themselves in that hallowed Lakers jersey. D'Antoni had them prepared for a chance to make a name for themselves and they took advantage of that opportunity.
What D'Antoni does so well is he takes a set of offensive principles and drills it into his role players. When they're presented with the situations in the game, they instinctively attack and do so in his patented organized chaos. It's what you saw from their 29 attempted 3-pointers or their 26 points off of 18 Clippers turnovers. It's how a fourth quarter lineup of Jordan Farmar, Xavier Henry, Jodie Meeks, Wesley Johnson, and Jordan Hill played every second of the final period and dropped 41 points on their opponents.
Is D'Antoni a good defensive coach? Well, he's not as bad as his reputation but he's not as good as he needs to be. Maybe that means he's not a good defensive coach? What we may get to see is D'Antoni actually get to coach a team, without distraction and without expectation of coming through on a seemingly guaranteed title shot.
This Lakers team will have problems. The shots won't fall all the time and when they don't, the Lakers will have to find another way. That's when it could get ugly. They weren't presented with that situation Tuesday night. What they were presented with was a perfect storm of everything they work on clicking and nothing being taken away from them, causing them to adjust. 
When that does happen this season, it's important to recognize that this team is capable of squashing the joke they're supposed to be when the moment is right. They're capable of being a dangerous, offensive juggernaut that can make you commit to a full 48 minutes or suffer the embarrassment of losing to a team we are supposed to giggle at this season.
Eventually, Kobe will come back and we'll see how D'Antoni adjusts his style around the superstar. Until that point, watching him coach a bunch of players people overlook is pretty fun. Because within the last couple years, we've overlooked Mike D'Antoni for some reason. That might be a mistake.
An old rivalry is reignited between LeBron James and the Cavaliers and John Wall and the W...

SportsLine's Mike McClure, a DFS pro with more than $1M in winnings, gives optimal lineup...

LeBron had 29 points, 11 rebounds, and 10 assists in the Cavs' 109-100 win over the Jazz
The montage showed Carmelo's best Knicks moments before playing the Thunder game

KCP can't leave California for 25 days due to the terms of his pleading guilty to a misdemeanor...

Keep it right here for all of the news, notes, scores and highlights from around the leagu...