The LeBron James Free-Agency Decison 2.0 Primer
A guide to the next year of discussion as LeBron James gets set to possibly enter free agency for the second time in four years.
July 8, 2010: 
Jerseys were burned. Comic Sans was used. A press conference for the ages came about. And everything changed. 
In one sentence, Lebron James irrevocably changed the landscape of his career, the NBA and sports free agency. It set off a firestorm of controversy, an unparalleled year of public vitriol for a player who never had been arrested. For months, there were rumors of a team-up with Dwyane Wade, of a departure for somewhere new. But the smart money was always on him re-signing with Cleveland, because before that summer anything else was unthinkable, until it happened. 
In a little more than eight months, James will decide whether to exercise his early termination option on his contract for 2014-2015 and become a free agent. It's widely expected that he will, because if you give a player with max money potential -- even under a new CBA -- the opportunity to go for a longer deal and more guaranteed money, he will. It's not assured. James could decide to waive his opt out, and stay with the Heat for another season. He has a player option for 2015-2016.
So yeah, that means we could be doing this dance for another three years. Fun.
It is an inescapable story. Even as James and the Heat gear up to try and do what only four teams across three franchises in NBA history have accomplished, a threepeat, The Decision 2.0 hangs over everything. It will affect what teams do this season to try and lure him. It will affect the questions James deals with on a daily basis. 
And it will be something people want to talk about it. It's too big not to. And because it's so big, there will be people who want to talk about how we shouldn't want to talk about it. And then there will be reactions to reactions to reactions. You can find all this unnecessary and try and avoid it. More power to you, because there is no way to avoid this story. 
Not after July 8, 2010. 
We decided to canvas the Eye on Basketball writers for their thoughts on the upcoming year of talk leading up to The Decision 2.0 and what the main contenders have to offer The King. As of right now, the only main contenders are the Heat to retain James, the Cleveland Cavaliers, and Los Angeles Lakers. We'll reassess throughout the season if other candidates emerge.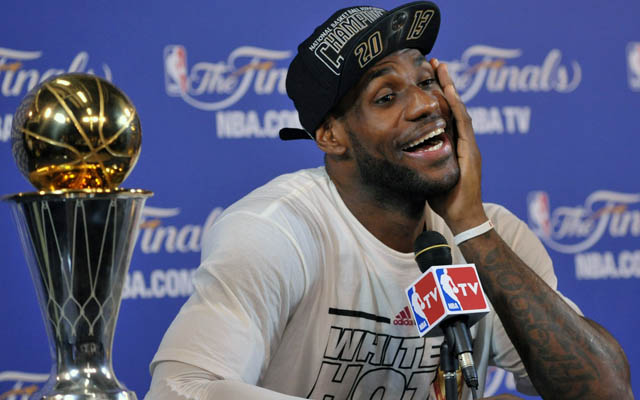 1. If I absolutely had to answer the stupidest question about basketball possible, I would say that the percentage chance of LeBron leaving the Heat next summer is:
Matt Moore: 45 percent. I think the Heat retain the edge, but I also know this. LeBron James and his marketing arm, LRMR, have always had their eyes on bigger prizes. Championships, becoming a global entity, James being a billionaire. Re-signing with Miami means complacency. That doesn't sound like what they've been after since the start. 
Royce Young: 15 percent. Why would he? Why mess with a good thing? Obviously this season could influence it some, but with all the years he struggled in Cleveland and for all the reasons he left to go to Miami, he'd be taking a gamble that the clock wouldn't turn back and it would be the same situation all over again. Unless, with two titles in his pocket he has more confidence that it wouldn't be that way and a self-belief he didn't have before that he can make it work anywhere, I just don't see it.
Zach Harper:  7.8 percent. Why 7.8 percent? I don't really know. I wanted to pick something low because it's hard to imagine him having a better setup than he currently does. Yeah, Dwyane Wade hasn't looked his best the past year, but Chris Bosh is still a phenomenally underrated player in this league and someone that is a huge difference-maker. Even if Wade re-signs for decent sized money, I think there potentially could be enough flexibility to bring in another key player (whether that's a star or not, I don't know). Otherwise, you're essentially starting over in a new place and unsure if it can be as successful as what you currently have.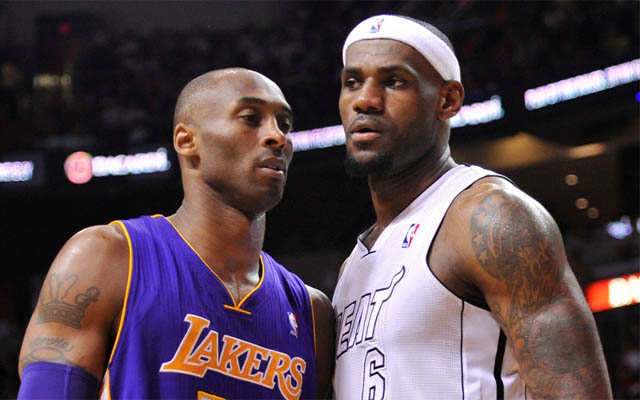 2. What do the Lakers offer LeBron next summer, and why he should sign there?
Matt Moore: Access to a bigger brand. His brand is already phenomenally huge. But being a Laker opens up China more to him. Working in LA opens up the ability to work in entertainment on features consistently. And there are more Lakers fans than any other fan base in the NBA. It's just a fact. The Lakers are the biggest brand. Merging with it only makes him stronger. 
Oh, and as a side note, James gets to go to the pre-eminent superstar who has never reached out to him, never embraced him, and never publicly given him respect and not only take over his operation, but force him to acknowledge he needs him. That's the ultimate power play, and one that only LeBron James can exert. If Kobe Bryant wants ring No. 6 as bad as he says he does, he needs James. 
Royce Young: That they're the Lakers. That's pretty much the pitch. Winning in Miami is cool, winning in Cleveland would be sentimental, but winning with the Lakers is forever. 
Zach Harper: "Winning with the Lakers is forever." Royce, that's a beautiful pitch. I wonder if they were able to deliver that to Dwight Howard while Kobe Bryant was screaming at the big man to pass the ball more if he re-signs. It's true though. It's hard to think of LeBron James being a bigger deal than he is, but if he went to Los Angeles at this point in his career and decided to start from the bottom with them, turning it around for even one championship would bring one of the biggest fan bases into his corner. That probably would have mattered a lot to 27-year-old LeBron James. But does it matter now?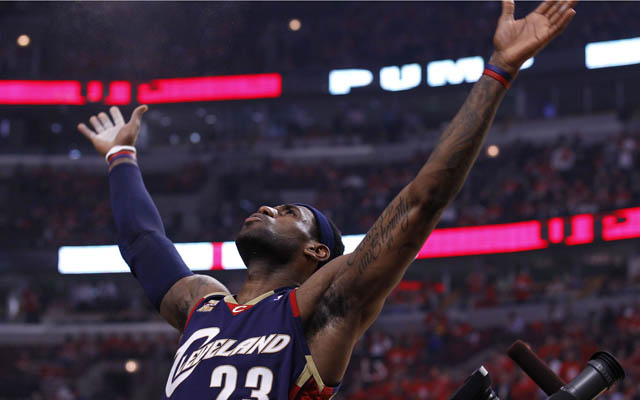 3. What do the Cavaliers offer LeBron next summer, and why he should sign there?
Matt Moore: Home. I disagree with my colleagues. I don't believe James truly believes he did anything wrong with The Decision, but that he did it in the wrong way. He has won at least two titles in Miami. He had to do that for his career. That's justification enough. 
But no matter where you go, or what you do, or where you become, if you have roots somewhere, they stay with you. Going back to Cleveland gives him the chance to go home, somewhere he loves, and be embraced again. And beyond that, he gets to go to Cleveland's next great superstar, Kyrie Irving, a friend of his, and give him the help he never got with the Cavs. Helping out the younger stars has always been something James has wanted, along with family. Going home gives him that peace. 
Royce Young: The opportunity to say I'm sorry. But that's almost a way to acknowledge he has regret for leaving and moreover, it puts more pressure on him than ever. It's like he'd be returning with a neon banner that says, "Hey guys, I'm coming back to win you that title I promised." And if he doesn't succeed, he damages his legacy. At the same time, if he pulled it off, the legend of LeBron would only grow. High-risk, high-reward move.
Zach Harper: Redemption, right? It's not even about the talent they've accumulated to either trade for a third star or facilitate a sign-and-trade with Miami if one were to appear during such a decision. The talent is nice and being able to team up with Kyrie Irving would be a formidable duo. But ultimately, it's only about redemption. LeBron gets to apologize for not delivering on a title in his first stint and Dan Gilbert gets to apologize for the way things ended by showing him the work relationship is even better the second time around. You play to LeBron's heart.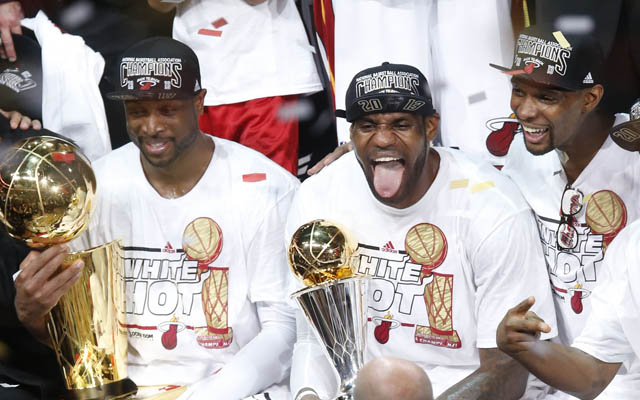 4. What do the Heat offer LeBron next summer, and why he should stay?
Matt Moore: Over $20 million guaranteed, and if he does opt out and re-signs, the chance to stucture his contract in such a way as to add more talent. There will be some big names in the years to come becoming free agents and James knows he's enough to win with what they have now. Why go join another empire when you can wait and bring your friends and enemies to you? Isn't that what Kings do?
Royce Young: Stability and probably the best chance at continued success. The Lakers would spend and they'd have the resources to build something special. But changing situations always creates uncertainty and uncontrollable variables. With the Heat, LeBron knows what to expect. He knows what Pat Riley provides, what Micky Arison is willing to spend and how Erik Spoelstra will coach him. And that dynamic has worked pretty well so far.
Zach Harper: You turn him into Magic Johnson. You start talking up being a future cornerstone of the organization. This goes beyond the duration of the next contract and adding more titles. You offer him the opportunity to run South Beach in a totally legal Tony Montana way. LeBron eventually gets the chance to be a part owner of the organization and have input on decisions for the roster past his playing career. Maybe you even start finding a way to pick his brain about replacing Pat Riley in 15 years? There's not much more you can do for him as a player, so you make him what Michael Jordan couldn't be; a champion beyond the playing years.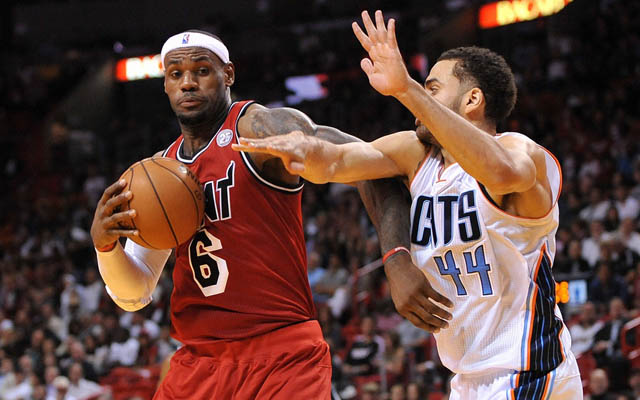 5. Give me one crazy-ass scenario that's outside of the box that happens for next year.
Matt Moore: In the summer of 2015, the Knicks will have enough cap space to sign two max players, should Carmelo Anthony change his mind and not opt out of his current contract. Imagine James walking into Madison Square Garden, five years after turning them down, having secured his legacy with the Heat and 
a. saving the career of his good friend Carmelo Anthony by delivering him a title
b. embracing New York and the city of his good friend Jay-Z
c. getting to bury the Nets who this summer took on his nemesis Kevin Garnett and Paul Pierce (both will likely be gone by then but still)
c. playing in the same city as his beloved Yankees 
d. become a god in the most powerful city on Earth. 
Oh, and any set of friends are going to be competitive. Going into Melo's house and putting his own banners up is a nice power move. 
Royce Young: Mikhail Prokhorov throws down all of the money and pulls off a stunning triple sign-and-trade for LeBron, Dwyane Wade and Chris Bosh to combine with Deron Williams. I'm trying to think of something crazier (sign-and-trade exchanging Russell Westbrook for LeBron so that the two best players in the world join forces?) but that's about the best I can do. Outside of LeBron signing with the Bobcats. Because that's obviously the least likely scenario.
Zach Harper: He doesn't opt out. LeBron James decides to risk the the extra year of security and big money in the hopes of figuring out a way in 2015 to go somewhere that can lure Kevin Durant in 2016. Maybe that's leaving things open for the Lakers past this summer. Maybe that's deciding to see if the Knicks can clear room in 2015 to become the major players of the league. Winning with the Lakers is forever, but turning the Knicks into a big deal that we don't dismiss in the second round of the playoffs is double forever. If he really wanted to troll people who previously hated him whilst egging on Lakers fans for the slander provided in the defense of Kobe Bryant, he could wait for the Celtics to clear room and sign there. The possibilities are endless!
Keep it right here for all of the news, notes, scores and highlights from around the leagu...

LeBron tried to keep what he said a secret, but one mic on the court picked it up

SportsLine's Mike McClure, a DFS pro with more than $1M in winnings, gives optimal lineup...
'It's not just about me, it's for the next crew as well,' LeBron said

Kobe the rookie had no fear facing off against Michael Jordan the legend. Then he gave up a...

Once again the Jazz will be without Rudy Gobert due to injury. How will they fare?