The Leftovers: Best remaining NBA free agents
A look at the best free agents including Greg Monroe, Eric Bledsoe, Shawn Marion, Ray Allen, and ... Michael Beasley?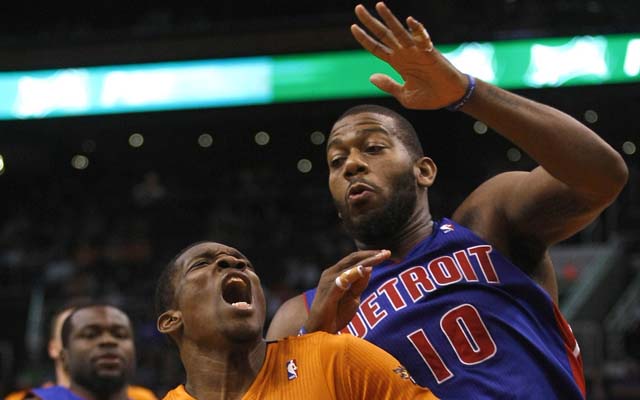 More Offseason Analysis: Updating Free Agency news | Free Agent tracker
Free agency's just about wrapped up. Summer League's finished, Team USA will ramp up in the next two weeks, and the rest of the NBA is headed for its annual, brief two month hiatus as players, coaches, executives scatter for vacation. 
But there are still a few marquee guys left out there for teams to add. Here's a look at the leftovers, 20 free agents still available in free agency. You can see their overall rankings in our free agency tracker as well as find out where the rest of the class signed in our free agency tracker. 
1. Eric Bledsoe, PG, Phoenix Suns (No. 6 overall) (RFA): And still, Bledsoe hangs in the ether along with Greg Monroe, wondering what a guy's gotta do to get someone to make a stab at him. What, the Lakers don't want to tie up cap space while the Suns take the 72 hours to match so they can keep themselves free to add guys like Carlos Boozer and Jordan Hill? The Bucks are honestly so busy congratulating themselves on landing Jason Kidd that they don't want to give themselves a shot at Bledsoe? 
The Suns are going to match. Good on them for making it known so well that no one wants to test them on it. But that doesn't change the fact that there's a difference-maker point guard available and no one's making a run at him. Someone, for the love of God, take a stab at Bledsoe. 
2. Greg Monroe, PF/C, Detroit Pistons (No.7 overall) (RFA): Monroe's people are reportedly considering having him take the qualifying offer and enter unrestricted free agency next summer. That's how you know things are incredibly tough for him right now. Monroe doesn't want to go back to Detroit and the Pistons aren't knock-down-drag-out about keeping him. But they're not letting him go for nothing. You have to make an offer. But for teams who are hanging out there, there is every reason to try and pry him out. 
3. Ray Allen, SG, Miami Heat (No.21 overall): Allen was ambivalent about returning after the end of the season, and after the departure of LeBron James to Cleveland, Allen took off for a vacation to think over what to do next. His choices: 1. retire 2. join the Cavs 3. return to the Heat 4. find some other contender.
Allen remains the kind of player who can put a contender over the top and will still be hotly recruited by teams like Cleveland.
4. Shawn Marion, PF, Dallas Mavericks (No.23 overall): The Mavericks decided to add veterans but the Chandler Parsons contract took up most of their cap space and now it's considered unlikely that Marion returns. Marion still averaged 7.4 rebounds per 36 minutes last season at a decent percentage (11.9 percent).
The Clippers, Lakers, Thunder, Hawks, Suns, Pistons, Rockets and Heat should all take a look at Marion. He's a quality defender who brings a veteran attitude and professionalism, can still score, and is a quality rebounder. He's still a plus player at his age and the market drop on him should allow teams to get him at a discount. 
5. Emeka Okafor, C, Phoenix Suns (No.24 overall): The former Bobcat missed the entire season after suffering a severe neck injury. Even if he's set to miss some part of the season, it might be better to secure him now. Okafor's not going to set the world on fire, but given the horrific nature of rim protectors in this free agent class, it might be a good call to lock him up. 
Okafor pre-injury wasn't offensively skilled but wasn't a complete zero, either. And defensively, he's one of the best big men in the league. The neck injury is a major concern, but if he's available, it's worth considering. 
6. Andray Blatche, F, Brooklyn Nets (No. 26 overall): Blatche had generated interest from Toronto early in free agency, but no deal manifested itself. Now the market has widely dried up and it's questionable whether Blatche will get a significantly better offer than the $1.43 million player option he left. 
If a team can get Blatche now to come off as a seventh or eighth man, that's terrific value. What Blatche winds up getting after his up-and-down career arc is something to watch. As an additional scoring big, he could have a fairly big impact. But young teams should be wary of giving him multi-year deals given his history of attitude issues. 
7. Jerryd Bayless, PG, Boston Celtics (No. 38 overall): Bayless is reportedly close to signing with the Bucks, but has yet to ink a deal formally. He's quick, with scoring ability and over time has picked up enough veteran knowledge to run a team as a backup point guard. He's never been a perfect fit in the league, too small to play two-guard, too loose with the ball to play point guard. But as a combo guard, he's still able to make an impact 
Sacramento, Brooklyn, Atlanta, and the Lakers should probably give him a look along with Milwaukee. 
8. Mike Scott, SF/PF, Atlanta Hawks (No. 40 overall) (RFA): Scott's a lesser name but hung up in restricted free agency like Greg Monroe and Eric Bledsoe. Scott's an impact player, though. He averaged 18.6 points and 6.9 rebounds last season per 36 minutes last season, and was in the 85th percentile in offensive production per possession according to Synergy Sports. 
He's a long defender who can attack the rim out of the pick and roll, and is improving as a spot-up shooter. He's worth a front-loaded deal from a rebuilding team like Milwaukee or Utah to try and force Atlanta not to match. 
9. Mo Williams, PG, Portland Trail Blazers (No. 44 overall): The former All-Star has drawn interest from the Mavericks, and the Trail Blazers are open to bringing him back, they're just not pushing for him. He's essentially a lesser version of Jameer Nelson at this point, but he's still able to knock down some shots and run a team. Defensively, Williams can be taken advantage of and too often he goes into hero mode, still. 
But he's evolving into a version of Andre Miller that can still help teams win, just with his veteran playmaking ability. The Heat, Rockets, and Warriors should keep him on the radar. 
10. Jordan Crawford, G, Golden State Warriors (No. 47 overall): Remember that two month stretch to start last season when Crawford was dishing assists in Boston and everyone thought Crawford had made the jump? That was a fun joke. 
Steezus was traded to Golden State and never really found a role. He's best when he's pulling off what he did in Boston, dishing assists and making plays with his athleticism. But that goes against his fundamental, gunning nature, and when he goes back to chucking, his value evaporates. Crawford is entirely system dependent when it comes to his team. Rick Carlisle in Dallas would be a good fit. And Charlotte's got enough crazy people at this point, Crawford couldn't hurt anything. 
11. Ramon Sessions, PG, Milwaukee Bucks (No.48 overall): Sessions is drawing interest from his former team in Charlotte and the Bulls had interest before brining back Kirk Hinrich. He's not a pure anything, neither lethally efficient shooting, or great at managing an offense. He's just an all-around backup point guard, but one that's still experienced and ready to play. The Rockets should take a long look at him, as should the Kings and Warriors. 
12. Jermaine O'Neal, C, Golden State Warriors (No.57 overall): There's been so little on the Jermaine O'Neal front that some are beginning to think O'Neal is hanging it up for good. But O'Neal was still valuable last season, and rim protectors like him don't just go quietly into the night. Each team with a need for a veteran rim protector, like Miami and New York, should buffer up and make a bid. A guy willing to play for a team in contention, especially in a good market, has more value on veteran teams. 
Is O'Neal really done after how much of an impact he had last season for the Warriors? 
13. Al-Farouq Aminu, SF, New Orleans Pelicans (No. 60 overall): Aminu is limited offensively, but made big strides last season in terms of being able to be a weapon in transition. He attacks relentlessly and can make blocks on one end and convert them into scores on the other. He's starter caliber on a rebuilding team, and seventh-man material on a playoff squad. Any semblance of a jumpshot would be a Godsend for him.
14. Elton Brand, F/C, Atlanta Hawks (No. 62 overall): The former Clipper wants to keep playing and can still rebound and score a little bit. Miami should jump at him, as should, honestly, Cleveland. He might do more for them next year than Mike Miller. The Knicks should also take a look at him. 
15. Dante Cunningham, F, Minnesota Timberwolves (No. 63 overall): Facing multiple felony charges related to an assault and battery, Cunningham, if such issues are not your team's concern, still brings on-court value. This is, of course, pending the projected outcome of his trial and current standing with the league. Committing to him until that's resolved is difficult, but there's also no reason he can't bounce back if he can get his life together. 
16. Chris Douglas-Roberts, G/F, Charlotte (No. 76 overall): Versatile and athletic, CDR has scraped and clawed his way back into the league from overseas and the D-League. He's a worker and can do a lot of things but has never put his skillset together. Great low investment, high reward situation this late in free agency. 
17. Michael Beasley, F, Heat (No. 80 overall): He's still got his athleticism and a scorer's touch. As he matures, maybe's there's a place for him in this league that hasn't been found yet. 
18. Francisco Garcia, F, Houston Rockets (No. 83 overall): Was extremely useful for the Rockets for about a two-month period in 2013. 
19. Chauncey Billups, PG, Detroit Pistons: Billups may be headed towards retirement but if not, he's worth having around for veteran leadership and can play a few minutes in crunch if necessary. So basically, he's Mr. Normal-Sized Shot Provided The Situation Is Right in Limited Minutes.
Victor Oladipo just wants to live his life and enjoy his breakout season with his new team

Keep it right here for all of the news, notes, scores, and highlights from around the Asso...

LeBron has a player option for next season, and is expected to opt out and become a free a...
The Pistons will be looking to snap a five-game losing streak when they host the Celtics on...

Bryant offers some advice for Ball and other rookies about having a sense of urgency in the...

Burks has stepped up in a big way for the Jazz, averaging over 20 points per game since Rodney...