The NBA almost expanded to London, but isn't adding international teams any time soon
Imagine it's 2016 and the Portland Trail Blazers are heading out for a little East Coast road trip. Ahead are stops in New York, Boston, Philadelphia, London, Washingt-- wait, what? Yeah, it almost happened.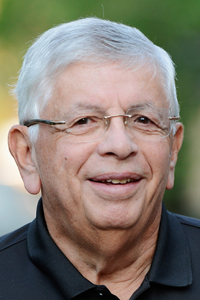 The NBA won't be outsourced to Europe any time soon.
(Getty Images)
Imagine it's 2016 and the Portland Trail Blazers are heading out for a little East Coast road trip. Ahead are stops in New York, Boston, Philadelphia, London, Washingt-- wait, what?
Yeah, it almost happened. Via the Boston Globe, David Stern was pretty set on the NBA expanding internationally.
There was a time when Stern had dreams of a team or even a division in Europe, a first in American sports. He was determined to devise a way for a group of teams in London, Rome, Paris, Madrid, Barcelona, and Berlin to compete with the 30 stateside NBA teams and even have a real world championship series.

Regardless of how uncomfortable the idea made fans who believe 30 teams was enough — and regardless of how inconceivable it might be to have a team in a time zone six hours ahead of the Eastern US — Stern was going to add the London Abbeys to the NBA.
But mostly that whole dreamed dried up. Why? Two things: First, the international economy was going in the tank. Second, there aren't any NBA-style arenas overseas. Most are 13,000-15,000-seat venues and don't have the luxury suites or concessions to generate the kind of necessary revenue.
"I don't think having a single team in Europe is practical," Stern said last week in Milan before watching the Celtics take on Emporio Armani Milano. "I never have.

"What I've said is if we're going to have an NBA presence here in terms of the league, it should be five teams. It's safe to say that there aren't enough buildings, there aren't adequate TV arrangements, we don't have owners, and I'm not sure we could charge the prices that would be necessary. I don't think our fans are that avid yet.

"But every year it gets better. Every year we have more fans. They tune into our games more. We now have an arena in London and one in Berlin that could probably house an NBA team. There is a planned renovation for Bercy in Paris that will be some years off."
That's what it's always going to be about. Is the arena NBA capable? If so, European expansion isn't so unlikely. NBA arenas give the opportunity for revenue if managed well. And the more popular the game becomes globally, the more chance there is for teams to be located outside the United States. Other than revenue, travel logistics are really the only major speedbump to work out. 
More Stern:
"In one of my recent visits here, there was a discussion about both an arena in Rome that construction ceased upon, and the possibility that there would be a new arena in Milano in connection with the world expo, but that's not happening, either," he said.

"So right now, it's the same two buildings, with the prospect of construction in France that will start in 2014. So, realistically, there is no short-term way that we could, I think, profitably consider that.

"So the mode for us is to work with the federations, work with FIBA, work with the leagues, and work with the Euroleague, which we're doing right now."
The NBA is already the second most globalized game in the world behind soccer, so it's natural to try to expand its borders. There's money to be made internationally. And building a bridge between the NBA and Euroleague would certainly be an interesting evolution.
But how about getting the NBA back to Seattle first and then maybe we can think about putting a team in Paris?
The Bulls lead by three with 10 seconds left but lost 116-115

Larry Nance Sr. starred for Cleveland from 1988-94

The hotline comes in the wake of the 'Sports Illustrated' investigation into the Dallas Ma...
Giannis, who spent last weekend in L.A. for the All-Star Game, says he loves 'low-key' Mil...

We have all the scores, highlights and news from the first day back from the All-Star brea...

Smart, set to return Friday, said doctors told him he was very lucky that the glass did not...