The Nets' chances of getting Dwight Howard improved with Teletovic's reworked deal
The Nets removed themselves from the Dwight Howard chase a few days ago. But with a little wiggling, they are back.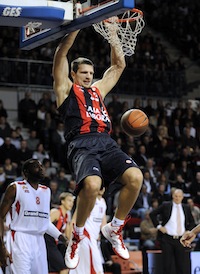 Teletovic will make less, but it's for the greater good.
(Getty Images)
Impossible.
That was the word, and the correct word, being used for Dwight Howard's chances of landing in Brooklyn. It was actually impossible for the Nets to make a deal for him.
Why? Because after the Nets pulled a sign-and-trade with Reggie Evans, re-signed Deron Williams to a $98 million deal and signed Bosnian forward Mirza Teletovic to a non-taxpayer fill mid-level exception three-year, $15 million deal, the Nets were set to have a $74.3 million hard cap come down on them. That's a rule in the new collective bargaining agreement. Use the full mid-level, you get a hard cap.
Which meant, no room for Howard. Impossible to slot him and his contract, even if it was for a few million a year, on the roster. With just seven players signed, the Nets already had $54 million on the books. And that's with them still needing at least six more players to fill out a valid NBA roster.
But according to multiple reports, the Nets have wiggled out of that mess and found a little life in their hunt for Howard. Somehow, they've renegotiated with Teletovic for him to take the "mini" taxpayer mid-level exception deal, with a first year salary of just over $3 million.
What happened here? First, it was really poor planning on the part of the front office of the Nets to not see this coming. Maybe they weren't completely versed in the language of the new CBA, but by signing Teletovic to that full mid-level deal, they nearly eliminated themselves from the chase they've been on for so long. However, whether it was through slick negotiation or faith in Teletovic, the Nets got him to take less in order to keep the Howard dream alive.
Now, there's one small hurdle to jump still: Putting together a suitable trade package for Howard. Which at this point, if the Nets had it, it would've been done long ago. They only have bit players to go with Brook Lopez and nothing as intriguing as what the Magic could solicit from some other teams. Though Howard's proclamation that he'd only re-sign in Brooklyn certainly helps their cause.
However, having those conversations were impossible earlier in the week after Teletovic's original deal. Now, the Howard-to-Brooklyn stuff has a pulse once again, if only a small one.
Lucky us.
The Cavaliers won the much-anticipated matchup, 121-112

Two of the league's most interesting teams will meet on national TV on Friday night

A mic on the court evidently picked up what the Cavs superstar had to say to the Lakers ro...
The idea was to bring Bell along slowly, but he's making it harder and harder to keep him on...

Donovan Mitchell kept the top spot in the rankings, but there was plenty of shuffling below...

Stephen Oh is 23-7 picking Rockets and Spurs games and just locked in a play for Friday