The promise and danger of Kyrie Irving's maturation for the Cavaliers
Kyrie Irving says he's maturing into the leader the Cavaliers need him to be. What does that mean for his future in Cleveland?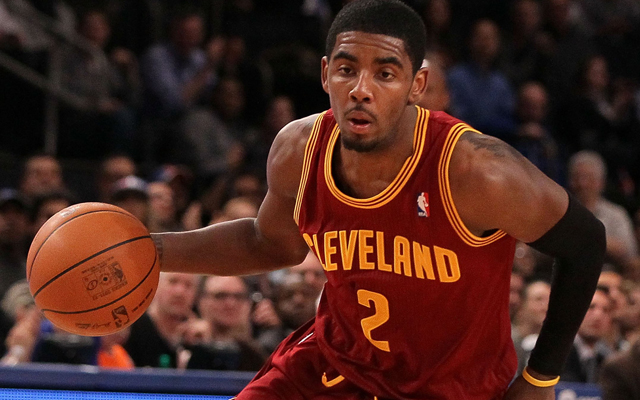 Before we get started,  Kyrie Irving  is going to be a Cavalier for the next six years no matter what, barring something catastrophic. He's on his rookie deal, and players sign extensions coming out of their rookie deals, especially when they'll be as lucrative as Irving's. He has the potential to play with a major star in 2014 and the Cavaliers have absolutely billed him as their future. He's not going anywhere. 
This is more about the path Irving is on and whether that path leads to growth with the Cavaliers, or beyond them. 
Irving has been turning heads in Vegas at the Team USA Basketball Camp in Las Vegas the past week, and not just with his play. He's shown an attitude adjustment that reveals that the 21-year-old has done some soul searching and is coming into his own. 
The Plain Dealer spoke with Irving, who opened up on why he has been more outgoing, and more "engaging" since the end of the season that brought questions about his attitude and leadership. Irving reportedly was unhappy with how last season's disaster unfolded, and walked off the court on Fan Appreciation Night at year's end without thanking the fans or giving away his gear. But he's taking a new approach this summer. 
"This is part of the plan that I've kind of planned out for my career and how I want it to go in terms of the third year for different guys in the league,'' Irving said. "They either get worse or they continue to get better. The third year is a big year for a person in my position ... kind of on the cusp, on the fence between being good and great."

So what happened? Did the losses get to him? And why the change in attitude?

"I wouldn't blame it solely on the losing, but just a lot of maturing, things that I had to get rid of," he said. "It's about being OK with being in that position and having all the expectations put on me, taking responsibility for the team, taking control of this team head on. I felt like I shied away from it at times.

"Now I'm ready to take this team full on and be the leader. Like I said, I had a lot of growing up to do."

Irving sounds a lot more introspective than the petulant young star who ran off the court at the end of the finale without sticking around for the traditional jersey and shoe giveaway.

"Obviously, it was a mistake on my end after Fan Appreciation Night," said Irving, who reportedly had a sore heel. "But losing a game that way in front of those fans. ... I'm pretty sure everybody understood, but it still wasn't the right way to leave on Fan Appreciation Night. I apologized for it. It's in the past now.''

Much introspection seems to have followed.

"I had to reevaluate myself and what I really want to become, or what I want to be known for," he said. "I don't want to be known as a guy who gives up games or takes plays off or anything like that. I want to have a consistent effort and be known as a great player. What makes those great players great is consistency every single night. That's what I have to bring.''
via Kyrie Irving has a new approach for the upcoming  Cleveland Cavaliers  season | cleveland.com.
All of this is good news for Cavs fans, because you never want your star A) to be unhappy or B) to be a malcontent. He wants to lead, and that's good. He apologized for his behavior, and that's good. But Irving's trajectory has been so meteoric, and provided he's healthy, should continue to be, that there comes with that a lot more than just being the best player for the Cleveland Cavaliers. 
Irving is set up to be a true superstar, and that's not entirely by the virtue of his talent. Many players have that kind of ability but never seek out the things that come along with it these days. Trips to China, global brand awareness campaigns, business development, iconic placement in the league, brand development, recognition as something more than just an athlete, but a celebrity concept with basketball as a conduit. 
You see this model in Irving's friend and mentor,  LeBron James . James has long built himself to be more than just the best player in the league, but to be an all-time great and a cultural entity identifiable for more than his jumpshot. It's an approach shared by some of the league's modern elite,  Chris Paul ,  Dwyane Wade ,  Carmelo Anthony , and  Dwight Howard . 
The Cavaliers have a tremendous amount of promise next season.  Tristan Thompson quietly continues to develop as a quality big man.  Anderson Varejao  is set to be an All-Star if he can just avoid a seemingly endless series of freak injuries. Should  Andrew Bynum actually be healthy this season, he can tip the scales of a team towards a playoff spot.  Dion Waiters  has the capacity to take over games on both ends if he can learn to adapt his game off-ball.  Jarrett Jack  can operate in much the same manner as he did in Golden State to much sucess beside Steph Curry with Irving. The talent is there. 
But they key will be Irving, and how he adapts. If he excels, the Cavaliers can take back some respect taken from them after The Decision. It would also mean that Irving has taken another step forward. But there is also a balance that has to be maintained, or at least tread carefully as the momentum carries over. 
It's nearly an unavoidable part of the superstar nature of the league. Superstars almost always give their teams more in terms of basketball and marketing value than they get back, on the court or in their bank accounts. If Irving fulfills his incredible promise, he will almost certainly give the Cavaliers more than they can give him. They can't clear the ranks and pull off something like the  Miami Heat  did. They can't offer the perks and value of a major market like the sponsorships or social lives afforded by New York or Los Angeles. 
The most beloved players throughout the course of the league's history have understood that there is inherent value in loyalty, and to building something that is truly your own. No matter how many trophies LeBron James collects in Miami, that team remains Dwyane Wade's in spirit, on account of what he's given the community. It's apparent in his being introduced last, and in the crowd's response. 
But there are also players like  Kevin Garnett , who understands the draw and the danger of loyalty. Garnett had a message for James in 2010 after the  Boston Celtics  defeated LeBron's Cavaliers in what became his last game in a Cavs uniform.
"Loyalty is something that hurts you at times, because you can't get youth back," Garnett said Thursday night after the Celtics eliminated the Cavs 94-85 with the help of his 22-point, 12-rebound performance straight out of 1998. "I can honestly say that if I could go back and do my situation over, knowing what I know now with this organization, I'd have done it a little sooner."
via Garnett to LeBron: Loyalty can Hurt - Sports Blog - CBS News.
Garnett loved Minnesota, but was so damaged from the years of mediocrity that he essentially turned his back on that loyalty and regretted having given his heart and soul to a team that was never able to give back enough, by decision or circumstance depending on your perspective. 
So Irving is moving forward, a 21-year-old kid talking about taking leadership of his team. He's set out to move both the team he's been given and his own team forward. He's already built up a cultural identity as a clutch player and the guy from those wacky Pepsi commercials. The future is bright and Irving is going through the process of taking his place among the league's elite. 
Does that mean his time in Cleveland has a definitive shelf life shorter than that of his whole career? 
Not if he's smart about it.
In this age, market matters less than ever. Whatever way Oklahoma City has held back Kevin Durant  in terms of off-court opportunities, it has made up for in crafting a likeable idenity as leader of a small-market team. His game has done the rest. There's no lack of commercials for Durant, no exclusive opportunity in the league he can't gain access to. And despite the absence of a ring on his finger, there can be no blame cast at Oklahoma City for not putting enough around him. 
Irving can be the star he wants to be in Cleveland, but it also means a level of leadership few players are willing to take on. It means sacrifice, and leading by example. In the NBA, that often means a willingness to be exploited further by a team that has not, can not, or will not provide enough to warrant that kind of loyalty. But the rewards are inherent. It's about crafting his own identity as someone who leads with commitment and discipline, not by demanding return on his own investment.
The NBA is a business, and looking out for yourself is a part of that. But investing in being the kind of person Irving talked about above, the mature leader he says he wants to be, and not just in pursuit of what he wants, has greater dividends towards what he will mean to fans, and as a byproduct, investors in his future. 
Maybe those outside things don't appeal to Irving. Maybe he just wants to play basketball. But if he wants to win a title in Cleveland, on his own terms, he would be wise to understand that takes a commitment as well, and putting aside his own most ambitious self-goals. 
Either way, Kyrie Irving is coming of age in a complicated time in the NBA, and the stakes are about to get much, much higher. 
The inaugural BIG3 season comes to a close Sunday with the championship game

Thomas was traded to Cleveland yet some fans are taking it out on him ... and his jerseys

The Celtics dealt the No. 1 pick to Cleveland as part of the Kyrie Irving-Isaiah Thomas tr...
Thompson was rumored to have been a point of discussion with the Cavs regarding Kyrie Irvi...

What the Celtics and Cavs look like after the Eastern Conference powers swap point men

Simmons was the No. 1 pick in the 2016 NBA Draft but did not play last season