The rebuilding of Anthony Bennett
Anthony Bennett was one of the worst rookies in NBA history for the Cleveland Cavaliers last year, but rebuilding him into a weapon is happening.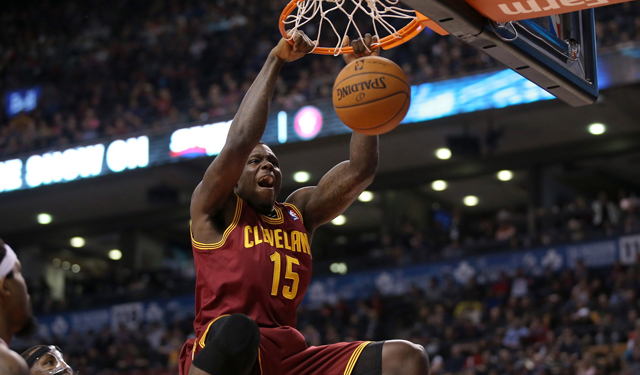 More Offseason Analysis: Coaching changes, news | Free Agency | Draft
There isn't really a way to sugarcoat the rookie season of 2013 No. 1 overall pick Anthony Bennett. He was one of the worst rookies in NBA history.
The forward for the Cleveland Cavaliers was the surprise of the 2013 NBA Draft when the Cavs took him with the top pick. With multiple other players rumored to be getting looks with the top selection, Bennett wasn't looking like a possibility until his name was called. Fans, pundits, everyone started wondering if the Cavs knew something nobody else did. Was this scoring forward out of UNLV really going to be the best player in this draft?
His season was a disaster. He was bad if you measured him by traditional stats, he was bad if you measured him by advanced stats. A shoulder injury left him behind on his training and conditioning in the summer. After not playing in summer league, he showed up to training camp woefully out of shape. He was given chances here and there early on, but couldn't hit a shot. He literally couldn't hit a shot. He missed his first 16 attempts sprinkled over his first five games. 
The Cavaliers dealt with in-house drama early in the season. Struggling to find consistency on both ends of the floor, they traded for veterans to help push them along. Bennett wasn't cutting it in the few minutes he was given, and they didn't have a lot of room for error by giving him more chances. He made 22.4 percent of his shots in the first month. That increased to 36.8 percent in December before plummeting to 24.4 percent in January.
Things got a little better in February, when averaged 7.2 points and 4.8 rebounds in 17.4 minutes. Those were his highs in each category for any month. He made 44.2 percent of his shots in February. In March, he made 57.1 percent of his shots, but it was only on 14 attempts sprinkled over four games. He played one game in April and that was his season. Out of shape and without a position or a shot, he put up one of the 16 worst rookie seasons in NBA history. Look at that list of players and the best career is... Donte Greene? Dick Gibbs? Kareem Rush?
"AB's biggest trouble last year was he never really had the opportunity to play enough," coach David Blatt said about Bennett during Las Vegas Summer League, "because he was either hurt or not in good physical shape. As you can see, he worked very hard at that. That's a good first step. He did some good things."
Bennett was in much better shape in Las Vegas in July than we saw him at any point during the last year. He appeared to have dropped a significant amount of weight, and while he wasn't in great shape just yet, he was certainly close to it. He had his tonsils and adenoids removed to improve poor sleep and now breathes much easier when he's playing basketball.
His play in summer league was also much different than we saw at any point last year. Bennett was chucking at times, trying to get his confidence up. He took 47 shots in 119 minutes over four games. He made 42.6 percent of his shots, struggled with his 3-point shot, but also showed he can get up above the rim with several monster dunks. It was the type of aggressiveness you'd hope a young player would have, even after a season that could very easily rattle his confidence. His coach approved, helping build up the confidence and idea that Bennett isn't a lost cause at just 21 years old.
"I thought Anthony did a pretty good job," Blatt said after one of the Cavs' games in Vegas. "He knows and I know, of course, that his shot selection could be better, but I like the fact that he was on the court for a lot of minutes and was competing. He made some big plays. He worked hard at both ends of the court."
The pressure of justifying the No. 1 pick won't go away either. You can draw similarities to how Derrick Williams (2011 No. 2 pick) and the Minnesota Timberwolves existed together. Williams had potential, but struggled early and never quite got his footing. He, too, is a tweener at the forward position with a shaky outside jumper, but is quite capable of getting on a scoring binge. Williams struggled for two-plus seasons in Minnesota before being dealt to the Sacramento Kings, where he's trying to rediscover the spark that nearly made him the top pick of his draft.
Bennett could also be on the move. With the Cleveland Cavaliers looking like a landing spot for Kevin Love, Bennett is expected to be a part of the trade package, along with fellow Canadian Andrew Wiggins. But whether he's trying to find his way into a suddenly hyper-competitive rotation alongside LeBron James in Cleveland, or he's trying to rediscover his potential in Minnesota, Bennett has to keep the right mindset and allow himself to build on his success.
"Just gotta try to have fun," Bennett said CBSSports.com's James Herbert back in Las Vegas. "It's a business. You just gotta come out there and play hard because you never know when another player might take your spot."
Building on his success has to come back to the basics as well. At UNLV, he was a scoring machine, shooting 53.3 percent from the field and 37.5 percent on 3-pointers. Overall, he hit just under 40 percent of his jump shots in his one year of college. In his rookie season with the Cavs, he made 35.6 percent of his shots -- including 24.5 percent of his threes and 24.5 percent of all jumpers. He flat out couldn't shoot.
Getting in shape will help that. He'll have more lift on his jumper, he'll be stronger when he gets tired, and he'll be quick enough to create space. He can be too quick for bigger forwards and punish the smaller forwards in the post. He just has to continue to work.
"I've been happy with him since the camp started," Blatt said. "He's really, really made the effort. He's tried to lead the guys through example. He's a kid who is trying to do something about his situation and that's the right way to go about it."
He may never live up to his No. 1 selection, even in a weak draft. But there is a difference between ending up like every other player on that list of historically failing rookies and being the first player on that list to show it was an outlier to their career. There is a difference between being a bust and being able to consistently fill a role in the rotation for your team.
Bennett surprised us on draft night by being selected with the first pick. Let's see if he can surprise us again.
Davis left the Pelicans' game against the Nuggets in the third quarter

Popovich was upset about an out of bounds call

Wall went 3-for-12 from the field, and had just eight points in the Wizards' loss
Noah was reinstated from his 20-game suspension on Monday, but is yet to play for the Knic...

In his first season with the Cavs, Rose has not played since Nov. 7

Keep it right here for all your Friday NBA scores, updates and highlights