The reconstruction of Michael Kidd-Gilchrist's jump shot
The Charlotte Bobcats have hired Mark Price to fix the jump shot of Michael Kidd-Gilchrist. He can either start over or refine the motion.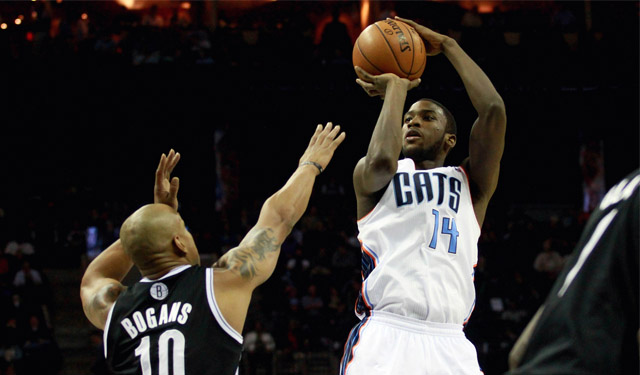 LAS VEGAS -- There are a lot of moving parts in a good shooting motion, but the key to creating a good shooting motion is keeping those moving parts calm. 
You want your elbow tucked in, the ball lined up properly, your feet set, and your body balanced as you spread your fingers and snap your wrist on the follow through. Getting lift on your shot, arc on the trajectory of the shot, and maintaining your balance to keep the same release point and rely on muscle memory can be pretty difficult on its own. When you add in the element of the best athletes in the world flying at you, it's hard to keep that good shooting form.
Charlotte Bobcats wing Michael Kidd-Gilchrist doesn't just have a hitch in his shot; he has a motion that almost looks painful to execute over and over. It's a shooting motion that should have been corrected a long time ago, but wasn't for whatever reason by previous coaches, probably because he's always been such a dynamic player all over the court. It's easy to overlook things like that when you have a do-it-all player.
Looking at Kidd-Gilchrist's jump shot, there's a lot going on and it never looks calm. His right elbow encroaches the area where his left elbow is as his hands look completely out of position. In the process of his elbows drawing near each other, he seems to pause his motion at the apex of his jump before letting go a very flat shot trajectory.
It's such a lack of a weapon for Kidd-Gilchrist that he appeared to just not take shot attempts a lot of the time during his rookie season because there wasn't any confidence in his outside shooting. He shot 27.2 percent from the field on jump shots as a rookie and only took nine 3-pointers (he made two of them). 
In trying to fix his jump shot, you're left with two options: do you stick with the current motion and just work on finding a consistent release point or do you tear the motion completely down and try to start over?
Charlotte Bobcats' new assistant coach Mark Price was recently hired to join Steve Clifford's coaching staff. Immediately, he was given the task of fixing Kidd-Gilchrist's jumper. Price's credentials are legit. In 12 NBA seasons, he scored more than 10,000 points, shot 47.2 percent from the field, 40.2 percent from 3-point range, and he's currently second all-time in free throw percentage at 90.3 percent. 
So what do you do if you're the shooting coach of a guy that looks like he's caught in a wretched game of Twister whenever he gears up for a jump shot?
"I think there's a lot of things going on," Price said at Las Vegas Summer League. "I think what most everybody is looking at right now is where his elbow is, the hitch in his shot, things like that, but there's a lot of balance, footwork, getting your body in position squared up to shoot the basketball that's going on, as well. I typically start there first. I start with the feet and move up. Most guys think of shooting from the waist up but a lot of things happen starting with your feet."
The thing about Kidd-Gilchrist and his shooting is the fact that he wasn't ready to shoot and wasn't confident in his shot. That impaired his shooting accuracy as much as his funky shooting motion did. Take a look at the work he and Price are putting in during this summer:
In the video, you can see Price working on the placement of Kidd-Gilchrist's hands on the ball, trying to keep the shooting hand more behind the ball than under it and keep the support hand more to the side than laying across the top of the ball. It's a work in progress because it's not the shooting motion he's used to tapping into when he relies on muscle memory.
Jeff Hornacek was initially hired by the Utah Jazz as the shooting coach before being promoted to a full-time assistant. He was recently hired by the Phoenix Suns as the head coach and with career averages of 49.6 percent from the field, 40.3 percent from the 3-point line, and 87.7 percent from the free-throw line, he certainly knows his way around a shooting motion.
"Well, if they have a funky motion, you want to try and straighten it out," Hornacek explained. "Sometimes that's difficult. Guys have shot a certain way for a long time; it's a hard habit to break. If those guys want to become good shooters, sometimes you actually take a little step backward if they're willing to do it. I did it, so it can be done. You want to just get that proper form because then it flows easier."
There's certainly something to be said about reworking the shooting form to get it to an ideal shooting motion. And if you are going to take that step backward as Hornacek suggests, it's important to make sure everything is lined up properly to cut down on the chaos of the shooting motion with a hitch.
"It's the form," Hornacek continued. "You want that release point at the same place every time. Getting that elbow in, so if you're right-handed, right above that right eye so your eye can line up the ball with the basket so you start there."
When breaking down MKG's shooting motion, it looks like the ball is blocking the view of his right eye and his elbow certainly isn't in. His hands hold the basketball like one of those Tai Chi moves in which you hold onto a ball of energy. But maybe finding comfort and confidence is more important for Kidd-Gilchrist than confusing him with a new shooting form.
"I take the whole approach to it," Price said, "and just kind of gradually work. I don't try to fix 12 things at one time. You try to gradually improve some areas, get things better, and start working on the next thing."
Once the Bobcats' wing player finds balance, it allows him to be ready to shoot, which should bring in some much-needed confidence. 
"Basically for the most part, he wasn't ready to shoot when he got the ball," Price explained after his pupil went 4 of 4 from the field for 11 points in the team's second summer league game. "So even [Sunday] we talked about that, I thought [Sunday] was the best job he's done. I mean he was actually ready, took his shots in rhythm, and made a couple. Just doing those kinds of things are going to help. Obviously, to become the kind of shooter you want to be, you're going to have to eventually get a lot of things straightened out. But I think just getting some of that stuff is going to help him a lot."
That's not the only thing about Michael Kidd-Gilchrist's shooting motion that is funky, though. It translates to the free-throw line as well, where the Bobcats' player does a little hop on his free-throw attempts. It's hard to remember the last time a professional player hopped on free throws, but it's not necessarily that his coach has a problem with him doing.
"Actually, the little hop is, I'm trying to encourage him to do that just to get a little more lift on his shot," Price admitted. "Free-throw shooting is so much a rhythm thing and if that's something that can kind of help his rhythm a little bit, then we're going to let him do that."
While everything with Kidd-Gilchrist's shooting looks a little strange and different, it doesn't mean it isn't a workable motion. Minnesota Timberwolves' guard Kevin Martin has one of the oddest shooting motions in the league, but his release point is perfect once he gets to that point. The Bobcats aren't going to rush him by setting certain goals for where they want him to be.
"I think the worst thing you can do is say, 'OK, we're going to try to be here by here.' " Price explained. "Our goal is to work everybody to get better every day and just see where it takes us. Keep moving and gain confidence as we go. I think too many guys are like, I mean I understand statistics and things like that, but 'OK this guy is 40 percent, well our goal is 48 percent.' Well, if you don't get to 48 [percent] but you improve, it's like sometimes you can put false goals that maybe don't accomplish what you want to accomplish in the long term."
And what they all want to accomplish in this process of improvement is putting in the necessary work to build up his confidence when it comes to shooting. The confidence will come from refined mechanics, even if it doesn't mean tearing down his shooting motion and starting over. The interesting thing about fixing a shooting motion is there are different ways to do it.
You just have to try to find a way to calm the commotion within the shooting form.
SportsLine's Mike McClure, a DFS pro with more than $1M in winnings, gives optimal lineup...

The Lakers were just 2-14 from the stripe

The Cavs are reportedly looking to acquire numerous players -- even Teen Wolf?
SportsLine simulated Saturday's Rockets-Warriors game 10,000 times

Two underperforming squads will square off on Saturday afternoon

The West's two top teams will meet in prime time on Saturday night