The roadmap back for the Celtics
The Boston Celtics are rebuilding again, but can they keep their down years shorter this time around?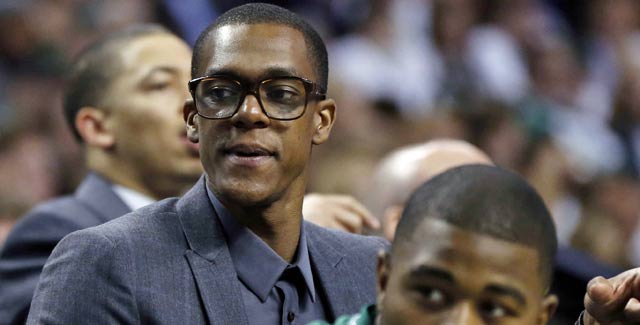 From 1993-2007 the Boston Celtics hovered between outright bad and painfully mediocre. Recovering from the proud 1980s and the Larry Bird era, the Celtics struggled to rebuild themselves. A proud franchise with a tradition of winning and prominance was lottery fodder with no real apparent way out. 
A couple of seasons were decent. The best was 2001-02 where they won 49 games and lost in six games to the Nets in the Eastern Finals. That teams seemed to have a vision to it with a budding superstar in Paul Pierce and a gunning runnning buddy, Antonie Walker. Maybe the Celtics were finally digging themselves out. They won 44 games in 2002-03, then 36 in 2003-04, rebounded with 45 wins in 2004-05, but then began a run where they completely flamed out winning 33 in 2005-06 and just 24 in 2006-07. Fourteen seasons of mediocre to awful basketball. 
With a high lottery pick in the 2007 draft and two apparent franchise saviors at the top of it, the Celtics seemed to have a plan. Get the No. 1 or No. 2 pick, get either Greg Oden or Kevin Durant , add him in with Pierce, Al Jefferson and Rajon Rondo and watch a young team grow and develop. 
Except Danny Ainge had a quick-fix rebuilding plan: Trade for two Hall of Famers to combine with the one already on the roster and immediately go from rags to riches. Sixty-six wins and a title in 2007-08 then 62 wins in 2008-09, then 50 wins and a Finals appearance in 2009-10. 
The writing was always on the wall though and as health and age began to creep up on the Boston Big 3, Ainge was faced with the challenging decision of when to pull the plug. The reasonable season appeared to be the lockout-shortnened 2011-12 where the Celtics looked old and tired struggling to the fourth seed in the East, but they made a run to the Eastern Finals and were up three games to two over the Heat with a chance to close them out in Game 6 in Boston. Ray Allen defected to the enemy in the offseason, but with a core of Kevin Garnett , Pierce and Rondo, Ainge decided to give them one more shot. 
Last season's Celtics probably weren't going anywhere, but we'll never know what they would've done with a healthy Rajon Rondo. After he tore his ACL, their season was officially kaput and it was time for Ainge to find his exit plan. He settled on an asset-heavy deal with the Nets, sending Pierce, Garnett and Jason Terry to Brooklyn for a heap of future draft picks, an expiring contract in Kris Humphries , a young player in MarShon Brooks and Gerald Wallace . Then he "traded" coach Doc Rivers to the Clippers for an additional future first-rounder. 
What it gives the Celtics is three first-round picks in 2014, two in 2015, two in 2016, two in 2017 and two in 2018. Will they be high lottery selections to pick the next LeBron or Durant? Who knows? But those are valuable assets in the NBA, useful in rebuilding whether you use them, or flip them for something else. For example, take the Sam Presti and the Thunder. Presti turned a trade exception created in the Rashard Lewis sign-and-trade into Kurt Thomas and two first-round picks, and then flipped Thomas to the Spurs for another first round pick. What did that Spurs first rounder become? The 24th pick in the 2009 draft, Serge Ibaka . 
They have a few worthwhile young players in Jeff Green , Avery Bradley and Jared Sullinger along with rookie Kelly Olynyk . With Rondo out until probably Christmas recovering from his ACL, the Celtics best course of action would be winning 24 games again like in 2006-07 hoping to land in the top five of what appears to be a loaded draft. If that happens, Ainge has options again. He could deal the No. 3 pick and try and find an instant rebuilding option ( Kevin Love ? Blake Griffin? LaMarcus Aldridge? Rudy Gay? just kidding) or hold on to it and go the route he avoided in 2007 with a young core to grow and develop. 
Financially, the Celtics are in a decent position with no real cap space next summer -- which is when instant rebuilding options like LeBron, Dwyane Wade , Chris Bosh and Carmelo Anthony are available -- but they could easily carve some room of their books by dealing Rondo (owed $12.9 million next season), Wallace's horrible contract ($10.1 million next season) and Courntey Lee ($5.4 million next season) and Brandon Bass ($6.9 million next season). That's roughly $35.5 million in potential cap space the Celtics could create if they could find a desperate team willing to part with expiring contracts for some quality players. 
The problem with that plan is if you whiff, you really whiff (this is also known as What the Mavericks Did Last Summer). If you don't land anything marquee, now you're spending on mediocre talent and you've just delayed yourself a season. Still, even if you don't get LeBron, you could sign players like Luol Deng , Danny Granger and Pau Gasol and put a decent team back on the floor. 
The best plan is patience. See what new coach Brad Stevens is capable of as a talent cultivator. See what you have in Green, Bradley, Olynyk and Sullinger. See if Rondo is capable of leading a team on his own. Play your cards right, land high in the draft (fingers crossed for Andrew Wiggins, natch), take another young talent and take it slow again in 2014-15, leading to 2016 when there will be available cap space and keep using those acquired assets to build infrastructure. 
That's the slow play though and something Celtics fans have been through once before, those 14 seasons of bad to mediocre basketball that didn't lead anywhere. Convincing a fan base to accept 30-win seasons for four years is a tough sell, especially when you're talking about maybe the most storied franchise in sports. It's easy to just see it as Ainge needing to flip assets for stars like he did with Garnett and Allen in 2007, but you see, there has to be a Garnett and Allen to go get. That's kind of a relevant part to it. 
The Celtics will be back, but the question is just how long it will take. 
Wade opted in to his $24 million player option earlier this summer

Barkley spoke to the NFL Today crew about the response the president received in his home...

The restricted free agent has a deal in place that will keep him with the Bulls after a st...
James' support continues his trend of social activism on social media

The newly-acquired All-Star thinks the addition of Anthony boosts the Thunder in the NBA's...

The Knicks were asking for the house in discussions for Carmelo Anthony