The Sixers are acting a little nutty about Andrew Wiggins
Team is ushering prospect around in a black SUV, and seems to be going crazy for the Kansas freshman.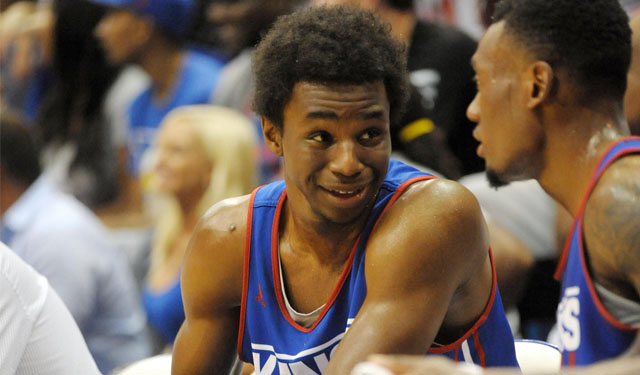 More Offseason Analysis: Coaching changes, news | Free Agency | Draft
The Philadelphia 76ers have the third pick in the draft. There's a good chance that Kansas guard/forward Andrew Wiggins will be available at that spot. There have been rumors about a mutual interest between the Sixers and Wiggins for months. So Monday's meeting between the young man and the Sixers was somewhat of a fanfare-worthy occasion. And then ... things got a little weird. Here, let me take you back and start to piece this thing together. 
The rumors of Philly wanting Wiggins go back to last summer when the Sixers started "Operation: Money in the Tank." But like I said, they've ramped up in the last few weeks. Then last week, a report surfaced that the Sixers liked him so much, they reached out to the Cavaliers about acquiring the No. 1 pick to make sure they get him. Then a meeting was scheduled for Monday. 
The Philadelphia Inquirer has gone so far as to say there is mutual interest between the two. 
According to sources, the Sixers are trying to do whatever they can to draft him. And there's a sense that he wants to become a Sixer.
via Wiggins' visit to Sixers is cloaked in secrecy.
And then things got a little nutty at the workout. It was held at the Philadelphia College of Osteopathic Medicine. Fans and media showed up, which isn't unusual for such a big-name visit. The meeting was closed to media and fans. OK, no big deal, that happens. And then someone called the cops. 
The 6-foot-8 swingman, who left Kansas after his freshman season, was not available to the reporters who gathered Monday outside the Sixers' practice facility at Philadelphia College of Osteopathic Medicine.

Campus security asked the news media and fans to leave at the team's request. A Philadelphia police officer was summoned later because the media stood on the sidewalk instead of across the street from the facility.

The only glimpse of Wiggins was when he exited the back of the building at 12:51 p.m.

He got into a black Chevrolet Suburban with Sixers center Nerlens Noel and front office employee Brandon D. Williams.
via Wiggins' visit to Sixers is cloaked in secrecy.
So that's not great. But at least it turns out, according to the Sixers, that they didn't call the cops. It was campus security, and you can't really blame them. They're not used to the circus down at PCOM. From CSN Philadelphia: 
Tuesday morning, after the media reconvened at PCOM and took another crack at talking to Wiggins -– he was scheduled for his official workout -- the Sixers dispatched an emissary. He said there was a miscommunication. He said PCOM security acted without the Sixers' knowledge. He said the Sixers didn't know the media had been asked to leave. He said, essentially, that no one ordered the code red.

And he brought donuts.

The upshot, according to the Sixers, was that Hinkie didn't know anything about any of that. Believe it or don't. I think it's probably true. Hinkie is a numbers wonk and a basketball savant. Who is or isn't standing outside the practice court isn't generally on his list of things to observe or care about. Which doesn't mean these last few days weren't bizarre.
via The Sixers' strange courtship of Andrew Wiggins | Comcast SportsNet Philadelphia.
Bizarre? But this was just normal stuff, right? The Sixers held a workout. It was closed to fans (as almost all workouts are) and the media (which most are). The press hung around to do its job, security got weird, called the cops. Yeah, it's a little odd that they acted like they were shuttling Brad Pitt around, but maybe that's just how the Sixers roll. 
Right?
Nope. Again, from CSN Philly: 
After that, there were reports that Wiggins would work out in Philly this week. And that's when people who sometimes want to talk to reporters -- people who know things about how the Sixers operate – stopped returning my calls and texts. It happened almost all at once. That is… unusual.

Those same people didn't go radio silent when the Sixers brought in other prospects. They didn't always divulge information about those potential players, but they picked up the phone. Not with Wiggins. With Wiggins, they cut off communication. Then the Sixers ushered Wiggins out the PCOM back door, into an SUV, and off to the airport -- where he somehow avoided detection by CSN reporter John Clark, who has Philadelphia International wired better than an airline electrician.

Maybe that doesn't mean anything. Maybe it's all coincidental. But when Hinkie was hired, he said something that was worth remembering: He and his closest confidants were unlikely to leak important information. There has been precious little information on the Wiggins front, at least as far as leaks from the Sixers side go.
via The Sixers' strange courtship of Andrew Wiggins | Comcast SportsNet Philadelphia.
Not exactly keeping this one close to the vest, there, guys. The result of this could be nothing. If the Cavs are sold on Joel Embiid, and reportedly they are, and the Bucks want Jabari Parker -- who is more plug-n-play than Wiggins -- then the Sixers could be just fine. 
But if I'm the Bucks? I'm calling and saying I want Thad Young, one of those bazillion second-rounders the Sixers have stashed, and the No. 3 for the No. 2 spot. I might even try and dump some salary. The Sixers tanked all year in order to get the guy who would be the face of the franchise going forward. 
Can they afford to risk losing him if they're going to do so poorly at hiding their infatuation? 
Wade, as he's done so many times in his career, threw it up to LeBron for the thunderous f...

The Warriors coach added there should be no shame in being picked last since everyone's an...

We've got all the scores, highlights and news from all of Saturday's games
The two teams have reportedly not had any substantial discussions to this point

Oladipo may be getting most of the shine, but this second-year big man has been phenomenal...

SportsLine's Mike McClure, a DFS pro with more than $1M in winnings, gives optimal lineup...