The sports world reacts to the Nets' signing of Jason Collins
Michael Sam, Tom Thibodeau, Brian Shaw, Mike D'Antoni and more react to the debut of first openly gay NBA player.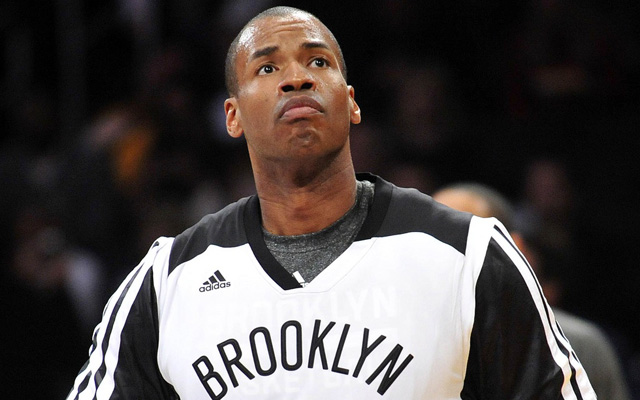 After the Nets signed Jason Collins as the first opely gay NBA player on roster Sunday, reactions poured in throughout the league. 
You can find Kobe Bryant's comments on what he calls an "incredible precedent" here. 
Nuggets coach Brian Shaw told reporters Sunday "Obviously in light of Michael Sam coming out, there's more attention brought to the situation," Shaw said. "But Collins has been a pro for a long time; he's played with most of the guys that are in the league that have been in the league for a long time.
"Him coming out, when he came out, I don't think it was a surprise to a lot of people. I don't think it's a problem. I'm glad the guys came out so that it can speed up the process of acceptance. If your teammate is a good basketball player for football player and they're helping you win that's what it should be about. It shouldn't be about anything other than that.
"You have guys that have anger problems and drug problems and when they get caught in those situations they have something to fall back on where they can go and get help for those situations. They're given an opportunity to come back and help their team win. And somebody's sexual orientation shouldn't come into play either. if they can help your team win, if they're not trying to force their beliefs on you it shouldn't be a problem."
Congratulations to my friend @jasoncollins34 - excited to see you do work out there #courage #groundbreaking

— Michael Sam (@MikeSamFootball) February 23, 2014
Tom Thibodeau: "I just know Jason as a person and a player, and that's what I'm happy about it. He's earned it, he deserves it."

— Ethan J. Skolnick (@EthanJSkolnick) February 23, 2014
Mike D'Antoni on Jason Collins playing w/ Brooklyn: "It's great. It's terrific. If he can help them as a basketball player, there you go"

— Mark Medina (@MarkG_Medina) February 23, 2014
From Jeremy Lin of the Rockets:
"I think it's definitely a big step," Lin said after the Houston Rockets' morning shootaround before their game at the Phoenix Suns. "The game is evolving. You see a lot of different people breaking barriers in a lot of different ways. This is just another one of those."
via TrueHoop Blog - ESPN.
I love that the positivity around @MikeSamFootball is manifesting itself with @jasoncollins34 go #nets! #NFLCombine

— Brendon Ayanbadejo (@brendon310) February 23, 2014
Bagley wants to be in the 2018 NBA Draft and should be the No. 1 overall pick

Durant helped build the court in Manhattan as part of his community outreach program

Prince will be a special assistant to Memphis GM Chris Wallace
He speaks out at a LeBron James Family Foundation event; he tweeted about Charlottesville on...

Smith was at the event to support his Cavaliers teammate

Trade talks involving Irving have seemingly stalled in recent weeks