The Spurs finally show their age and it signals a changing of the guard in the West
The Thunder toppling the mighty Spurs signals a change out West, and a reminder that youth is served.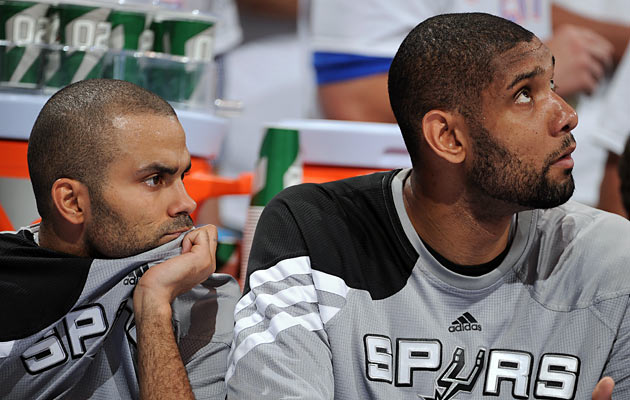 Facing young teams like the Thunder isn't so easy anymore for aging stars Tony Parker and Tim Duncan. (Getty)
OKLAHOMA CITY -- Sports love to be symbolic.
And if there was ever a proper way for the Thunder to burst on to the scene as the newest powerhouse of the Western Conference, it had to be this way. It had to finish with a road going through San Antonio, but one that started in Dallas and took a detour in Los Angeles.
The Thunder are off to the
NBA
Finals and did it by beating the past 13 Western Conference champions back-to-back-to-back.
Obviously it signals a changing of the guard, a new kid on the block, a pick-whatever-cliche-you-like moment. But when a new big dog rises, that mean the old one must step aside. If the guard is to change, the old one has to go somewhere.
And the Spurs just might've watched their incredible run come to an end in Wednesday night in Oklahoma City.
The Thunder are young. Made up of 23- and 24-year-olds built to run for days. For example, Kevin Durant played the entire 48 minutes in Game 6 and said he could actually "go all night" to head coach Scott Brooks. The Spurs, though? They finally started looking their age. It showed as Chesapeake Energy Arena roared and the Thunder charged on the Spurs.
San Antonio blasted out of the gates taking an 18-point second quarter lead and a 13-point margin to the break. Tony Parker was brilliant. Tim Duncan was dominant. The bench produced, big shots were made and there was a return to that magical ball movement that helped the Spurs win 20 straight.
But they just ran out of gas. They were up 2-0 in the series, up 18 in Game 6 and lost both. They didn't have enough to finish the spry Thunder. Oklahoma City outscored the Spurs in the second half 59-36. The Spurs shot only 32.5 percent to OKC's 57.6. San Antonio stumbled, scuffled and sputtered through the final 24 minutes searching for any kind of answer to the haymaker the young Thunder threw at them.
"We can't have their legs, their energy," Manu Ginobili said. "We're never going to jump as high or run as fast.
"Of course probably at the end of the game, they were more fresh."
There was always the sense that this was simply the Thunder's time, the moment for Kevin Durant and Russell Westbrook to take that next giant step into something else. The way they battled, fought and clawed their way to this opportunity made it seem like it was destined to be. Young legs or not, maybe the Thunder were better.
"As sad and disappointed as we are, you really have to think about it's almost like a Hollywood script for OKC in a sense," Gregg Popovich said. "They went through Dallas, last year's champion, then they went through the Lakers, then they went through us. Those three teams represent 10 of the last 13 championships ... I don't know if anybody has ever had a run or gone through a playoff playing those kinds of teams. It's just incredible and I think it's pretty cool for them."
And to think they're all a bunch of kids under the age of 25. The Spurs though are built are aged veterans that might not have too much left. They have four championship rings to their name, but at some point, all good things come to an end.
"It is very disappointing," Tim Duncan said. "I thought this was our time to get back to The Finals and push for another championship. That was our singular goal, but obviously it ends here."
The question is, does it
all
end here? Or just this season?
The Spurs don't like to hear they're old or that their window is closing. We've all been saying it's happening the past five or six years and the Spurs keep coming back. But this certainly feels like something has happened. Where are they headed from here?
"Same place we've been going the last eight years," Ginobili said. "We've been always old. We've been always criticized for that. We still compete. We won the West, regular season of course. We are fine."
The Spurs seem to never die. In a season where the lockout condensed schedule was supposed to play heavy on their old, brittle legs, they only went on to ruin the West in the regular season, catching the Thunder from behind for the best record. They won 20 straight, went 50 days without losing in the postseason and swept through their opening two rounds.
But they also fell apart, losing four straight en route to elimination. Just like Game 6, they didn't finish. Are they done? We're all probably going to say so. They certainly don't feel that way.
"I think we had the best record in the league," Ginobili said. "I mean, what else you can expect, right?"
Another NBA title, perhaps.
Thomas took to Twitter to let the Celtics know he doesn't want to ruin Pierce's night

The Hall of Famer's jersey was retired by the Celtics in 1982

It's rare to see a legit punch in an NBA fight, but this was definitely one of them
We've got all the scores, highlights and news from an NBA Tuesday

The former Slam Dunk Contest champion will take his talents to Tri-State

Do NBA players have look-a-likes from famous paintings? We found out on the new Arts & Culture...