The Thunder grow up again, as Durant rises to new levels
OKC moves on to the second round, and grow up all over again in the process.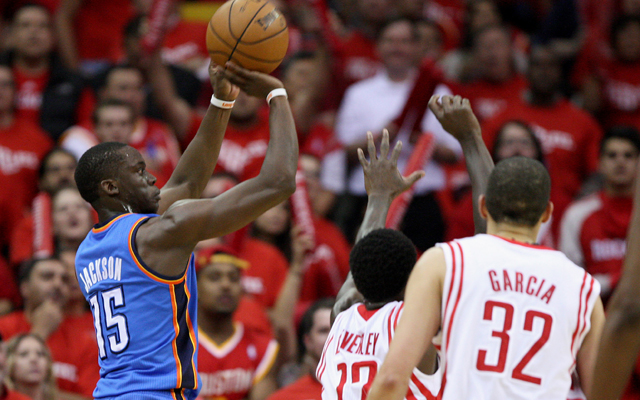 Really, the Thunder should be well past all this growing up stuff. Yeah, they're still a young team, but they're about as veteran as there is when it comes to playoff experience. 
Four trips to the postseason, a trip to the Western Conference finals and a trip to the NBA Finals. They've won a heap of playoff games, and lost some, learning all along the way. 
But without Russell Westbrook, they've been forced to grow up all over again. And in 48 minutes in Houston on Friday night, they did exactly that.
Facing a very real possibility of becoming the first team ever to collapse after having a 3-0 series lead, the Thunder were down 10 in the third, reeling again. The Rockets had weathered an eventful first half and only trailed by four headed to the break. Scott Brooks deviated from his starting five for I think the first time ever, and started DeAndre Liggins in place of Kendrick Perkins to start the second half. It helped, but it didn't, as the Rockets continued to pour in shots from deep. 
And there the Thunder were, down 72-62 with 17 minutes left before a winner-take-all Game 7 back in Oklahoma City. They had to find something. They had to dig deep and come up with a plan to rescue themselves. 
There's been so much focus on this Thunder team playing without Westbrook, and how they're now being viewed from a new perspective. No longer is anyone considering them a true contender, but more just a scrappy underdog bunch that's like a blind man trying to find their way through a corn maze. It's uncharted territory, it's adjustment on the fly. 
And there they were, 17 minutes from the pressure of Game 7 and potentially being the dreaded "first team ever" to choke away a 3-0 lead. 
It started with two Reggie Jackson free throws, then a Jackson 3. Then a Serge Ibaka jumper than led to a Kevin Durant pull-up 3, then a putback by Durant. A 10-0 Thunder run in the blink of an eye, sparked by Westbrook's replacement and punctuated by their leader. That's what's been unfortunately overlooked in this post-Westbrook mess -- the Thunder still have Durant, which means at least until they reach the Finals, they still have the best player on the floor no matter who they play. 
And Durant proved it in Game 6. After being held scoreless in the fourth quarter of Game 5, completely wearing down with the weight of his team strapped to those skinny shoulders, he went to a higher place Friday, and took his team with him. Durant scored or assisted on 16 of OKC's 25 fourth quarter points, playing the centralized offensive role he's had to without Westbrook, and doing it flawlessly. Durant accepted double and triple-teams, and made easy passes to open teammates. He attack quickly off the dribble, drew attention and dropped the ball off for easy dunks. He owned the game. 
It was the kind of performance from Durant that makes you wonder if this Thunder group really is done. The series against Houston felt a little bit like an escape, but with the growth of Jackson in Westbrook's role, Kevin Martin finding his scoring voice in the biggest game of his career and Durant carrying them effortlessly, the Thunder still seem to have something. 
Check it: Durant in the four games without Westbrook: 35.5 points, 51.1 percent shooting, 9.3 rebounds and 5.8 assists. Jackson in the first four starts of his young career, replacing one of the top five or six players in the world: 17.3 points, 44.4% shooting, 4.3 rebounds, 3.8 assists and just 2.3 turnovers.
The Thunder had to grow up all over again. They're a different team than the one that was almost universally declared the favorite to make it out of the West. They're not as good as they were, and they're still struggling to find their foothold in a post-Westbrook world. 
But they proved something in Game 6. And also sent a reminder: As long as they have No. 35, they have a chance. 
The Lakers legend details why the NBA popularity will continue to rise

SportsLine's Mike McClure, a DFS pro with more than $1M in winnings, gives optimal lineup...

If the Thunder forward doesn't know the reason, he has a very short memory
The 76ers star doesn't see a bright future for Jon Snow

Valanciunas played professionally in Lithuania before joining the Toronto Raptors

SportsLine's advanced computer model simulated Tuesday's Cavaliers-Hawks game 10,000 times