Third NBA All-Star ballot returns: LeBron and Durant still tops
The NBA announced the third round of balloting for the 2014 NBA All-Star Game as Kobe Bryant remains the top guard vote-getter.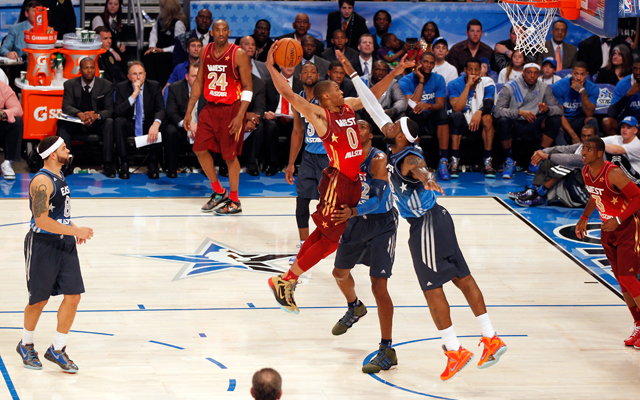 LeBron James and Kevin Durant once again leading their respective conferences. From the NBA: 
LeBron James of the Miami Heat and Kevin Durant of the Oklahoma City Thunder lead their respective conferences, and are separated by only 21,854 votes, after the third returns of NBA All-Star Balloting 2014 presented by Sprint. James, the top overall vote-getter with 1,076,063 votes, is followed in the Eastern Conference by the Indiana Pacers' Paul George. Durant (1,054,209) is followed in the Western Conference by the Los Angeles Lakers' Kobe Bryant.

The 63rd NBA All-Star Game will be exclusively televised on TNT from New Orleans Arena on Sunday, Feb. 16, 2014. The All-Star Game, also broadcast live on ESPN Radio, will collectively reach fans in 215 countries and territories in more than 40 languages.

James, George (899,671) and the New York Knicks' Carmelo Anthony (702,869) pace the Eastern Conference's frontcourt players. The Heat's Dwyane Wade (718,109) and the Cleveland Cavaliers' Kyrie Irving (652,522) lead Eastern Conference backcourt players.

Durant is joined in the frontcourt in the West by the Houston Rockets' Dwight Howard (509,116) and the L.A. Clippers' Blake Griffin (500,964), with the Minnesota Timberwolves' Kevin Love (483,031) making a strong push for a starting spot. Bryant (844,538) and the Golden State Warriors' Stephen Curry (677,372) pace all Western Conference backcourt players.

Balloting concludes on Monday, Jan. 20, and starters will be announced live on TNT on Thursday, Jan. 23, during a special one-hour edition of the Emmy Award-winning pregame show Inside the NBA at 7 p.m. ET. The special will air prior to TNT's exclusive doubleheader featuring the Los Angeles Lakers at the Miami Heat (8 p.m. ET) and the Denver Nuggets at the Portland Trail Blazers (10:30 p.m. ET). Reserves will be announced on Thursday, Jan.30, also on TNT.
EASTERN CONFERENCE
FRONTCOURT
BACKCOURT
1.         LeBron James (Mia) 1,076,063
1.         Dwyane Wade (Mia) 718,109
2.         Paul George (Ind) 899,671
2.         Kyrie Irving (Cle) 652,522
3.         Carmelo Anthony (NYK) 702,869
3.         Derrick Rose (Chi) 323,099
4.         Roy Hibbert (Ind) 385,964
4.         John Wall (Was) 278,516
5.         Chris Bosh (Mia) 304,986
5.         Ray Allen (Mia) 190,086
6.         Kevin Garnett (BKN) 164,021
6.         Rajon Rondo (Bos) 133,448
7.         Joakim Noah (Chi) 128,201
7.         Deron Williams (BKN) 95,309
8.         Andre Drummond (Det) 120,844
8.         George Hill (Ind) 89,428
9.         Tyson Chandler (NYK) 101,637
9.         Lance Stephenson (Ind) 77,364
10.       Jeff Green (Bos) 96,336
10.       DeMar DeRozan (Tor) 68,985
11.       Luol Deng (Cle) 90,730
12.       Carlos Boozer (Chi) 80,271
13.       Paul Pierce (BKN) 72,581
14.       David West (Ind) 61,612
15.       Brook Lopez (BKN) 58,477
So
WESTERN CONFERENCE
FRONTCOURT
BACKCOURT
1.         Kevin Durant (OKC) 1,054,209
1.         Kobe Bryant (LAL) 844,538
2.         Dwight Howard (Hou) 509,116
2.         Stephen Curry (GS) 677,372
3.         Blake Griffin (LAC) 500,964
3.         Chris Paul (LAC) 651,073
4.         Kevin Love (Min) 483,031
4.         Jeremy Lin (Hou) 471,980
5.         LaMarcus Aldridge (Por) 404,793
5.         James Harden (Hou) 338,788
6.         Tim Duncan (SAS) 385,342
6.         Russell Westbrook (OKC) 260,499
7.         Anthony Davis (NO) 223,956
7.         Tony Parker (SA) 195,328
8.         Pau Gasol (LAL) 207,213
8.         Damian Lillard (Por) 162,363
9.         Andre Iguodala (GS) 192,616
9.         Klay Thompson (GS) 108,404
10.       Dirk Nowitzki (Dal) 156,792
10.       Ricky Rubio (Min) 97,265
11.       DeMarcus Cousins (Sac) 148,604
12.       David Lee (GS) 141,509
13.       Chandler Parsons (Hou) 135,387
14.       Omer Asik (Hou) 101,372
15.       Kawhi Leonard (SA) 91,859
The Cavs superstar compared Kaepernick to Martin Luther King Jr. and Muhammad Ali

The Warriors coach isn't surprised that the president and LaVar Ball are in a war of words

We've got you covered for all the scores and highlights from Sunday's NBA games
Kyle Kuzma is tired of how his teammate Lonzo Ball is being treated

The Warriors used a huge third quarter to come back from a 23-point deficit to get the win

Three takeaways from Golden State's 24-point rally past the Sixers